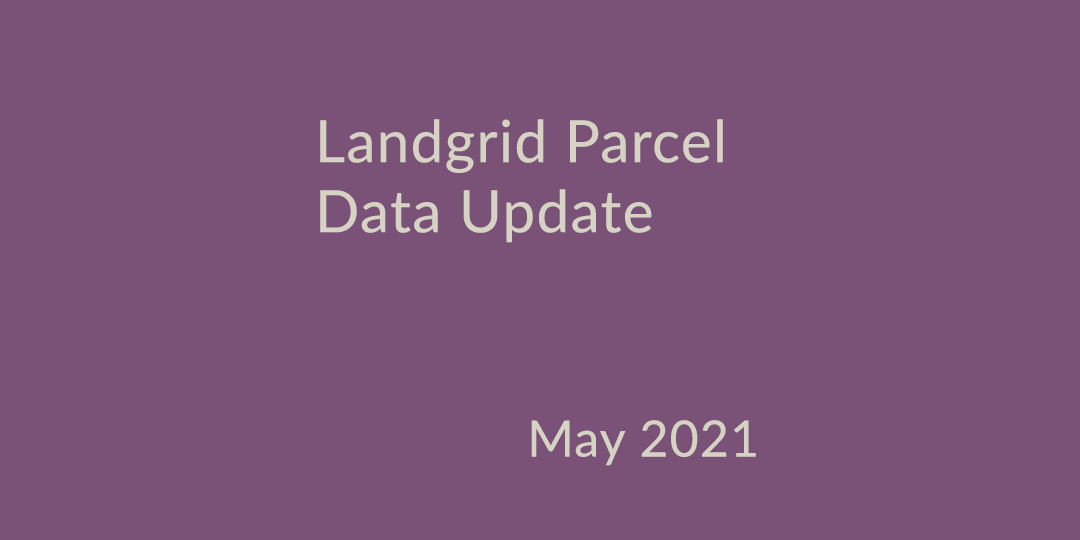 Landgrid Parcel Data - May 2021 Update

Dear Friends of Loveland Parcel Data and landgrid.com,

A summary of updates in April of 2021 and the upcoming pipeline is below.

Key Data Stats:
Average parcel age - 210 days, up from 208 last month.
Average county age - 260 days, up from 258 last month.
Refreshed 15,302,140 parcels and 271 counties since last month.
USPS Vacancy, Residential indicators: Now updated monthly. Updated in April 2021, next update in May.

Coverage Report: Updated for this month and available here

A Data Dictionary for the Loveland Parcel Record Schema is always available here

A machine-readable version of this list is included in the `verse` table available in all the formats above as well as CSV format for use in spreadsheets. To find the latest updates in verse, sort by 'last_refresh' and use the 'filename_stem' column to identify the file.

Data refreshed or added from the county in April and live now:
( Asterisk * indicates newly added county)
--------------------------------------------------

CA - Mendocino, Orange, San Diego

DC - Washington

FL - Lee

IA - Delaware, Floyd, Fremont, Keokuk, Mahaska, Mills, Page, Plymouth, Sioux, Winnebago, Worth

IL - Fulton, Grundy, Jersey, Knox, McLean, Peoria

IN - Adams, Allen, Bartholomew, Benton, Blackford, Boone, Carroll, Cass, Clark, Clay, Clinton, Crawford, Daviess, Dearborn, Decatur, DeKalb, Delaware, Dubois, Elkhart, Fayette, Floyd, Fountain, Franklin, Fulton, Gibson, Grant, Greene, Hamilton, Hancock, Harrison, Hendricks, Henry, Howard, Huntington, Jackson, Jasper, Jay, Jefferson, Jennings, Johnson, Knox, Kosciusko, LaGrange, Lake, LaPorte, Lawrence, Madison, Marion, Marshall, Martin, Miami, Monroe, Montgomery, Morgan, Newton, Noble, Ohio, Orange, Owen, Parke, Perry, Pike, Porter, Posey, Pulaski, Putnam, Randolph, Ripley, Rush, Scott, Shelby, Spencer, Starke, Steuben, St. Joseph, Sullivan, Switzerland, Tippecanoe, Tipton, Union, Vanderburgh, Vermillion, Vigo, Wabash, Warren, Warrick, Washington, Wayne, Wells, White, Whitley

KS - Anderson, Clay, Cloud, Coffey, Dickinson, Jewell, Mitchell, Smith

MD - Allegany, Anne Arundel, Baltimore, Baltimore City, Calvert, Caroline, Carroll, Cecil, Charles, Dorchester, Frederick, Garrett, Harford, Howard, Kent, Montgomery, Prince George's, Queen Anne's, Somerset, St. Mary's, Talbot, Washington, Wicomico, Worcester

MN - Benton, Big Stone, Mahnomen, Marshall, Martin, Sherburne, Swift

MO - Atchison, Holt

ND - Grant, Hettinger, Sioux, Traill

SD - Deuel, Grant, Hamlin, Kingsbury, Lincoln

TX - Anderson, Andrews, Angelina, Aransas, Armstrong, Atascosa, Austin, Bastrop, Baylor, Bee, Bell, Borden, Bowie, Brazoria, Brewster, Brown, Burnet, Caldwell, Calhoun, Cameron, Cass, Castro, Chambers, Cherokee, Childress, Clay, Cochran, Collin, Collingsworth, Colorado, Comal, Comanche, Concho, Cooke, Crockett, Culberson, Dallas, Dawson, Deaf Smith, Delta, Denton, DeWitt, Dickens, Eastland, Ector, Edwards, El Paso, Falls, Fayette, Foard, Fort Bend, Franklin, Freestone, Frio, Gaines, Galveston, Gillespie, Glasscock, Goliad, Gonzales, Guadalupe, Hale, Hall, Hamilton, Hardeman, Haskell, Hemphill, Hidalgo, Hill, Hood, Houston, Hudspeth, Hunt, Irion, Jack, Jasper, Jeff Davis, Jefferson, Jim Hogg, Jim Wells, Johnson, Jones, Karnes, Kendall, Kenedy, Kent, Kerr, Kimble, King, Kinney, Kleberg, Lampasas, La Salle, Lavaca, Loving, Lubbock, Lynn, Martin, McLennan, Menard, Midland, Mitchell, Montague, Montgomery, Morris

VA - Culpeper, Prince William

In the current pipeline for updating in May 2021
--------------------------------------------------
Maine
Montana
New Hampshire
Texas

In the pipeline for updating in June 2021
--------------------------------------------------
Alabama
Connecticut
Texas

Based on feedback and county challenges, pipeline planning is always subject to change. As always, please contact us if you have any questions about accessing or using the data, you find issues with any of our data, or you have any comments or questions about our data in specific areas or states. We also love to hear from you about which counties or regions you'd like to see us update next, as it helps inform our planning process.
Happy Mapping!