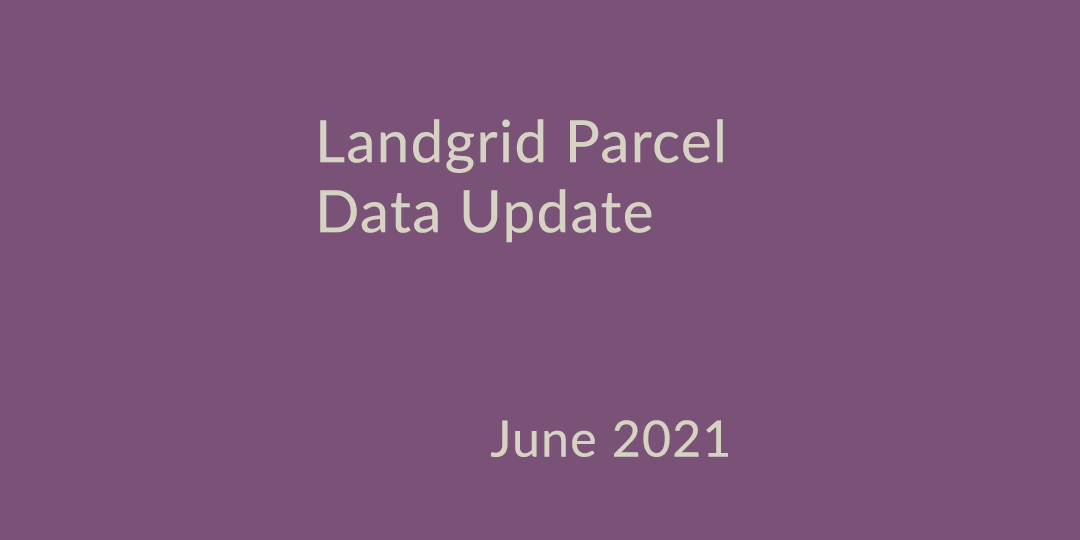 June 2021 - Parcel Data Update

A summary of updates in May of 2021 and the upcoming pipeline is below.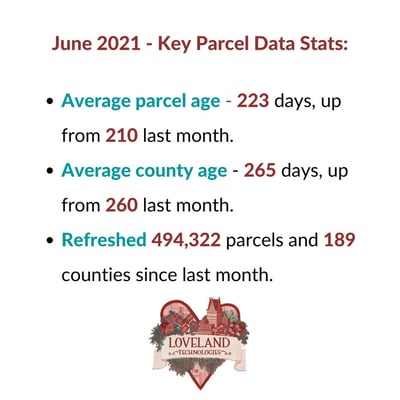 USPS Vacancy, Residential indicators: Now updated monthly. Updated in May 2021, next update in June.

Coverage Report: Updated for this month and available here:
https://docs.google.com/spreadsheets/d/1q0PZB72nO8935EMGmsh3864VjEAMUE-pdHcPkoAiS5c/

Full Dataset Export - We have exported the full dataset again this month for all clients to reflect improvements we made based on feedback regarding our Loveland Standardized Use Codes.

For all full dataset customers, the updated data is available for download to bulk data clients in these formats: GeoPKG .gpkg (suggested), GeoJSON, Shapefile, and Postgres SQL files. In addition, this data has been updated on the landgrid.com website.

If your organization uses a custom export we are updating your data at the moment and if you don't see the latest updates, please drop us a line.

A Data Dictionary for the Loveland Parcel Record Schema is always available here:
https://docs.google.com/spreadsheets/d/14RcBKyiEGa7q-SR0rFnDHVcovb9uegPJ3sfb3WlNPc0/

A machine-readable version of this list is included in the `verse` table available in all the formats above as well as CSV format for use in spreadsheets. To find the latest updates in verse, sort by 'last_refresh' and use the 'filename_stem' column to identify the file.

Data refreshed or added from the county in May and live now:
(Asterisk * indicates newly added county)
--------------------------------------------------
Alabama - Mobile

Arkansas - Fulton*, Searcy*

California - Contra Costa, Sacramento, Ventura

Iowa - Bremer, Butler, Chickasaw, Dubuque, Harrison, Jones, Marion, Monona, Montgomery, Warren, Woodbury

Illinois - Carroll*, De Witt, Logan, Macon, Marshall, McDonough, Morgan, Schuyler, Scott*, Tazewell, Union, Woodford

Kansas - Cowley, Douglas, Lyon, Miami, Osage, Sumner

Louisiana - Lincoln, Orleans

Maine - Androscoggin, Aroostook, Cumberland, Franklin, Hancock, Kennebec, Knox, Lincoln, Oxford, Penobscot, Piscataquis, Sagadahoc, Somerset, Waldo, Washington, York

Missouri - Cass, Gasconade*, Harrison, Nodaway, Ripley*, Webster*

Montana - Beaverhead, Big Horn, Blaine, Broadwater, Carbon, Carter, Cascade, Chouteau, Custer, Daniels, Dawson, Deer Lodge, Fallon, Fergus, Flathead, Gallatin, Garfield, Glacier, Golden Valley, Granite, Hill, Jefferson, Judith Basin, Lake, Lewis and Clark, Liberty, Lincoln, Madison, McCone, Meagher, Mineral, Missoula, Musselshell, Park, Petroleum, Phillips, Pondera, Powder River, Powell, Prairie, Ravalli, Richland, Roosevelt, Rosebud, Sanders, Sheridan, Silver Bow, Stillwater, Sweet Grass, Teton, Toole, Treasure, Valley, Wheatland, Wibaux, Yellowstone

North Dakota - Golden Valley, Ramsey*, Stark

Nebraska - Buffalo, Butler, Clay, Custer, Fillmore, Greeley, Wheeler

New Hampshire - Belknap, Carroll, Cheshire, Coos, Grafton, Hillsborough, Rockingham, Strafford, Sullivan

New Mexico - Bernalillo

New York - Erie, Suffolk

Ohio - Cuyahoga, Jackson

Pennsylvania - Carbon

South Dakota - Beadle, Hand*, Hutchinson, Minnehaha, Spink

Texas - Newton, Nolan, Nueces, Oldham, Panola, Polk, Potter, Presidio, Randall, Reagan, Refugio, Rockwall, Rusk, San Augustine, San Jacinto, Scurry, Shelby, Sherman, Smith, Starr, Sterling, Stonewall, Sutton, Swisher, Tarrant, Taylor, Terry, Throckmorton, Tom Green, Travis, Trinity, Tyler, Upton, Uvalde, Victoria, Ward, Washington, Wharton, Wheeler, Wichita, Winkler, Yoakum, Zapata, Zavala


In the current pipeline for updating in June 2021
--------------------------------------------------
Alabama
Connecticut
Kansas
Minnesota
Texas

In the pipeline for updating in July 2021
--------------------------------------------------
New Jersey

Based on feedback and county challenges, pipeline planning is always subject to change. As always, please contact us if you have any questions about accessing or using the data, you find issues with any of our data, or you have any comments or questions about our data in specific areas or states. We also love to hear from you about which counties or regions you'd like to see us update next, as it helps inform our planning process.

Thank you for being a part of Loveland!
Happy Mapping!
Loveland Data Team
313-649-LAND