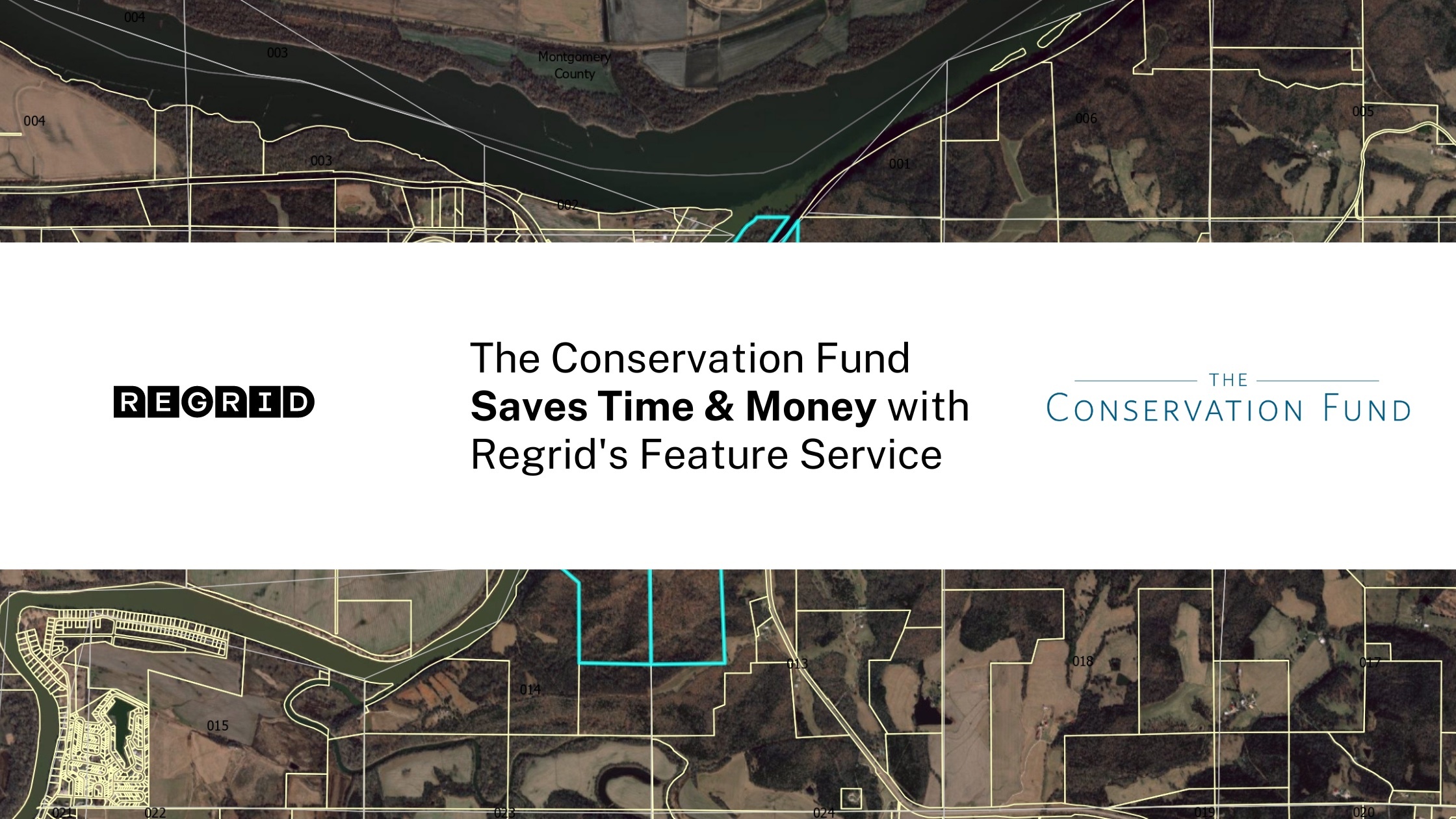 Regrid's Feature Service & The Conservation Fund
How Regrid's Feature Service is Delivering Nationwide Parcel Data and Powering Conservation
"Many elements of Regrid's Esri-compatible Feature Service have saved us time and money. What used to take 30 minutes to several hours searching for and downloading data county by county now takes 5 minutes. The Regrid Feature Service has enabled us to make more maps in-house and rely less on consultants for mapping services, thereby reducing unnecessary costs." - The Conservation Fund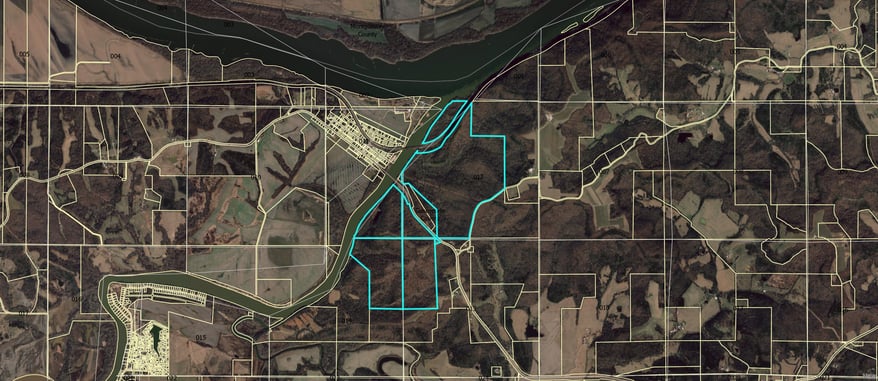 Using Regrid's parcel layer to select a project site - Image courtesy of The Conservation Fund
Land conservation at the nationwide scale requires the smooth delivery of reliable and up-to-date parcel data. Unfortunately for The Conservation Fund, the legacy data system they relied on to support land acquisition work, map making, and research often contained data too difficult to compile. It also demanded a laborious process that took up hours of valuable time: Searching a SharePoint database, downloading data, and importing it into ArcPro.
Parcel data that should have been a key tool for The Conservation Fund's work was, instead, a barrier.
Enter Regrid's Feature Service, which connected The Conservation Fund to the nationwide parcel data they needed. Specifically crafted for GIS professionals, the Esri-compatible Feature Service fit The Conservation Fund's needs.
How Regrid's Esri-compatible Feature Service Works for The Conservation Fund:

Instant Integration: The Conservation Fund has a seamless connection with ArcGIS Pro and other application tools, made accessible through a simple URL integration.
Efficient Navigation: The Feature Service has provided The Conservation Fund with fast, efficient navigation across land parcels without any data wrangling.
Current Data Access: The Conservation Fund can now build a map with the most recent data available from Regrid, requiring nothing more than adding the Regrid Feature Service layer to an existing ArcPro project.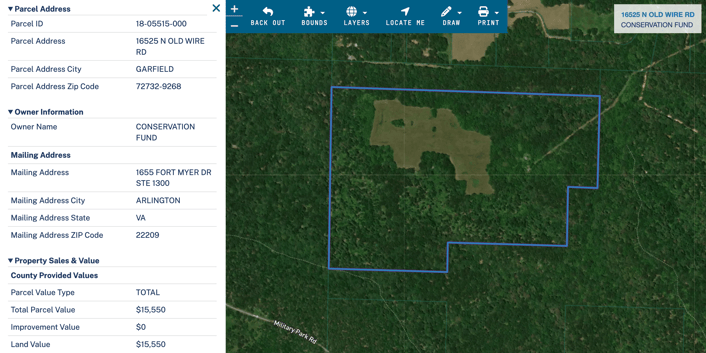 Conservation Fund parcel, Pea Ridge National Military Park, Arkansas with Regrid data - via Regrid.com
The transformation in The Conservation Fund's operations was significant:
Time Savings, in The Conservation Fund's Words: "What used to take anywhere from 30 minutes to several hours searching for and downloading data county-by-county now takes about 5 minutes. Running analysis on multiple counties or by state takes minutes instead of hours or days."
Cost-Effective: With the Feature Service's ability to calculate acres directly, The Conservation Fund was able to make more maps in-house and reduce reliance on external consultants, slashing unnecessary costs.
Enhanced Workflow: The old workflow, full of repetitive tasks like downloading county data and calculating acres, was replaced with a streamlined process where adding the Regrid Feature Service layer was all it took to start mapping.
Improved Collaboration: Whether it was communicating with project managers or supporting field staff working on land acquisition, the Feature Service allowed for faster and more effective collaboration.
Unexpected Benefits: "The Feature Service has been extremely useful in helping us create spatial data for our Historic Project database as we are compiling data for over 4,000 conservation projects that we have completed since 1985."
Regrid, said The Conservation Fund, is an "excellent source for parcel data" that's both "extremely easy to use and effective at assisting us in locating and analyzing data for future conservation projects."
Regrid Nationwide Parcel Data and the Regrid Feature Service as the deployment method solved a problem for The Conservation Fund and allowed them to revamp their approach to the GIS that supports their critical conservation work. It slashed both time and costs, while enabling The Conservation Fund to work more creatively and collaboratively.