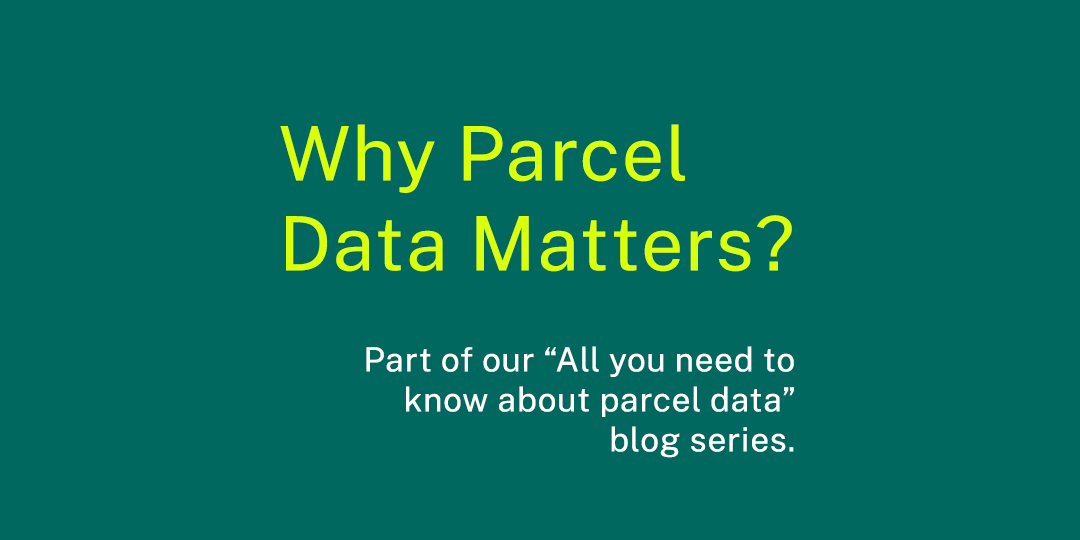 Why Parcel Data Matters?
***This blog is a part of the "All you need to know about parcel data." blog series.***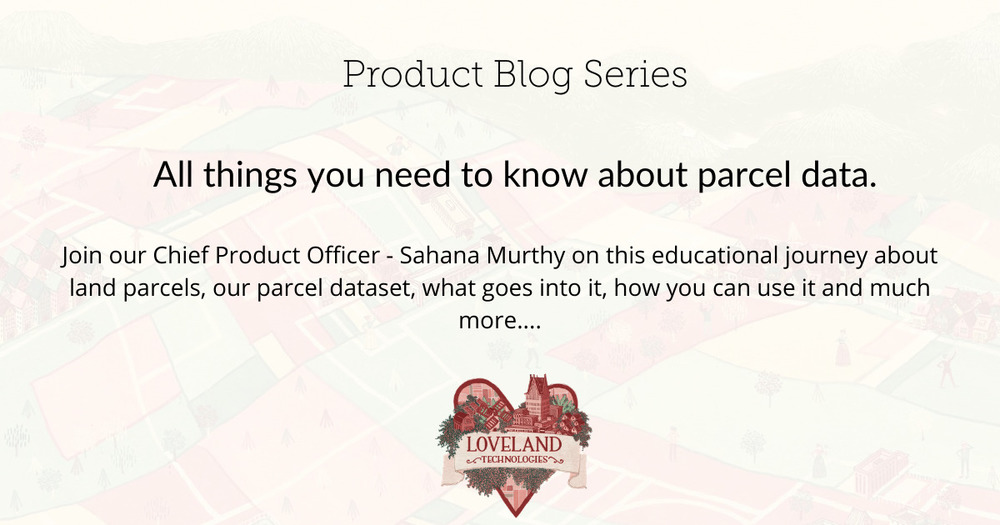 Why does parcel data matter?
I have been working at Loveland for a little over 2 years now. Everytime I meet anyone new, when asked what my company does - I often find myself explaining what land parcels are. Because without the explanation, most folks who aren't familiar with the term "parcel data", would automatically assume parcels aka packages, transportation and freight industry. Makes for a great conversation starter because I then go on to explain "what land parcels are", how land is divided & owned but also about how parcel data essentially comprises geometry - polygons with shapes & boundaries ...and as I explain, I see their eyes widen with fascination. Such is the power of land parcels.
As our CEO - Jerry Paffendorf - puts it: "I am on a parcel, you are on a parcel, everyone is on a parcel for most part of their day!"
It really is the most FUNDAMENTAL piece of information that is applicable to absolutely everyone.
That's why parcel data matters!
At the end of the day, parcel data is made of public record facts about how the country is subdivided, owned, taxed, and used. The public nature of the subdivision of land in the US stretches back to the earliest days of the country and big public programs like the US Public Land Survey which started in 1785. At Loveland, we see ourselves as providing a missing service by aggregating all these local datasets together into a big picture of how we own, use, and inhabit the country, at an affordable price.
So essentially, what we do as the cadastral kind is collect this information from over 3000 counties across the country, weave it into a beautifully
standardized schema
and license it to our customers in multiple formats.
And that's right - I did refer to us as the "Cadastral kind" - we believe it takes a different kind of DNA and tenacity to put this dataset together without compromising quality and accuracy. Our team is brimming with this DNA for sure. ;)
Which is why our customers choose and trust us over collecting all this data themselves and normalizing it.
Why is this such a tall order, you ask?
For starters, tirelessly collecting, cleaning and standardizing such a comprehensive dataset of ~150 million parcels across the country is no small feat. Takes years of tenacious effort, a combination of some level of tested/trusted automation but a lot of manual Qc'ing and continuous improvements of the data on a monthly basis. A mammoth task, one that's best left to the experts - aka the incredible Loveland Data Team!

Secondly and most importantly,normalizing such a massive disparate raw dataset is really the hardest part of this process.We do rely on a very robust set of open source geo tools like PostGIS, QGIS, and GDAL. There's still a lot of manual work backed by the judgement and experience of our parcel team.
Nearly every one of the 3,200 counties in the US manages its data independently. There's very little consistency from place to place even for basic columns like "owner name": it could be referred to as "firstname", "fname", "deedholder, "propow", or pretty much anything else. And you'd think that a field called "Parcel ID" or "APN" might be unique — but it rarely is. Which is why we built in a universal parcel ID to make ingestion and working with this data at scale easy for everyone.
Generally, counties within states are more like each other than counties outside of those states, but not necessarily. Also, cleaning the data can be quite tricky at times. Working with this data makes it apparent how much human error can be involved, especially when it comes to casting columns that should be integers or double precision from text. Date field conversion can also be quite tricky at times, depending on the formatting used by a place. A lot of rules built up over time through these learnings plus the keen eyes of our data team help us keep quality high.
And finally, this data while is technically public data, it doesn't necessarily mean open data and freely available for downloading. And with 3,200 counties nationwide, one can imagine what might go into acquiring this data before we can weave our magic into it.
That said, the real magic is really what one can do with this data when normalized at scale. The opportunities and the use cases are limitless - from real estate to renewable energy, utilities, manufacturing, insurance, GIS and tech, outdoor recreation to urban planning to using the data to bring upon positive change in your city or drive academic research on property landscape, COVID, on tax foreclosures, on disparity in land ownership - phew - just to name a few.
I didn't make this list up. These are the very real use cases that our customers have come to us with over the years and have found our parcel dataset to be THE solution to help solve these problems.
Such is the power of parcel data and THAT IS WHY IT MATTERS and that is why Loveland matters!
If you'd like to evaluate our data and learn more about how it can help your next project, please email us at
parcels@landgrid.com
.
About this blog series - All things you need to know about Parcel Data!
Join me - Sahana Murthy, the Chief Product Officer at Loveland Technologies, as I embark on this educational journey about land parcels, our parcel dataset, what goes into it, how you can use it and much more.
With every blog, I will dig deeper into the key facets about our parcel dataset, so keep an eye out for our next blog in this series. If you have a particular subject in mind that you'd like me to cover as part of this blog series, please write to me directly at
sahana@landgrid.com
. We are always looking for feedback and suggestions.