A Bird's Eye View of Google Street View
A Farewell to Street View
At LOVELAND Technologies we love Google Street View. Really, so much, it's all love.
More than just an unprecedented way to drop in on almost any street corner in the country to see what's happening (as if that wasn't enough), Street View is a massive, and largely untapped, collection of street-level property data.
I use Street View extensively on my Tumblr, GooBing Detroit, to document the decline of Detroit property since the financial crisis. Street View's Time Machine feature, which allows you to go back and see Street View imagery for every year Google has driven a city offers an incredible near-past archeology of cities around the country.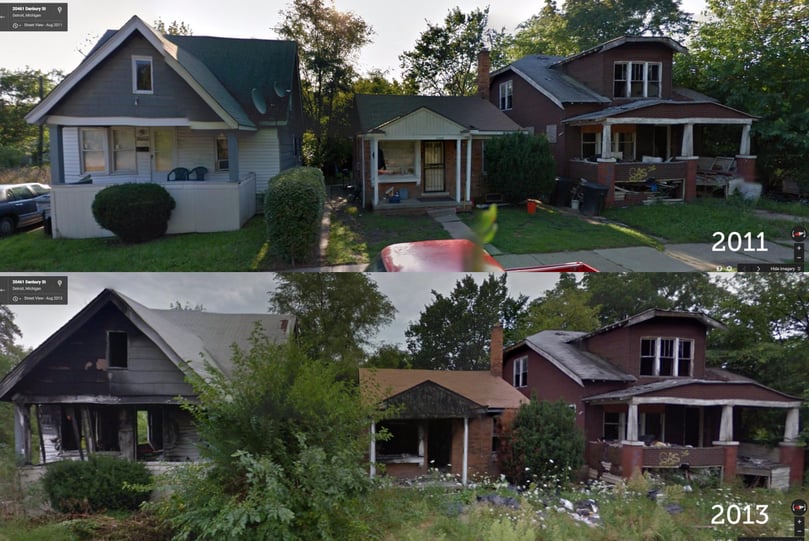 Post-financial crisis, property decline in Detroit, captured by Google Street View Time Machine


So we are sad to say that when you click on a parcel in LOVELAND, you will no longer see an image of the property as captured by Google Street View. But do not fear -- we would never leave you imageless. As of today, when you click a parcel on LOVELAND, you will see the property as captured by Microsoft Bing's Bird's Eye oblique aerial imagery, along with the ability to rotate around the property:
---
---

---


But, before I get into that, some background on the departure from Google.
Section 10.1.1(g)
About a month ago we received an e-mail from Google (no signature or contact name was provided) noting that LOVELAND was in violation of section 10.1.1(g) of the Google Maps API terms of use "which generally prohibits developers from using or displaying certain Google Content (as defined in the terms of service and in the Maps API Documentation, including but not limited to Street View images, Places data, and geocodes) with a non-Google map."
LOVELAND's base map comes from Open Street Map, and our map tiles are hosted on MapBox. We've spent years developing the system that supports LOVELAND's national parcel mapping, and the prospect of migrating to Google so we could continue using Street View was simply not feasible.
So we spent most of the last month trying to reach the right person at Google to whom we could explain our situation. We felt that our mission to put every parcel of property in the country online, each augmented by a Street View image, the data and imagery available for free, was worth the exception that the word "generally" in section 10.1.1(g) seemed to imply existed. We were more than willing to pay the Maps API for Work subscription price to include imagery in our paid service, Site Control.
Despite the valiant efforts of a number of current and former Google employees, we never seemed to reach the right person. It's understandable -- Google has 50,000 employees, and we're a tiny mapping company in Detroit -- I'm sure they have more pressing matters to address. Still, it would have been nice to have the chance to make the case for Street View in LOVELAND on the merits of our work and mission.
However, LOVELAND continues to use Street View in our Great American Parcel Survey project -- an effort to survey every property in the country using Street View imagery. We think this use of Street View is ok because the Survey app is entirely Google Maps based. Hopefully as the project grows we'll have something that shows Google our ability to use and explore Street View in new and unprecedented ways. Note that when you click a parcel in LOVELAND, you can click "Survey this Property" to open the property in the Great American Parcel Survey, see the Street View imagery, and survey the property: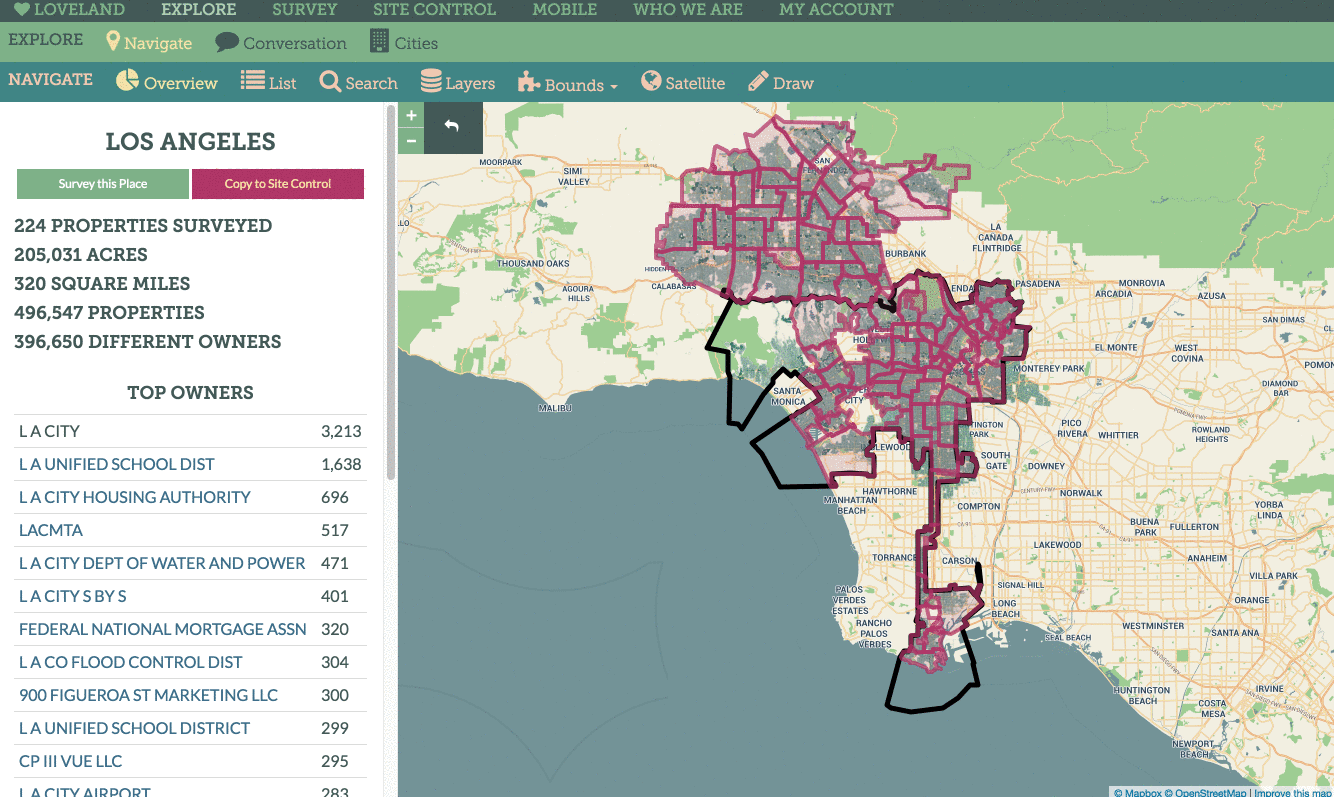 A Bird's Eye Solution
Having spent time with Bing's StreetSide in the past (which runs on Silverlight) we knew there was no equivalent opportunity to consume an API and display StreetSide imagery on LOVELAND. However Bing's Bird's Eye imagery did offer an API we could consume, and more lenient terms of use than Google's Maps API. So as we sought a resolution with Google, we began to prepare in the background to switch to Bing Bird's Eye.
In some ways Bird's Eye offers benefits over Street View:
Greater Parcel Image Accuracy
The Street View API often returns an image that is a parcel or two off from the one you've clicked on LOVELAND (an issue we seek to rectify through the Great American Parcel Survey, which actually lets you refine Google's API endpoint for a given parcel). With Bird's Eye imagery, we can outline the parcel you've clicked in the aerial image, so you know you're looking at the right place.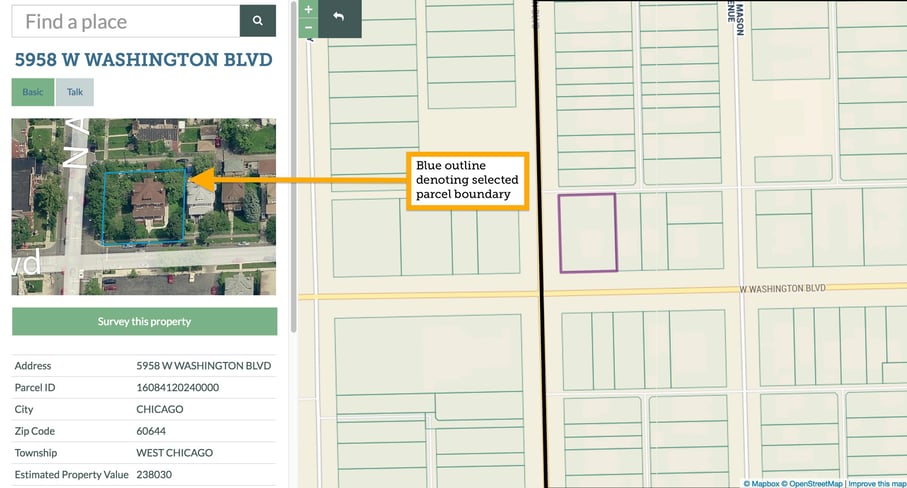 Ability to Rotate Around Property
When you hover over an aerial image on LOVELAND, you'll see rotate icons appear on the screen. Click those to see the property from each of the four angles Bird's Eye captures imagery.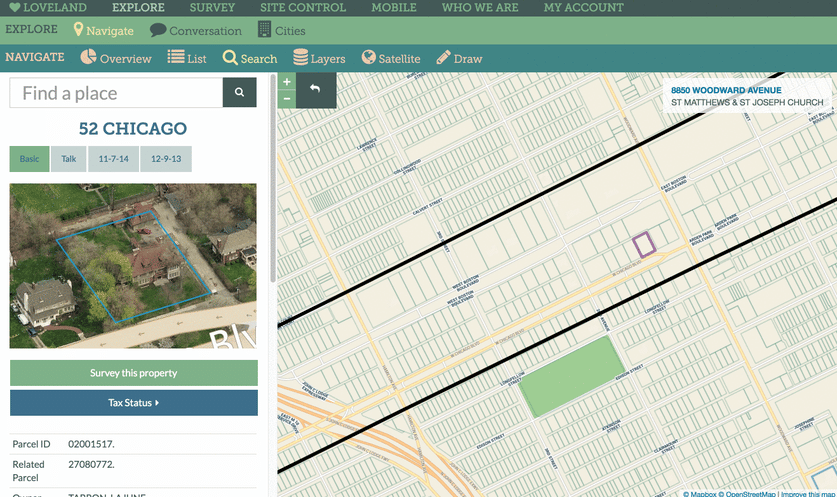 The Future of Street View and Loveland
We're happy with Bing's Bird's Eye imagery, and for the channel it opens with Microsoft. We think Bird's Eye offers interesting new angles and insights on properties in LOVELAND, and we're glad that, should the opportunity open up to do more with Street View in the future, we know how to navigate both imagery sources, all towards the end of continuing to provide the public the best system in existence for understanding the parcel fabric that makes up our country.
We hope you enjoy exploring LOVELAND obliquely :-)