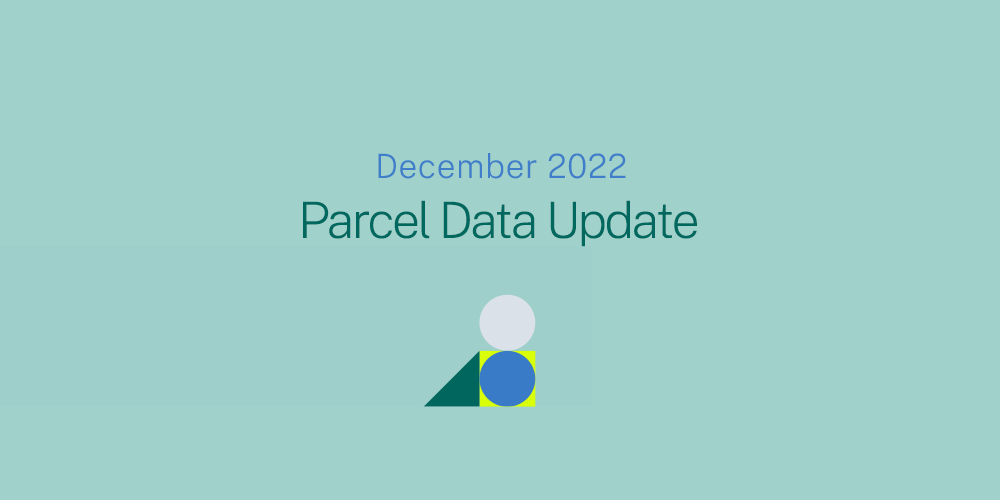 December 2022 Parcel Data Update
A detail of updates in November of 2022 and the upcoming pipeline is below.
New and updated county boundaries December 2022 - As mentioned in our email communication last week, we will be updating our data to reflect new 2022 Census county boundaries starting the week of December 12, 2022.

The US Census has released new and updated boundaries and names for several counties and county-equivalents in the 2022 Census boundary data. Detailed information on the significant change in Connecticut counties is available from the Census Bureau: https://www.federalregister.gov/documents/2022/06/06/2022-12063/change-to-county-equivalents-in-the-state-of-connecticut.

More information on county changes over time is available at https://www.census.gov/programs-surveys/geography/technical-documentation/county-changes.2020.html

What is changing:
All county boundaries in Connecticut have been reworked and renamed

Some county-equivalent boundaries and names in Alaska have changed

The counties we deliver will be changing to reflect the new counties

The verse metadata file will be updated to reflect the new counties and remove the retired counties.

Our Census identifiers (tract, blockgroup and block) will be updated to reflect 2022 Census boundaries
Please see our full blog post for a list of the affected counties and geoids (FIPS codes).

Iron County Michigan changes - Regrid has significantly increased our coverage for Iron County MI (mi_iron). We previously only had Iron City MI (mi_iron_iron). Cloud delivery clients will likely have to remove the now outdated 'mi_iron_iron.*' file in their delivery directories, as this file has been rendered obsolete and its data is contained in the new 'mi_iron.*' file.

Parquet File Format - Premium clients now have a new option for file format, Parquet. Please see our support page about the format for information on why this format is useful to big data pipelines & analysis.

ll_row_parcel attribute roll out - This has been completed and Premium schema clients should have this new attribute in their data. Please review the archive of these monthly updates for detailed information: https://regrid.com/blog/tag/parcel-data-updates

Coverage Report - Updated for this month and available here.

A machine-readable version of this list is included in the `verse` table available in all the formats above as well as CSV format for use in spreadsheets. To find the latest updates in verse, sort by 'last_refresh' and use the 'filename_stem' column to identify the file.

Data refreshed or added in November and live now:
( Asterisk * indicates newly added county)
---
AL - Blount, Calhoun, Cherokee, Colbert, Cullman, Dallas, DeKalb, Etowah, Franklin, Greene, Houston, Jackson, Lauderdale, Lawrence, Limestone, Macon, Marshall, Morgan, St. Clair, Talladega, Tuscaloosa

CO - Alamosa, Boulder, Broomfield, Clear Creek, Conejos, Costilla, Delta, Elbert, Garfield, Gilpin, Gunnison, Huerfano, Lake, La Plata, Mesa, Mineral

IL - Champaign, Fayette, Ford, Mason, Putnam, Williamson

ME - Androscoggin, York

MI - Iron

MS - Adams, Amite, Benton, Bolivar, Chickasaw, Choctaw, Claiborne, Clarke, Clay, Copiah, Covington, DeSoto, Forrest, Grenada, Hinds, Holmes, Jackson, Jasper, Jones, Kemper, Lafayette, Lauderdale, Lawrence, Leake, Lee, Leflore, Lincoln, Lowndes, Madison, Marion, Monroe, Montgomery, Neshoba, Newton, Oktibbeha, Panola, Pike, Pontotoc, Prentiss, Rankin, Scott, Simpson, Stone, Sunflower, Tate, Tippah, Tishomingo, Tunica, Union, Walthall, Warren, Winston

MT - Beaverhead, Big Horn, Blaine, Broadwater, Carbon, Carter, Cascade, Chouteau, Custer, Daniels, Dawson, Deer Lodge, Fallon, Fergus, Flathead, Gallatin, Garfield, Glacier, Golden Valley, Granite, Hill, Jefferson, Judith Basin, Lake, Lewis and Clark, Liberty, Lincoln, Madison, McCone, Meagher, Mineral, Missoula, Musselshell, Park, Petroleum, Phillips, Pondera, Powder River, Powell, Prairie, Ravalli, Richland, Roosevelt, Rosebud, Sanders, Sheridan, Silver Bow, Stillwater, Sweet Grass, Teton, Toole, Treasure, Valley, Wheatland, Wibaux, Yellowstone

NH - Carroll, Grafton, Hillsborough, Rockingham, Strafford, Sullivan

NM - Luna, Union*

NY - Onondaga

OH - Allen, Ashland, Ashtabula, Athens, Auglaize, Belmont, Brown, Butler, Champaign, Clark, Clermont, Clinton, Columbiana, Coshocton, Cuyahoga, Defiance, Delaware, Fairfield, Fayette, Franklin, Fulton, Gallia, Greene, Guernsey, Hamilton, Harrison, Henry, Holmes, Jefferson, Knox, Lake, Licking, Lorain, Lucas, Mahoning, Marion, Medina, Mercer, Miami, Morrow, Muskingum, Ottawa, Paulding, Perry, Pickaway, Pike, Portage, Putnam, Richland, Ross, Scioto, Seneca, Shelby, Stark, Summit, Tuscarawas, Union, Vinton, Warren, Wayne, Williams, Wyandot

OR - Lincoln

SC - Abbeville, Aiken, Allendale, Anderson, Bamberg, Beaufort, Berkeley, Calhoun, Charleston, Cherokee, Chesterfield, Darlington, Dorchester, Fairfield, Florence, Georgetown, Greenville, Greenwood, Hampton, Horry, Lancaster, Laurens, Lee, Lexington, Marion, Marlboro, McCormick, Newberry, Oconee, Orangeburg, Pickens, Richland, Saluda, Spartanburg, Sumter, Union, York

TN - Anderson, Bedford, Benton, Bledsoe, Blount, Bradley, Campbell, Cannon, Carroll, Carter, Cheatham, Claiborne, Clay, Cocke, Coffee, Crockett, Cumberland, Davidson, Decatur, DeKalb, Dickson, Dyer, Fayette, Fentress, Franklin, Gibson, Giles, Grainger, Greene, Grundy, Hamblen, Hamilton, Hancock, Hardeman, Hardin, Hawkins, Haywood, Henderson, Henry, Jefferson, Knox, Lake, Lauderdale, Lawrence, Lewis, Lincoln, Macon, Madison, Marion, Marshall, Maury, McNairy, Meigs, Monroe, Morgan, Obion, Overton, Perry, Pickett, Polk, Putnam, Rhea, Roane, Robertson, Rutherford, Scott, Sequatchie, Sevier, Smith, Stewart, Sullivan, Sumner, Tipton, Trousdale, Unicoi, Union, Van Buren, Warren, Washington, Wayne, Weakley, White, Williamson

TX - San Jacinto

VA - Accomack, Albemarle, Appomattox, Arlington, Augusta, Bedford, Botetourt, Buchanan, Campbell, Caroline, Charles City, Charlottesville, Chesterfield, Covington, Craig, Dickenson, Dinwiddie, Essex, Fairfax City, Falls Church, Fluvanna, Franklin City, Frederick, Galax, Gloucester, Grayson, Greensville, Halifax, Harrisonburg, Highland, Hopewell, Isle of Wight, King and Queen, King George, Lancaster, Lexington, Louisa, Lunenburg, Madison, Manassas, Manassas Park, Mathews, Mecklenburg, Nelson, New Kent, Norfolk, Northampton, Norton, Nottoway, Orange, Page, Poquoson, Prince William, Pulaski, Richmond City, Salem, Southampton, Spotsylvania, Stafford, Staunton

WI - Milwaukee


In the current pipeline for updating in December 2022:
---
Connecticut
Virginia

In the pipeline for updating in January 2023:
---
Florida
Colorado


Based on feedback and county challenges, pipeline planning is always subject to change. As always, please contact us if you have any questions about accessing or using the data, if you find issues with any of our data, or you have any comments or questions about our data in specific areas or states. We also love to hear from you about which counties or regions you'd like to see us update next, as it helps inform our planning process.

Thank you for being a part of Regrid!
Best Wishes,
The Regrid Data Team
tech@regrid.com