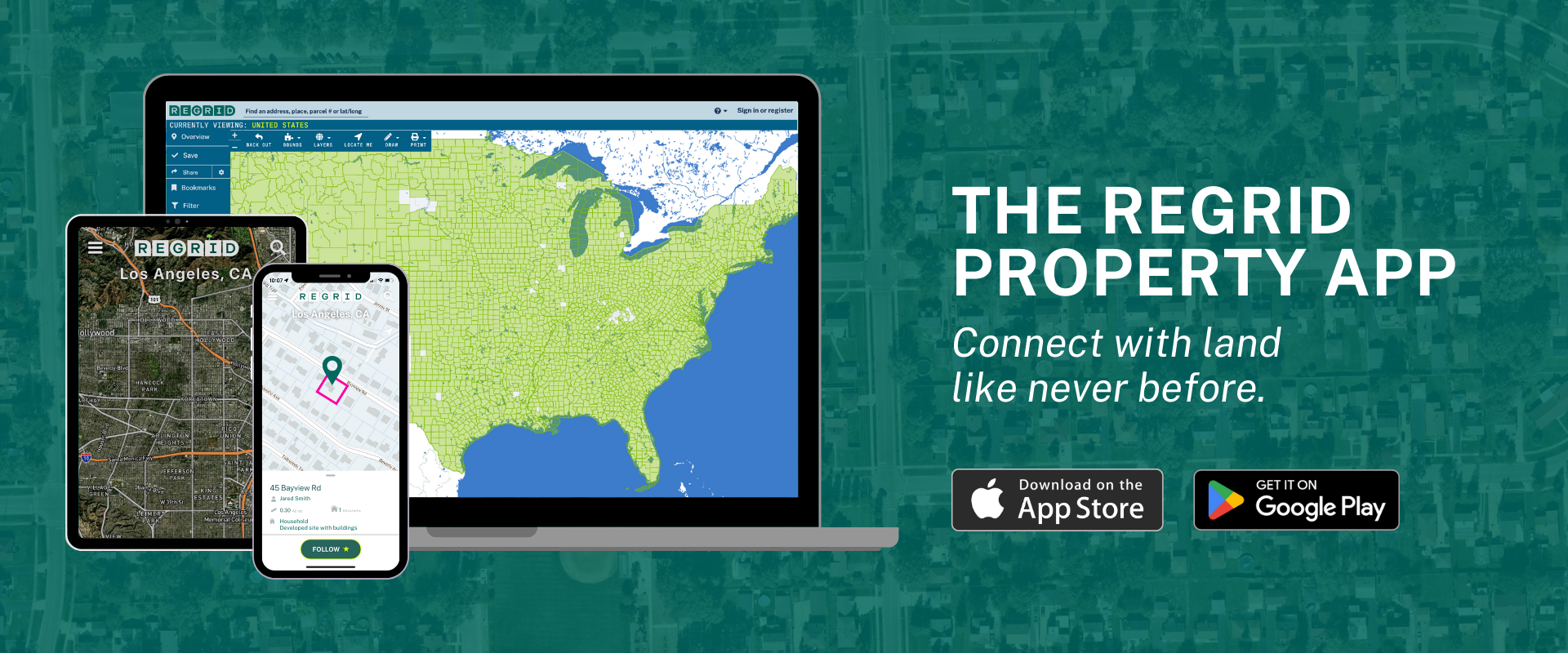 Earning a place in everyone's pocket: the new Regrid Property App
Regrid co-founder and CEO Jerry Paffendorf here.

The new and improved Regrid Property App is now rolling out for Apple and Android, and we couldn't be more excited. If you have the previous version, you'll receive this update automatically as it spreads through the app stores and becomes available to everyone.
Over the years we've helped millions of people understand land and property information in their communities and across the United States.
We asked ourselves what changes to the app would best serve the needs of many millions more.
To do that, we listened and we looked inside:
"Why is land and property important to everyone? What is the app really about? What would make us love it more? How do we bring land consciousness to many millions of people on a consistent basis?"

The Regrid Property App in 30 Seconds


Accordingly, we sought inspiration in some potentially surprising places.
When I think of apps that have earned a place in my pocket through their magical powers, I find myself returning to apps like:
Shazam for identifying songs and artists — after listening to a few seconds of music, the app shows you who made it, what else they've made, and how to listen

PictureThis for identifying plants by taking a picture — along with the plant name comes a world of related information, like where it originates, if people eat it or not, and even poems

NightSky for identifying stars and planets by panning your phone around — as useful for me is the ability to get notified when cosmic events like meteor showers are happening
Our focus became blending the instant identification of properties and places with the ability to follow the properties and places you care about through time so you know when and how they change.
We also made other improvements, like pulling in Wikipedia, Native Land, and other sources to bring land to life beyond current government facts.

As much as I love maps, I really don't want to pull a bunch of levers, do a bunch of work, and randomly check back in to see if the map has been updated. I want an app that works for me and tells me what's new once I tell it what I'm interested in.
Fortunately, the Regrid team is constantly updating and expanding a nationwide dataset of land information, so we're able to tell you when the properties and places you care about change.
Next to every property and place you'll see a big, juicy Follow button. Press it, and whenever we detect a change, you'll be the first to know.
Simple. Powerful. Fills a need, and expands the circle of people who can now benefit from property information regardless of profession or particular interest.
It brings a satisfying peace of mind and a tingle of excitement to follow your house, your neighborhood, your town, and the places you care about, knowing you'll be told when ownership, value, or something else about them changes.
It's also enlightening to see place history from Wikipedia, and to get an education on Indigenous land from Native Land. We'll be adding more integrations and insights like this for a fuller picture of land across social, natural, historic, and economic dimensions.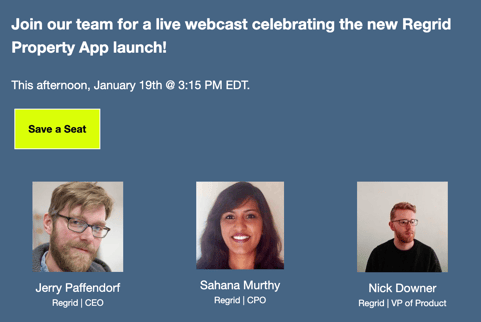 The vision is simple: Everyone connected with land through an easy app that works for you even when you're not pressing buttons.
We designed it to stand out in its simplicity and usefulness as the one app you need for property and land awareness – the land app that genuinely belongs on everyone's phone.
We hope you enjoy the heck out of it and find it magical enough to put in your pocket and tell your friends and family about, too.
Download the Regrid Property App now for Apple or Android; let us know what you think, and look out for much more in the weeks and months ahead.
Happy Mapping,
Jerry Paffendorf
Regrid CEO

parcels@regrid.com
---