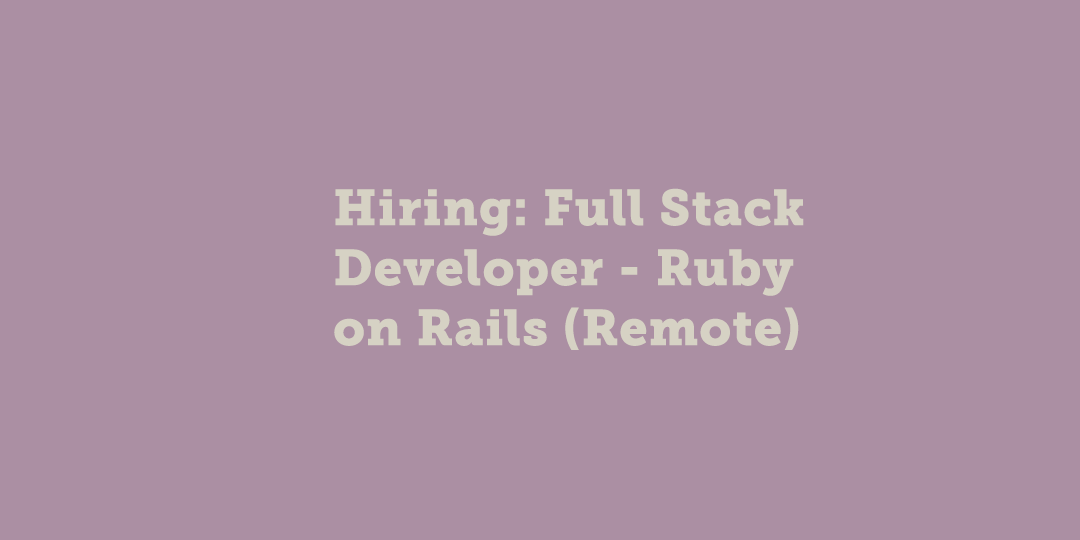 Hiring: Full Stack Developer - Ruby on Rails (Remote)
Salary range: $80,000 - $100,000 for shorter professional experience or $100,000 - $120,000 for longer professional experience, and depending on specific skills and qualifications
We need a software developer who can help grow our products, our engineering efforts and our roadmap.
This is a full-time position with great benefits, including a competitive compensation structure & a remote work environment. The job requires understanding customer pain points, our product roadmap and implementing code on cross-functional products.
This is the perfect opportunity for anyone who is looking to explore a career in a new industry - software & data in the data and startup space. Lots of opportunities for growth in a fun, flexible, remote & fast paced environment. We are a small but growing team and we want you to grow with us.
The ideal candidate needs to be a motivated self-starter and have a keen interest for both software development, front end development skills, curiosity to learn new skills and understand market requirements for products.
Core skills
Your day to day work will primarily center around these tools:
Ruby on Rails

Relational databases (Postgres & PostGIS)

Javascript with front-end frameworks like React & jQuery
Good skills to have
We'd love to know if you have experience with any of the following, but please don't count yourself out if you don't:
Experience working in a remote-first environment

Payment APIs like Stripe, Google Play, or Apple IAP

Building and documenting REST APIs, creating client wrapper libraries

Familiarity with geospatial data and tools like GDAL, QGIS, Leaflet, Mapbox GL

Integrating & tuning search engines like Solr or Elasticsearch
Job Responsibilities
Work with a team of software developers & data engineers across all of our product lines

Contribute code to front- and back-end features in our Rails application

Ability to split your time on a weekly basis between roadmap priorities, bugs and customer requests.

Help scope/solution out custom professional services development work, built on top of our Landgrid mapping platform
Job Requirements
3+ years of experience in software development in a fast-paced environment

Experience in communicating data & product requirements and interpreting customer expectations

Ability to troubleshoot quickly and architect product solutions to address bugs & mission critical issues
About Loveland Technologies LLC
Loveland Technologies is a Detroit-based nationwide parcel data & mapping software company. We are headquartered in Detroit, however we are a fully remote & distributed team with members working out of multiple time zones across the USA. Loveland welcomes and gives equal consideration to qualified applicants of any race, gender, sexual orientation, religion, national origin, age, or disability status. Benefits include flexible work hours and vacation days, health care, and paid parental leave.
Landgrid Parcel Data - We have collected and standardized a high quality nationwide dataset of over 147 million land parcels covering over 97% of residents in the USA. We offer our data in multiple formats to customers across private and public sector verticals as bulk data files & through an API. Our Mapping as a Service product, landgrid.com, allows our customers to map & survey with the parcel data we have collected. Our mobile apps give individuals and teams access to the latest parcel data and data collection tools in the field.
Over the last several years, we have created a successful suite of products, a growing customer base and project portfolio, and an effective organization. Our products are built in-house from scratch and are a labor of love that has become great business.
To apply
We invite all qualified applicants to submit a resume and cover letter for this position by emailing us at jobs@landgrid.com.