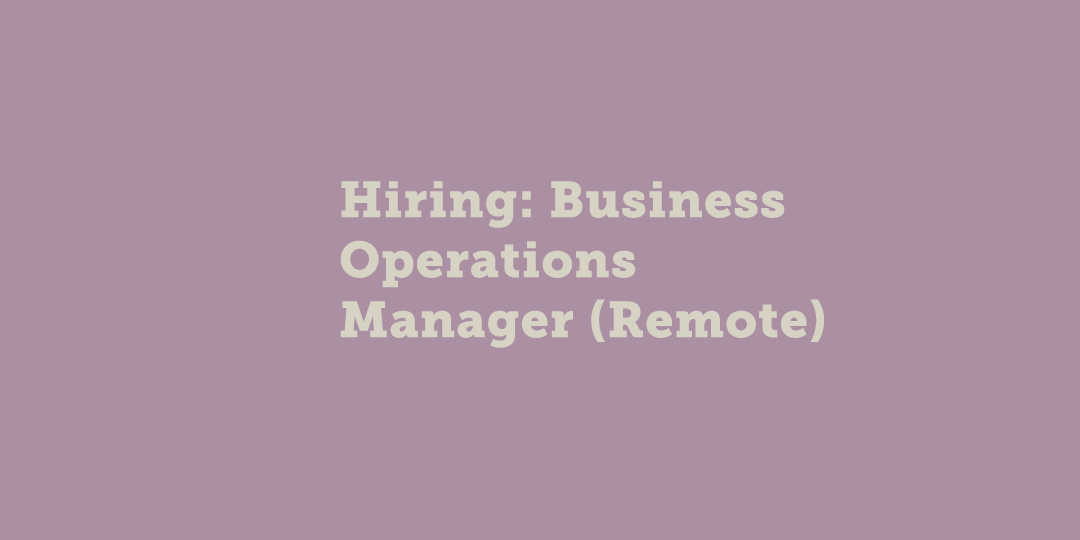 Hiring: Business Operations Manager
Business Operations Manager

Salary
$70,000.00-$100,000.00, depending on experience, skills, and qualifications
Description
Loveland is looking for an operations manager to assist in growing and running a more robust internal structure. This position will combine elements of finance, human resources, compliance, administrative, interdepartmental communications, and project management.
This is a full-time position with great benefits, including a competitive compensation structure & a remote work environment. Opportunities for growth in a fun, flexible, remote & fast paced environment. We are a growing team and we want you to grow with us.
Skills
Self-directed professional with at least 5 years of small business operations experience (experience within the geospatial technology sector a plus)

Proven experience managing a remote workforce and operating efficiently in a virtual environment

Demonstrated ability to oversee and collaborate with staff

Knowledge of office management systems and procedures

Experience with accounting and Quickbooks

Strong organizational abilities, including planning, delegating and business processes

Excellent time management skills and ability to prioritize work to meet all deadlines

Attention to detail and problem-solving skills

Excellent written and verbal communication skills
Job Responsibilities
Communicating with Executive staff and coordinating inter departmental processes.

Assessing and analyzing department budgets

Identifying pain points and reducing friction within the company

Filing and record keeping

Maintaining compliance with local and federal regulations

Managing company headcount

Owning and managing a variety of projects as assigned
About Loveland Technologies LLC
Loveland Technologies is a Detroit-based nationwide parcel data & mapping software company. We are headquartered in Detroit, however we are a fully remote & distributed team with members working out of multiple time zones across the USA. Loveland welcomes and gives equal consideration to qualified applicants of any race, gender, sexual orientation, religion, national origin, age, or disability status. Benefits include flexible work hours and vacation days, health care, and paid parental leave.
Our Parcel Data - We have collected and standardized a high quality nationwide dataset of over 147 million land parcels covering over 97% of residents in the USA. We offer our data in multiple formats to customers across private and public sector verticals as bulk data files & through an API. Our Mapping as a Service product, landgrid.com, allows our customers to map & survey with the parcel data we have collected. Our mobile apps give individuals and teams access to the latest parcel data and data collection tools in the field.
Over the last several years, we have created a successful suite of products, a growing customer base and project portfolio, and an effective organization. Our products are built in-house from scratch and are a labor of love that has become great business.
To apply

We invite all qualified applicants to submit a resume and cover letter for this position by emailing us at jobs@landgrid.com. We will begin scheduling interviews the week of July 19, 2021.