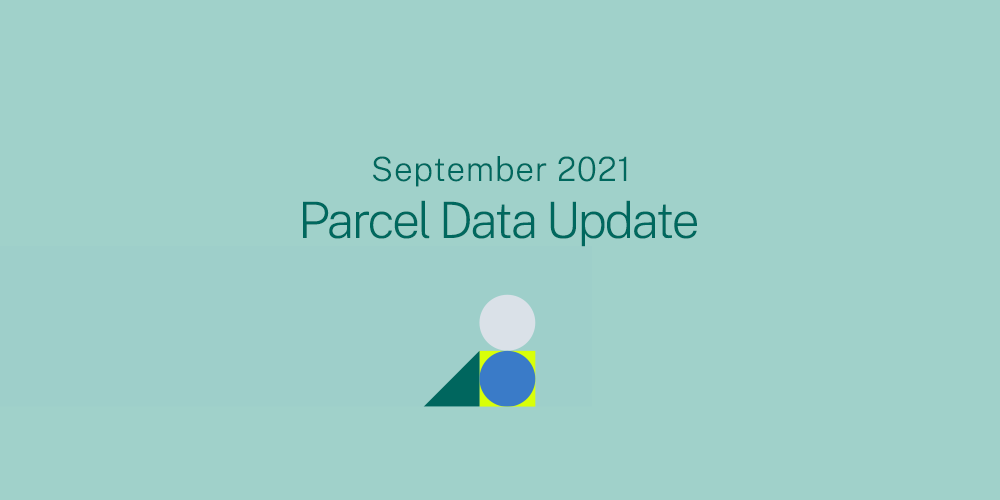 September Parcel Update 2021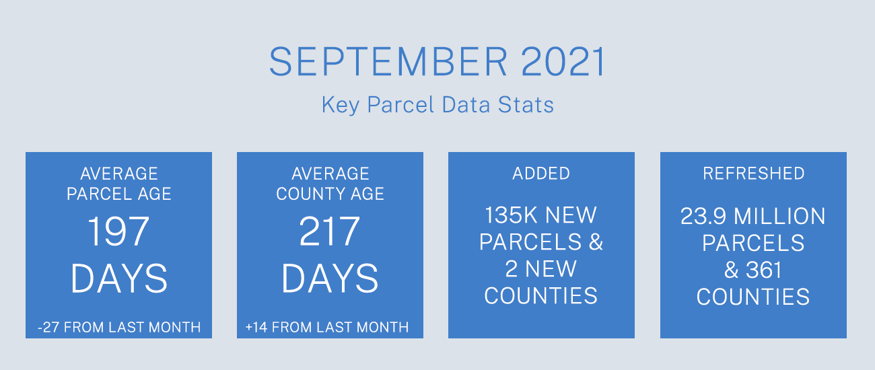 Dear Friends of Regrid Parcel Data & Regrid.com,
A summary of updates in August of 2021 and the upcoming pipeline is below.
Regrid Parcel Record Schema Additions Completed!
As announced in last month's update, these changes were implemented the week of August 16th, 2021. The schema and all county files have been changed to add in the following three (3) new attributes/columns:


'lat' - Parcel Centroid coordinate
'lon' - Parcel Centroid coordinate
'taxyear' - A county-provided date that indicates which tax year the assessor's attributes apply to.
Cropland Data Layer / Cropscape Data
Our initial process for populating these fields is complete and Premium Dataset clients should start seeing these attributes filled in on parcels 10 acres or larger with this month's data. A detailed FAQ from the USDA data source is available here.


USPS Vacancy, Residential indicators: Now updated monthly. Updated in August 2021, next update in September.
Coverage Report: Updated for this month and available here.


A machine-readable version of this list is included in the `verse` table available in all the formats above as well as CSV format for use in spreadsheets. To find the latest updates in verse, sort by 'last_refresh' and use the 'filename_stem' column to identify the file.
Data refreshed or added from the county in August and live now:
(Asterisk * indicates newly added county.)
---

AR - Arkansas, Ashley, Baxter, Benton, Boone, Bradley, Calhoun, Carroll, Chicot, Clark, Clay, Cleburne, Cleveland, Columbia, Conway, Craighead, Crawford, Crittenden, Cross, Dallas, Desha, Drew, Faulkner, Franklin, Garland, Grant, Greene, Hempstead, Hot Spring, Howard, Independence, Izard, Jackson, Jefferson, Johnson, Lafayette, Lawrence, Lee, Lincoln, Little River, Logan, Lonoke, Madison, Marion, Miller, Monroe, Montgomery, Nevada, Ouachita, Perry, Phillips, Pike, Poinsett, Polk, Pope, Prairie, Randolph, Saline, Scott, Sebastian, Sevier, Sharp, St. Francis, Stone, Union, Van Buren, Washington, White, Woodruff, Yell
CA - Alameda, Fresno, Los Angeles, Mono, Sonoma
ID - Jerome
IL - Whiteside
KY - Boone, Boyle, Campbell, Clark, Daviess, Fayette, Henderson, Hopkins, Jefferson, Jessamine, Kenton, Madison, Oldham, Pendleton, Scott, Shelby, Simpson, Warren, Webster


LA - Acadia, Ascension, Avoyelles, Bossier, Caddo, Calcasieu, East Baton Rouge, Evangeline, Lafayette, Ouachita, Plaquemines, Richland, St. Bernard, St. Charles, St. James, St. Landry, Tangipahoa, West Baton Rouge


MI - Gogebic*
MO - Atchison, Audrain, Bates, Benton, Boone, Buchanan, Butler, Camden, Cape Girardeau, Christian, Cole, Cooper, Dade, Dallas, DeKalb, Douglas, Dunklin, Franklin, Greene, Henry, Holt, Jackson, Jefferson, Laclede, Lafayette, Lawrence, Lincoln, Linn, Macon, Madison, McDonald, Miller, Moniteau, Morgan, Newton, Osage, Perry, Phelps, Ralls, Ray, Scott, St. Francois, St. Louis, St. Louis City, Taney, Vernon, Warren, Washington
NE - Gage, Hall, Lancaster, Merrick, Nance, Nemaha, Richardson, Washington


NM - Bernalillo, Chaves, Cibola, Colfax, Curry, De Baca, Doña Ana, Eddy, Grant, Guadalupe*, Harding, Hidalgo, Lea, Lincoln, Los Alamos, Luna, McKinley, Otero, Rio Arriba, Roosevelt, Sandoval, San Juan, San Miguel, Santa Fe, Sierra, Socorro, Taos, Torrance, Valencia
TX - Williamson


VA - Virginia Beach

WI - Adams, Ashland, Barron, Bayfield, Brown, Buffalo, Burnett, Calumet, Chippewa, Clark, Columbia, Crawford, Dane, Dodge, Door, Douglas, Dunn, Eau Claire, Florence, Fond du Lac, Forest, Grant, Green, Green Lake, Iowa, Iron, Jackson, Jefferson, Juneau, Kenosha, Kewaunee, La Crosse, Lafayette, Langlade, Lincoln, Manitowoc, Marathon, Marinette, Marquette, Menominee, Milwaukee, Monroe, Oconto, Oneida, Outagamie, Ozaukee, Pepin, Pierce, Polk, Portage, Price, Racine, Richland, Rock, Rusk, Sauk, Sawyer, Shawano, Sheboygan, St. Croix, Taylor, Trempealeau, Vernon, Vilas, Walworth, Washburn, Washington, Waukesha, Waupaca, Waushara, Winnebago, Wood

In the Pipeline for updating in September 2021:
Louisiana
New York
Delaware
Utah


In the Pipeline for updating in October 2021:
Colorado
Florida


Based on feedback and county challenges, pipeline planning is always subject to change. As always, please contact us if you have any questions about accessing or using the data, if you find issues with any of our data, or you have any comments or questions about our data in specific areas or states. We also love to hear from you about which counties or regions you'd like to see us update next, as it helps inform our planning process.

Thank you for being a part of Regrid!


HAPPY MAPPING!
THE REGRID DATA TEAM
tech@regrid.com