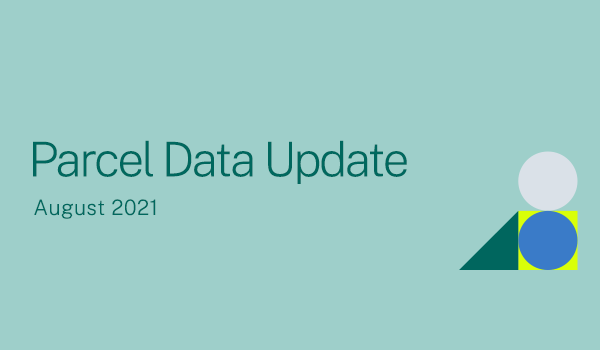 August Parcel Update 2021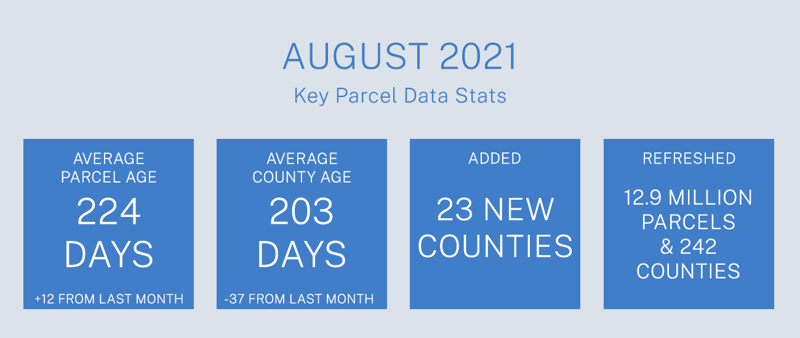 Dear Friends of Regrid parcel data and regrid.com,
A summary of updates in July 2021 and the upcoming pipeline is below.
We are now Regrid!
The main update is that we are now officially
Regrid
. We launched the new brand and domain two weeks ago. Exciting times ahead.
Regrid Parcel Record Schema additions
As announced in last month's update, these changes will be implemented the week of August 16th, 2021, the SCHEMA and ALL COUNTY FILES WILL CHANGE to add in the following three (3) new attributes/columns that week:
'lat' - Parcel Centroid coordinate
'lon' - Parcel Centroid coordinate
'taxyear' - A county-provided date that indicates which tax year the assessor's attributes apply to.
Technical support email:
We have a dedicated email address that goes directly to our senior technical and support folks!
Please use
tech@regrid.com
for any technical or support questions
related to our data or APIs.
USPS Vacancy, Residential Indicators: Now updated monthly. Updated in July 2021, next update in August.

Coverage Report: Updated for this month and located here.
For all full dataset customers, the updated data is available for download to bulk data clients in these formats: GeoPKG .gpkg (suggested), GeoJSON, Shapefile, and Postgres SQL files. In addition, this data has been updated on the
Regrid.com
website.
If your organization uses a custom export we are updating your data at the moment and if you don't see the latest updates, please drop us a line.

Data refreshed or added from the county in July and live now:
( Asterisk * indicates newly added county.)
---
AZ - Apache, Cochise, Coconino, Gila, Graham, Greenlee, La Paz, Maricopa, Mohave, Navajo, Pima, Pinal, Santa Cruz, Yavapai, Yuma
CA - Riverside

CO - Lincoln*, Teller

CT - Fairfield, Hartford, Litchfield, Middlesex, New Haven, New London, Tolland, Windham

FL - Miami-Dade, Polk

GA - Atkinson, Bacon, Ben Hill, Bibb, Brooks, Bryan, Burke, Camden, Chatham, Cherokee, Clarke, Clayton, Cobb, Coffee, Colquitt, Columbia, Cook, Coweta, Dawson, DeKalb, Dooly, Dougherty, Douglas, Echols, Effingham, Emanuel, Fannin, Floyd, Fulton, Gordon, Gwinnett, Habersham, Hall, Irwin, Jackson, Jeff Davis, Lanier, Laurens, Liberty, McDuffie, McIntosh, Murray, Muscogee, Newton, Paulding, Polk, Putnam, Richmond, Screven, Sumter, Telfair, Thomas, Troup, Union, Walton, Ware, Whitfield, Wilcox

IA - Adams, Allamakee, Appanoose, Audubon, Black Hawk, Boone, Buchanan, Buena Vista, Calhoun, Carroll, Cass, Cedar, Cerro Gordo, Cherokee, Clarke, Clayton, Clinton, Dallas, Davis, Decatur, Des Moines, Emmet, Green, Guthrie, Hamilton, Henry, Humboldt, Ida, Iowa, Jackson, Jefferson, Kossuth, Lee, Louisa, Lucas, Madison, Monroe, Muscatine, O'Brien, Osceola, Palo Alto, Pocahontas, Polk, Pottawattamie, Poweshiek, Ringgold, Sac, Scott, Story, Tama, Taylor, Union, Van Buren, Wapello, Washington, Wayne, Webster, Winneshiek, Wright

IL - Greene*, Madison*

KS - Johnson

LA - Allen*

MA - Barnstable, Berkshire, Bristol, Dukes, Essex, Franklin, Hampden, Hampshire, Middlesex, Nantucket, Norfolk, Plymouth, Suffolk, Worcester

MI - Barry, Bay, Cass, Chippewa*, Clare, Clinton, Delta, Gratoit, Huron*, Isabella, Livingston, Mackinac, Marquette*, Mecosta, Otsego, Sanilac*, Schoolcraft*

MO - Clay, Livingston, Marion, Polk, Pulaski, St. Charles, Stone

ND - Adams*, Barnes, Benson*, Billings, Bottineau, Bowman, Burke, Burleigh, Cass, Cavalier, Dickey*, Divide, Dunn, Eddy, Emmons, Golden Valley, Gran Forks, Grant, Griggs* Hettinger, Kidder*, LaMoure, Logan*, McHenry, McIntosh, McKenzie, McLean, Mercer*, Morton, Mountrail, Oliver*, Pembina, Pierce*, Ramsey, Ransom*, Renville, Richland, Rolette, Sargent, Sheridan, Sioux, Slope*, Stark, Stelle, Stutsman*, Towner*, Traill, Walsh, Ward, Wells*, Williams

NJ - Ocean

NV - Esmeralda*

NY - Dutchess

OH - Ottawa

OK - Beckham*, Kiowa*, Murray, Pushmataha*

SD - Benner, Bon Homme, Brule, Buffalo, Butte*, Campbell, Day, Edmunds, Fall River, Gregory, Jones, Lake, Lawrence, Lyman, Marshall, McPherson, Meade, Mellette, Miner, Moody, Pennington, Roberts, Todd*, Tripp, Turner*, Yankton

TN - Anderson, Bedford, Benton, Bledsoe, Blount, Bradley, Campbell, Cannon, Carroll, Carter, Cheatham, Chester, Claiborne, Clay, Cocke, Coffee, Crockett, Cumberland, Davidson, Decatur, DeKalb, Dickson, Dyer, Fayette, Fentress, Franklin, Gibson, Giles, Grainger, Greene, Grundy, Hamblen, Hamilton, Hancock, Hardeman, Hardin, Hawkins, Haywood, Henderson, Henry, Hickman, Houston, Humphreys, Jackson, Jefferson, Johnson, Knox, Lake, Lauderdale, Lawrence, Lewis, Lincoln, Loudon, Macon, Madison, Marion, Marshall, McMinn, McNairy, Meigs, Monroe, Montgomery, Moore, Morgan, Obion, Overton, Perry, Pickett, Polk, Putnam, Rhea, Roane, Robertson, Rutherford, Scott, Sequatchie, Sevier, Smith, Stewart, Sullivan, Sumner, Tipton, Trousdale, Unicoi, Union, Van Buren, Warren, Washington, Wayne, Weakley, White, Williamson, Wilson

UT - Salt Lake


In the Pipeline for updating in August 2021:
---
Louisiana
New Mexico
Wisconsin




In the Pipeline for updating in September 2021:
---
Missouri
New York

Based on feedback and county challenger, pipeline planning is always subject to change. As always, please contact us if you have any questions about accessing or using the data, if you find issues with any of our data, or you have any comments or questions about our data in specific areas or states. We also love to hear from you about which counties or regions you'd like to see us update next, as it helps inform our planning process.

Thank you for being a part of Regrid!
BEST WISHES,
THE REGRID DATA TEAM
tech@regrid.com