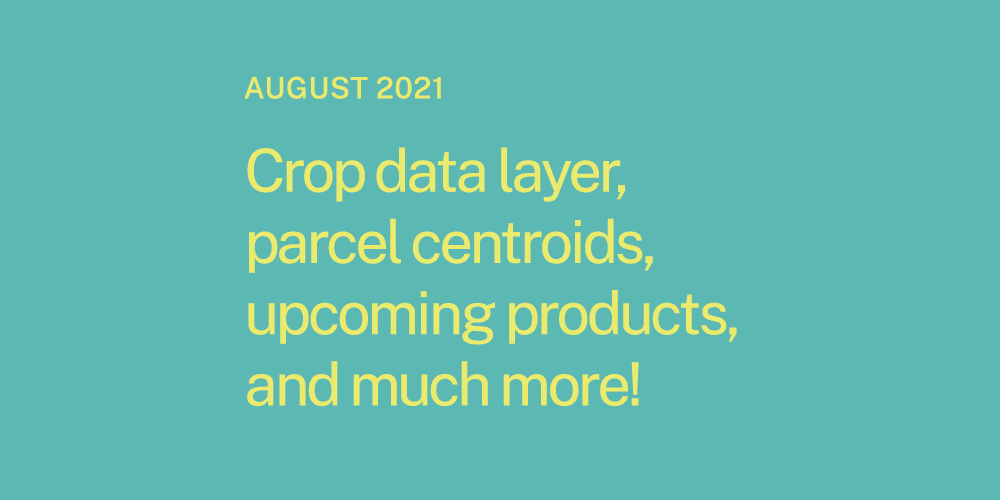 Crop data layer, parcel centroids, and more! - August 2021 Newsletter
Crop data layer, parcel centroids, and more! This is the Regrid August 2021 Newsletter
We've officially been Regrid for a little less than a month and the excitement is continuing to grow. We are overwhelmed with the positive response we've received from our community of customers and partners for the new name, site, and design.
If you haven't checked out the new site yet, please do and give us a shoutout on your social handles - Regrid.com
Same great products, same incredible team - with a new name & a new look!


Well, same great products with new, exciting additions that were just released and some massive updates that are in the hopper.
Schema Changes - We recently added a host of new fields to our parcel data schema. You asked and we listened!
Here's a quick glance at the recent additions:
Crop Data Layer Fields (CDL)

- Apart from our land use codes, we now have another data point that showcases what is happening on a parcel. The Crop data layer program was created by the USDA to provide acreage estimates to the Agricultural Statistics Board for major commodities and to digital, crop-specific, categorized geo-referenced output products, using satellite imagery. We've used their 2020 nationwide raster dataset to populate crop data value category and acreage on parcels 10 acres large and greater as a part of our premium dataset. You can checkout the fields and their keys here: https://support.regrid.com/articles/cdl-keys/
Why is this valuable, you ask?
CDL fields show the land cover type categorized by the various crop types that are being cultivated on these lands, along with their acreage numbers. The cdl_majority_category will list the primary crop (like Alfalfa), and additional technical details are available in the other CDL fields. These fields are especially valuable to our ag and forestry customers, but they have helped inform & improve the accuracy of our standardized land use codes. Just another data point that shows what land is being used for.
You will find these fields in your premium dataset under the following field names as shown in the Regrid Parcel Schema -

2. Latitude & longitude have been added as separate fields to our schema. While our data has always included the full parcel geometry and our platform has listed the parcel centroid, we recently added latitude and longitude as independent fields across all data formats and deliverables. These fields are available now to Pro users and will be rolling out to data customers this month.
3. Taxyear - A county-provided date that indicates which tax year the assessor's attributes apply to. We are starting to roll this out across our dataset.
That's a wrap on recent additions to the data.

Here's a look at our upcoming product updates:
Parcel API - We are adding the ability to search our API by a polygon (geoJSON as an input) soon. Currently, our API is searchable by APN, lat/lon, address and owner name. You asked for 'search by polygon' and we will get that out to you shortly.

Matched building footprints

- We are working our way through the private beta of our pre-joined building footprints dataset. So stay tuned for a launch announcement coming up shortly.

If you're interested to learn more about our upcoming products and buildings data, please contact us at parcels@regrid.com.

It's been a busy summer at the Regrid HQ. :)
We'll be back with more announcements soon.