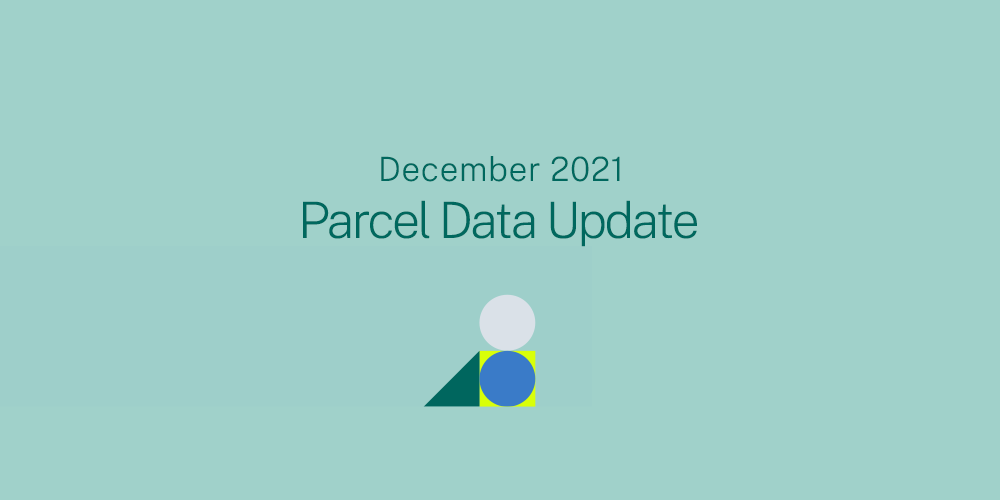 December Parcel Update 2021



Dear Friends of Regrid Parcel Data and Regrid.com,
A detail of updates in November of 2021 and the upcoming pipeline is below.
Changes to county table "Layer Names"
Some spatial file formats support a "layer name" for use by software applications. In some software applications, layer names with a dash character, " - " require an additional step during processing. We will be updating our exports to convert dashes, to underscore " _ " characters in layer names starting in January of 2022. Underscore characters are better supported in software applications. Please let us know if you have any feedback or suggestions related to this change.
Loveland Parcel Record Schema changes coming!
We are adding more attribute columns to our Parcel Record Schema in the next 30 - 40 days. We will provide updates in these monthly bulk data emails when they are fully added. More details on these fields can be found at the Data Dictionary listed below, but the short list is: homestead_exemption, alt_parcelnumb1-3 (total of 3 new columns), parcelnumb_no_formatting, assessor_data_date, township, section, range,census_school_district. We would love any feedback on these proposed attributes you might have.
Loveland 'verse' meta data table schema change.
We have dropped the column 'accuzip_status', and replaced it with 'usps_data_date' column that contains the same information, but is date type field so easier for machine reading.
Cropland Data Layer / Cropscape Data
Our initial process for populating these fields is complete for parcels 10 acres or larger.
USPS Vacancy, Residential indicators: Now updated monthly. Unchanged from last month, next update in December.
Coverage Report: Updated for this month and available here.
A machine-readable version of this list is included in the `verse` table available in all the formats above as well as CSV format for use in spreadsheets. To find the latest updates in verse, sort by 'last_refresh' and use the 'filename_stem' column to identify the file.
Data refreshed or added from the county in November and live now:
( Asterisk * indicates newly added county)
--------------------------------------------------
AL - Baldwin, Barbour, Bibb, Blount, Bullock, Butler, Calhoun, Chambers, Cherokee, Chilton, Choctaw, Clarke, Clay, Cleburne, Coffee, Colbert, Conecuh, Coosa, Covington, Crenshaw, Cullman, Dale, DeKalb, Elmore, Etowah, Fayette, Franklin, Geneva, Greene, Henry, Houston, Jackson, Jefferson, Lamar, Lauderdale, Lawrence, Limestone, Lowndes, Macon, Madison, Marengo, Marion, Marshall, Mobile, Monroe, Montgomery, Morgan, Randolph, Shelby, St. Clair, Talladega, Tallapoosa, Tuscaloosa, Walker, Wilcox
CA - Amador, Del Norte, Glenn, Imperial, Kings, Lassen, Napa, Nevada, Plumas, Sutter, Tehama, Yolo
CO - Dolores*, Eagle
FL - Duval, Orange
GU - Guam*
IA - Adair, Adams, Dallas, Monona
ID - Idaho
MI - Alger, Baraga, Crawford*, Gogebic, Kalkaska, Keweenaw, Menominee
MN - Clay
MS - DeSoto, Hinds, Lee
ND - McIntosh
OR - Clackamas, Deschutes
PA - Lancaster, Philadelphia
SC - Beaufort
TX - Bexar
VA - Accomack, Albemarle, Alexandria, Alleghany, Amelia, Amherst, Appomattox, Arlington, Augusta, Bath, Bedford, Botetourt, Bristol, Brunswick, Buchanan, Buckingham, Campbell, Caroline, Carroll, Charles City, Charlottesville, Chesapeake, Chesterfield, Clarke, Colonial Heights, Covington, Culpeper, Danville, Dinwiddie, Emporia, Essex, Fairfax, Fairfax City, Falls Church, Floyd, Fluvanna, Franklin, Franklin City, Frederick, Fredericksburg, Galax, Giles, Gloucester, Goochland, Grayson, Greene, Greensville, Halifax, Hampton, Hanover, Harrisonburg, Henrico, Henry, Highland, Hopewell, Isle of Wight, James City, King and Queen, King George, King William, Lancaster, Lexington, Loudoun, Louisa, Lunenburg, Lynchburg, Madison, Manassas, Manassas Park, Mathews, Mecklenburg, Middlesex, Nelson, New Kent, Newport News, Northampton, Norton, Nottoway, Orange, Page, Patrick, Pittsylvania, Poquoson, Portsmouth, Powhatan, Prince Edward, Prince George, Prince William, Pulaski, Radford, Richmond, Richmond City, Roanoke, Roanoke City, Rockbridge, Russell, Salem, Scott, Shenandoah, Smyth, Southampton, Spotsylvania, Stafford, Staunton, Suffolk, Surry, Sussex, Tazewell, Warren, Washington, Waynesboro, Westmoreland, Winchester, Wise, Wythe, York
WA - Stevens
WI - Milwaukee
In the current pipeline for updating in December 2021
--------------------------------------------------
Florida
Illinois
Mississippi


In the pipeline for updating in January 2022
--------------------------------------------------
Hawaii
Pennsylvania
Washington
Based on feedback and county challenges, pipeline planning is always subject to change. As always, please contact us if you have any questions about accessing or using the data, if you find issues with any of our data, or you have any comments or questions about our data in specific areas or states. We also love to hear from you about which counties or regions you'd like to see us update next, as it helps inform our planning process.
Thank you for being a part of Regrid!





Best wishes,
The Regrid Data Team