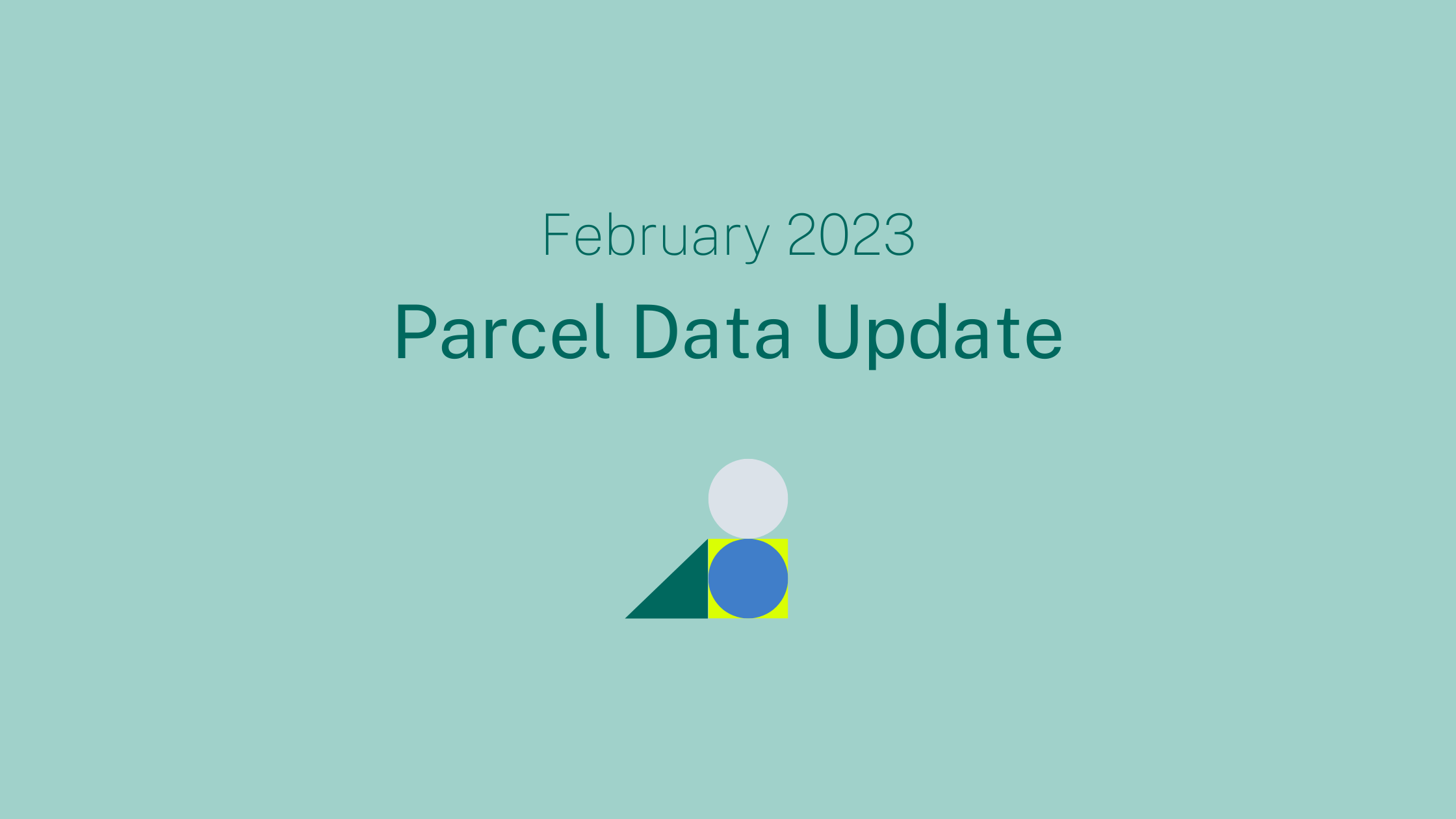 February 2023 Parcel Data Update
A summary of updates in January 2023 and a preview of the counties in our upcoming pipeline are below.

Matched Addresses Schema Change - For Premium tier clients that also receive our Matched Addresses product there will be a change to the Matched Addresses files' schema. Specifically, we are adding two additional attributes, a_dp_digits and a_dp_check. These attributes are used as part of the USPS Delivery Point Barcode and the USPS Enhanced Barcode. We will begin rolling out this change the week of Feb 13, 2023.
Lapeer County, Michigan - We have added the full county for Lapeer County MI where we previously only had the City of Lapeer (mi_lapeer_lapeer). If you have a file, table or data from for the City of Lapeer, geoid 26087, it should be removed and replaced with the new full county data from the file with the filename_stem of 'mi_lapeer'.

Past Data Update Emails - The full archive of our monthly data update emails can be found on our main website: https://regrid.com/blog/tag/parcel-data-updates

Coverage Report - Updated for this month and available here.
A machine-readable version of this list is included in the `verse` table available in all the formats above as well as CSV format for use in spreadsheets. To find the latest updates in verse, sort by 'last_refresh' and use the 'filename_stem' column to identify the file.

Data refreshed or added in January 2023 and live now:
(Asterisk * indicates newly added county.)
CA - Los Angeles, Merced, San Diego
CO - El Paso, Grand, Otero, Park, Phillips, Pitkin, Pueblo, Rio Blanco, Rio Grande, Routt, Saguache, San Juan, Summit, Weld
FL - Alachua, Baker, Bay, Bradford, Brevard, Broward, Calhoun, Charlotte, Citrus, Collier, Columbia, DeSoto, Dixie, Duval, Escambia, Flagler, Franklin, Gadsden, Gilchrist, Glades, Gulf, Hamilton, Hardee, Hendry, Hernando, Highlands, Hillsborough, Holmes, Indian River, Jackson, Jefferson, Lafayette, Lake, Lee, Leon, Levy, Liberty, Manatee, Marion, Martin, Miami-Dade, Monroe, Nassau, Okaloosa, Okeechobee, Osceola, Palm Beach, Pasco, Polk, Putnam, Santa Rosa, Sarasota, Seminole, St. Johns, St. Lucie, Sumter, Suwannee, Taylor, Union, Volusia, Wakulla, Walton, Washington
GA - Cook, Forsyth, McIntosh, Thomas
HI - Honolulu, Kalawao, Kauai, Maui
IA - Adair, Benton, Buena Vista, Cass, Chickasaw, Franklin, Hardin, Harrison, Humboldt, Louisa, Lyon, Mahaska, Osceola, Scott, Wapello, Winnebago, Wright
IL - Piatt, Union, Washington
KS - Reno
LA - Beauregard, Caddo, Caldwell, De Soto, Evangeline, Grant, Jackson, Lincoln, Ouachita, Rapides, Richland, Sabine, Tensas, Union, Vermilion
MI - Lapeer*, Wayne
MN - Isanti, Kanabec, Le Sueur, Lyon, Martin
MO - Boone, Jackson, Nodaway
MS - Harrison
NC - Warren
NE - Scotts Bluff
NM - Catron, Union
OH - Carroll, Geauga, Meigs
PR - Adjuntas, Aguada, Aguadilla, Aguas Buenas, Aibonito, Añasco, Arecibo, Arroyo, Barceloneta, Barranquitas, Bayamón, Cabo Rojo, Caguas, Camuy, Canóvanas, Carolina, Cataño, Cayey, Ceiba, Ciales, Cidra, Coamo, Comerío, Corozal, Culebra, Dorado, Fajardo, Florida, Guánica, Guayama, Guayanilla, Guaynabo, Gurabo, Hatillo, Hormigueros, Humacao, Isabela, Jayuya, Juana Díaz, Juncos, Lajas, Lares, Las Marías, Las Piedras, Loíza, Luquillo, Manatí, Maricao, Maunabo, Mayagüez, Moca, Morovis, Naguabo, Naranjito, Orocovis, Patillas, Peñuelas, Ponce, Quebradillas, Rincón, Río Grande, Sabana Grande, Salinas, San Germán, San Juan, San Lorenzo, San Sebastián, Santa Isabel, Toa Alta, Toa Baja, Trujillo Alto, Utuado, Vega Alta, Vega Baja, Vieques, Villalba, Yabucoa, Yauco
SD - Meade
TN - Scott
TX - Bexar, Harrison, Travis
VA - Madison, Prince William, Southampton
WA - Benton, Chelan, Cowlitz, Douglas, Garfield, Grant, Grays Harbor, Island, Jefferson, Kittitas, Klickitat, Lewis, Pacific, Skagit, Skamania, Spokane, Stevens, Yakima
WI - Milwaukee
WY - Albany, Big Horn, Campbell, Carbon, Converse, Crook, Fremont, Goshen, Johnson, Lincoln, Natrona, Niobrara, Park, Sheridan, Sublette, Sweetwater, Teton, Uinta, Washakie, Weston
In the current pipeline for updating in February 2023:
Alaska
Pennsylvania

In the pipeline for updating in March 2023:
Maine
New Hampshire
North Dakota
Rhode Island
Vermont
West Virginia
Based on feedback and county challenges, pipeline planning is always subject to change. As always, please contact us if you have any questions about accessing or using the data, if you find issues with any of our data, or you have any comments or questions about our data in specific areas or states. We also love to hear from you about which counties or regions you'd like to see us update next, as it helps inform our planning process.

Thank you for being a part of Regrid!
Best Wishes,
The Regrid Data Team
tech@regrid.com
---