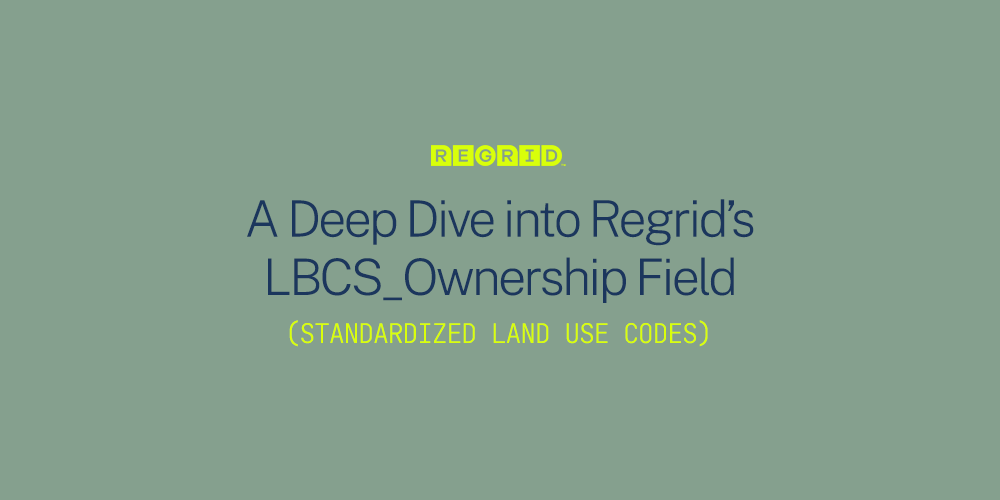 Deep Dive into the LBCS_Ownership Field (Standardized Land Use Codes)
A Deep Dive into LBCS_Ownership Field (Standardized Land Use Dimension)


It's been over a year since we started our work on the multi-dimensional standardized land use codes based on APA's LBCS (land based classification standards) codes. If you are new to Regrid and want to learn more about our nationwide parcel data and standardized land use codes, click here.
Unlike other standards for land use, the LBCS system uses 5 different dimensions to provide additional context and nuance into how land is used. You can read more about the dimensions with example codes here.
Let's do a quick deep dive into the 5th dimension, lbcs_ownership.


This dimension provides additional, granular context into who owns the land—is it a specific kind of public entity, like a municipal/state government or public school, or is it likely a private property?


Most land in the United States (by percentage of parcels) is privately owned. We estimate that nationwide, only a small percentage of all parcels are publicly owned. However, those parcels comprise a huge percentage of the total land area in the United States (including, for instance, most of the state of Nevada!) as well as encompassing state parks, national forests, city property, etc (as shown in the map below).
Source:https://en.wikipedia.org/wiki/Public_land#/media/File:US_federal_land.agencies.svg
How do we populate the lbcs_ownership field?
We populate this field based on the information we receive for the following attributes from our data sources:
County-provided owner name (the 'owner' field—the most frequently used source for our standardized land use codes)
County-provided land use description
Owner type (the 'owntype' field)
Additional non-county-provided datasets which include ownership information
The above data collectively helps inform us about what sort of entity owns this parcel. Over the last two years, we have created and carefully refined a process to search through the owner names and other attributes in our data to assign standardized land use codes. Most of this is manual work done by our in-house data experts.
We then use our standardized land use codes for ownership to populate the right code for the parcel. For example, a parcel with the owner name "City of Detroit" would be assigned an lbcs_ownership value of 4110, for "City, Village, Township, etc."
We are also currently working to incorporate the United States Protected Areas Database (PAD-US) into our dataset by early 2022. This is a resource maintained by the US Geological Survey (USGS) which synthesizes numerous sources (federal, state, county, municipal, etc.) to create a centralized record of public land across the nation, as well as the entities responsible for managing them. We expect that the PAD-US data will improve our lbcs_ownership coverage in areas where we would otherwise have no data on which to base our classifications.
Current lbcs_ownership coverage
Given that we have fewer public properties in the United States, we started by populating the lbcs_ownership field with public ownership classifications, in hopes to have full coverage of all municipally or institutionally owned parcels in the country.
So far, we have a nationwide total of 3% coverage for lbcs_ownership in our dataset, comprised only of municipally or institutionally owned parcels. Again, our coverage report is based on the number of parcels, not land area—the actual area covered by that 3% is much larger than might be expected based on the number alone! We are still in the process of populating this field with these classifications. Much of this work is happening in Q4 2021 & Q1 2022, so that initial coverage number will increase over time.
What does that mean for private ownership?
Once we have fully classified the publicly owned parcels, we plan to further analyze the attributes of the remaining unclassified parcels. We expect most of them to be classified as privately owned (code 1000). This will bring our coverage of the lbcs_ownership attribute up significantly in Jan 2022.
You can check out the standardized land use codes we are using to populate this field with public vs. private: https://support.regrid.com/articles/lbcs-keys/#ownership-classifications
These codes will give you a sense of the level of granularity this field will represent. It's not a simple binary public vs. private flag. It has additional nuance into the type of public entity that owns the parcel, leading to deeper insights into ownership.
Why is this field valuable?
Understanding ownership is a key use-case that we've successfully solved for our customers over the past few years. Adding an attribute that provides additional insight into public, municipal, civic, and private ownership can provide the location context for a multitude of specific geospatial use cases, such as hunting, site selection for a large solar project, outdoor recreation, urban planning, etc.
This additional layer of context is usually missing in one-dimensional land use classifications. APA's LBCS's classification had precisely such varied use cases in mind when they first set out to build this system. Since incorporating them into our data, our customers have found significant value in using them for their projects.
Hear how our customers use these codes:
"Pivvot uses Loveland's LBCS Columns for customers who need detailed zoning & land use information. Often, the data in these columns are not included in parcel data & county level data. The LBCS columns have been an efficient alternative to missing source data and provide value to our customers."

— Pete Veenstra, VP of Data Architecture at Pivvot
If you're interested in our standardized land use codes and want to discuss further, reach out to us at parcels@regrid.com