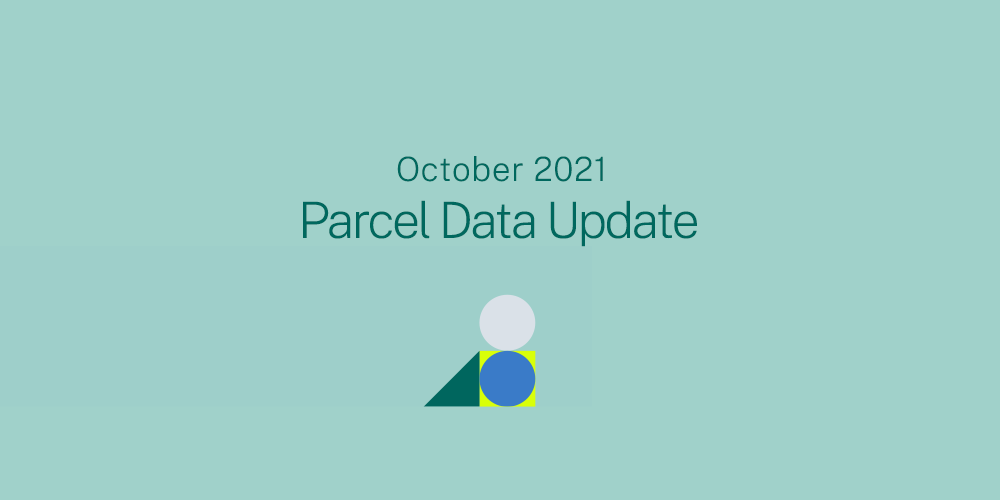 October Parcel Data Update 2021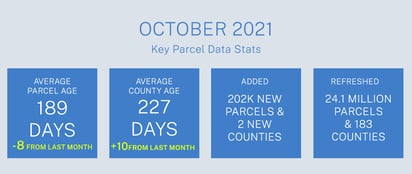 Dear Friends of Regrid parcel data and Regrid.com,

A summary of updates in September of 2021 and the upcoming pipeline is below.

We recently launched Regrid Nationwide Parcel Data Premium Schema + Matched Building Footprints. We now provide more than 156 M building footprints nationwide, matched & pre-joined with our premium parcel data. This data is available for the entire nation or individual states. If you are interested in upgrading to this dataset, please reach out to us at parcels@regrid.com.




Premium Fields - Building count and footprint square footage now 100% nationwide!
Part of our new partnership with EarthDefine for nationwide matched building polygons product (described above) is that we have now updated our nationwide premium schema ll_bldg_count and ll_bldg_footprint_sqft attributes as well. Building count and footprint square footage are on every parcel now. If you are interested in upgrading to the premium schema or premium + matched buildings schema, please contact us at parcels@regrid.com.


Cropland Data Layer / Cropscape Data
Our initial process for populating these fields is complete for parcels 10 acres or larger.

USPS Vacancy, Residential indicators: Now updated monthly. Updated in September 2021, next update in October.
Coverage Report: Updated for this month and available here.
A machine-readable version of this list is included in the `verse` table available in all the formats above as well as CSV format for use in spreadsheets. To find the latest updates in verse, sort by 'last_refresh' and use the 'filename_stem' column to identify the file.

Data refreshed or added:
(Asterisk * indicates newly added county.)
---
AR - Pulaski

AZ - Maricopa, Pima

CA - Sacramento, San Bernardino, Santa Clara, Ventura

CO - El Paso

DE - Kent, New Castle, Sussex

FL - Hillsborough, Lee, Miami-Dade, Palm Beach

GA - Bacon, Bartow, Brooks, Carroll, Charlton, Dawson, Fannin, Haralson, Harris, Houston, Jeff Davis, Jones, Murray, Peach, Pierce, Putnam, Rockdale, Troup, Ware, Washington

IL - DuPage, Lake

IN - Marion

KY - Graves*

LA - Claiborne, Concordia, Franklin, Grant, Iberia, Iberville, Jefferson, La Salle, Livingston, Natchitoches, Pointe Coupee, Red River, St. John the Baptist, St. Martin, St. Mary, St. Tammany, Terrebonne, Washington, Webster, West Feliciana

MI - Oakland

MN - Hennepin, Rock*

MO - Oregon, Saline, St. Clair

NC - Mecklenburg, Wake

ND - Grand Forks

NJ - Bergen

NY - Albany, Allegany, Bronx, Broome, Cattaraugus, Cayuga, Chautauqua, Chenango, Clinton, Columbia, Cortland, Delaware, Dutchess, Erie, Essex, Franklin, Fulton, Genesee, Greene, Hamilton, Herkimer, Jefferson, Kings, Lewis, Livingston, Madison, Monroe, Montgomery, Nassau, New York, Niagara, Oneida, Onondaga, Ontario, Orange, Orleans, Oswego, Otsego, Putnam, Queens, Rensselaer, Richmond, Rockland, Saratoga, Schenectady, Schoharie, Schuyler, Seneca, Steuben, St. Lawrence, Suffolk, Sullivan, Tioga, Tompkins, Ulster, Warren, Washington, Wayne, Westchester, Wyoming, Yates

OH - Franklin

OK - Oklahoma

OR - Multnomah

SC - Horry

SD - Bennett, Brule, Campbell, Davison, Day, Jerauld, Jones, Marshall, McPherson, Mellette, Oglala Lakota

TX - Collin, Dallas, Denton, El Paso, Fort Bend, Hidalgo, Tarrant, Travis

UT - Beaver, Box Elder, Cache, Carbon, Daggett, Davis, Duchesne, Emery, Garfield, Grand, Iron, Kane, Millard, Morgan, Piute, Rich, Sanpete, Sevier, Summit, Tooele, Uintah, Utah, Wasatch, Washington, Wayne, Weber

VA - Loudoun

WA - King, Pierce

WI - Milwaukee

In the current pipeline for updating in October 2021:
---
Colorado
New Jersey
South Carolina

In the pipeline for updating in November 2021:
---
Illinois
Mississippi
Ohio


Based on feedback and county challenges, pipeline planning is always subject to change. As always, please contact us if you have any questions about accessing or using the data, if you find issues with any of our data, or you have any comments or questions about our data in specific areas or states. We also love to hear from you about which counties or regions you'd like to see us update next, as it helps inform our planning process.

Thank you for being a part of Regrid!


HAPPY MAPPING!
THE REGRID DATA TEAM
tech@regrid.com