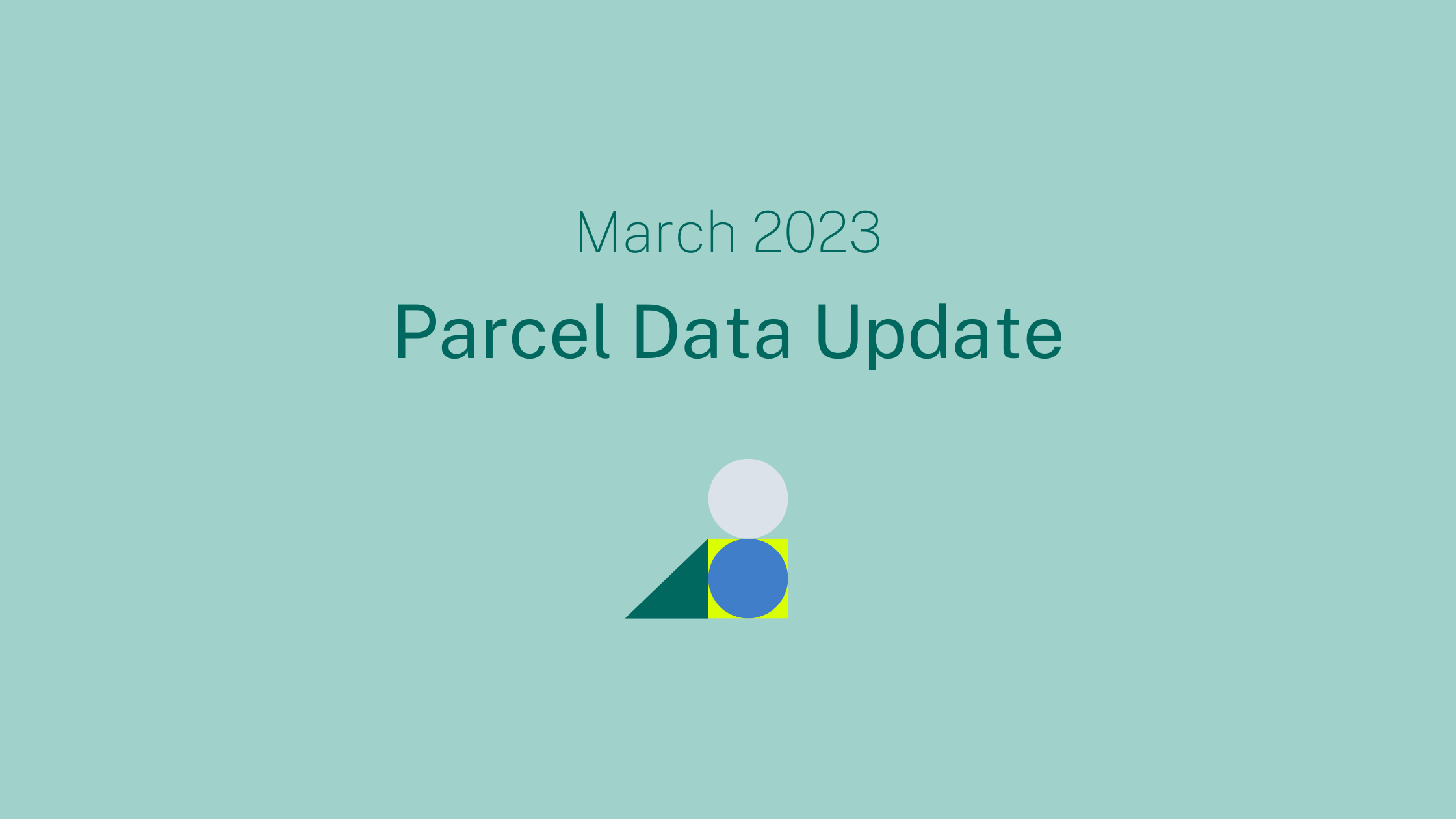 March 2023 Parcel Data Update
At Regrid, our team of parcel data experts is always working to bring you fresh, accurate parcel data. Check out the latest updates below…


Matched Building Schema Change - For Premium tier clients that also receive our Matched Building product, we are making an addition to the building table schema starting in April. We will be adding a column named 'ed_largest' that is a flag for the largest building on a parcel.
Matched Addresses Schema Change Complete - For Premium tier clients that also receive our Matched Addresses product this schema change has been implemented.

Past Data Update Emails - The full archive of our monthly data update emails can be found on our main website: https://regrid.com/blog/tag/parcel-data-updates

Coverage Report - Updated for this month and available here.
A machine-readable version of this list is included in the `verse` table available in all the formats above as well as CSV format for use in spreadsheets. To find the latest updates in verse, sort by 'last_refresh' and use the 'filename_stem' column to identify the file.

Data refreshed or added in February 2023 and live now:
(Asterisk * indicates newly added county.)
AK - Aleutians East Borough, Aleutians West Census Area, Anchorage, Chugach Census Area*, Copper River Census Area*, Dillingham Census Area, Fairbanks North Star Borough, Haines Borough, Hoonah-Angoon, Juneau, Kenai Peninsula Borough, Ketchikan Gateway Borough, Kodiak Island Borough, Lake and Peninsula Borough, Matanuska-Susitna Borough, Nome Census Area, Northwest Arctic Borough, Petersburg, Prince of Wales-Hyder Census Area, Skagway, Southeast Fairbanks Census Area, Wrangell, Yakutat, Yukon-Koyukuk Census Area
AL - Shelby
CA - Alameda, Riverside, San Mateo, Santa Clara, Sonoma
CO - Teller
FL - Orange, Sarasota
GA - Bartow, Brooks, Camden, Charlton, Fannin, Floyd, Gordon, Haralson, Jeff Davis, Laurens, McDuffie, Murray, Pierce, Putnam, Telfair, Washington, Wilcox
IL - Carroll, Cook, Henderson, Livingston
KY - Fayette, Robertson*
LA - Bienville, Cameron, East Carroll, Jefferson, Jefferson Davis
ME - Androscoggin, Aroostook, Cumberland, Franklin, Hancock, Kennebec, Lincoln, Oxford, Penobscot, Piscataquis, Sagadahoc, Waldo, Washington, York
MI - Van Buren
MN - Steele
MO - Callaway, Clark, Clinton, Johnson, Lewis, Perry, Pettis, Pike*, Putnam, Scotland, Shelby, Stoddard
MS - Attala, Marshall, Perry
ND - Barnes, Benson, Burke, Burleigh, Cass, Cavalier, Dickey, Divide, Dunn, Emmons, Foster, Golden Valley, Grand Forks, Griggs, Hettinger, LaMoure, McHenry, McIntosh, McKenzie, McLean, Mercer, Morton, Nelson, Oliver, Pembina, Ransom, Renville, Richland, Rolette, Sheridan, Sioux, Stark, Stutsman, Traill, Walsh, Ward, Williams
NE - Sarpy
NJ - Middlesex
OH - Columbiana, Mahoning
PA - Allegheny, Beaver, Bedford, Berks, Bradford, Bucks, Butler, Cambria, Cameron, Carbon, Centre, Chester, Clarion, Clearfield, Clinton, Columbia, Crawford, Cumberland, Dauphin, Erie, Fayette, Forest, Franklin, Fulton, Greene, Huntingdon, Juniata, Lackawanna, Lancaster, Lawrence, Lebanon, Lehigh, Luzerne, Lycoming, McKean, Mercer, Mifflin, Monroe, Montgomery, Montour, Northampton, Northumberland, Perry, Philadelphia, Pike, Potter, Schuylkill, Snyder, Somerset, Sullivan, Tioga, Union, Wayne, Westmoreland, Wyoming, York
RI - Bristol, Kent, Newport, Providence
SD - Corson, Haakon, Jackson, Perkins*, Potter, Ziebach*
TN - Chester
TX - Brazoria, Dallas, El Paso, Leon, Matagorda, Robertson, San Jacinto
UT - Salt Lake
VA - Bland, Petersburg, Virginia Beach
VT - Addison, Bennington, Caledonia, Chittenden, Essex, Franklin, Grand Isle, Lamoille, Orange, Orleans, Rutland, Washington, Windham, Windsor
WA - Asotin, Clallam, Franklin, King, Mason, Okanogan, Pend Oreille, Walla Walla
WI - Milwaukee
WV - Barbour, Berkeley, Boone, Braxton, Brooke, Cabell, Calhoun, Clay, Doddridge, Fayette, Gilmer, Grant, Greenbrier, Hampshire, Hancock, Hardy, Harrison, Jackson, Jefferson, Kanawha, Lewis, Lincoln, Logan, Marion, Marshall, Mason, McDowell, Mercer, Mineral, Mingo, Monongalia, Monroe, Morgan, Nicholas, Ohio, Pendleton, Pleasants, Pocahontas, Preston, Putnam, Raleigh, Randolph, Ritchie, Roane, Summers, Taylor, Tucker, Tyler, Upshur, Wayne, Webster, Wetzel, Wood, Wyoming
WY - Hot Springs, Laramie
In the current pipeline for updating in March 2023:
Nebraska

In the pipeline for updating in April 2023:
Arizona
New Hampshire
North Carolina
Oregon
Based on feedback and county challenges, pipeline planning is always subject to change. As always, please contact us if you have any questions about accessing or using the data, if you find issues with any of our data, or you have any comments or questions about our data in specific areas or states. We also love to hear from you about which counties or regions you'd like to see us update next, as it helps inform our planning process.

Thank you for being a part of Regrid!
Best Wishes,
The Regrid Data Team
tech@regrid.com
---