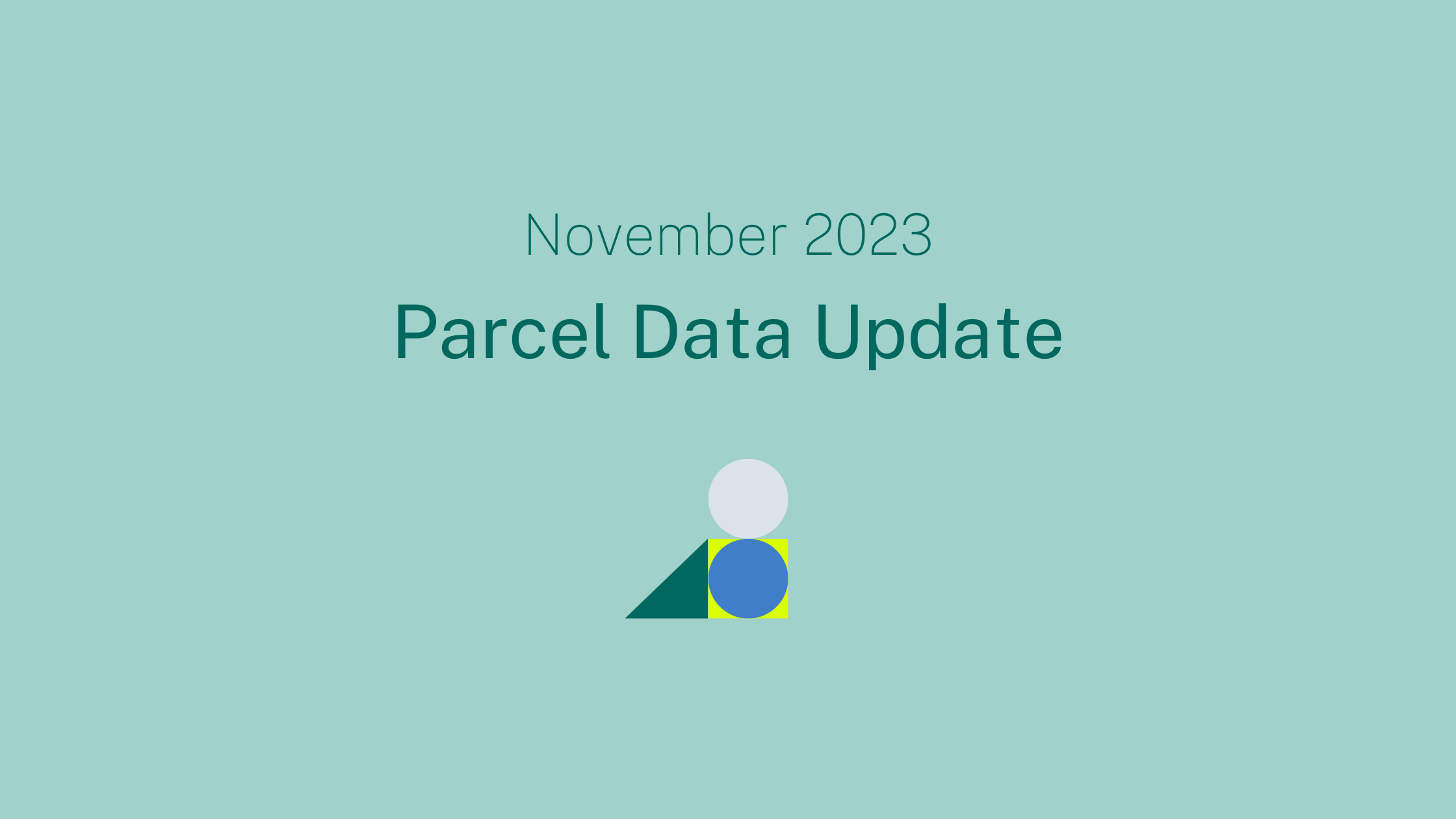 November 2023 Parcel Data Update
A detail of updates in October of 2023 and a preview of the upcoming counties in our pipeline is below.

Parcel Schema Changes Completed - We have fully completed the Regrid Parcel Data Schema update process and exported our full dataset with the new schema columns to all client download directories.


Please note: account_number, tax_id, state_parcelnumb, previous_owner, and numrooms columns will be populated with data as part of our regular parcel data refresh process. Please see our detailed blog post for more information: https://regrid.com/blog/schema-changes-2023
New owner names and mailing addresses added - We have added owner name and mailing address information for 96 counties that previously did not make that data available. The list of counties is below as this is outside of our normal refresh process, so these are listed separately.
AK - Wrangell
AL - Clay, Cleburne, Conecuh, Russell, Walker, Washington, Wilcox, Winston
CA - Mono, Sierra
CO - Lincoln
GA - Bartow, Camden, Dawson, Fannin, Floyd, Glynn, Gordon, Mcduffie, Whitfield
ID - Clark, Lincoln
KS - Stevens
KY - Adair, Anderson, Ballard, Barren, Bath, Bell, Boyd, Bracken, Caldwell, Calloway, Casey, Clinton, Crittenden, Edmonson, Fayette, Floyd, Fulton, Graves, Green, Hardin, Harlan, Henderson, Hopkins, Jessamine, Johnson, Knox, Leslie, Lewis, Lincoln, Livingston, Lyon, Madison, Marion, Mason, Meade, Metcalfe, Monroe, Morgan, Muhlenberg, Nicholas, Robertson, Russell, Washington
LA - Ascension, Plaquemines
MI - Cass, Macomb
MO - Platte
ND - Pierce, Wells
NE - Burt, Chase, Grant, Loup, Saline
NM - Colfax, Guadalupe
OR - Baker, Morrow
PA - Elk, Venango
SC - Chester
SD - Custer
UT - Emery, Garfield, Juab, Rich, Sanpete, Wayne
VA - Prince Edward
WA - Adams, Ferry
New Export Format - We are now exporting our premium dataset as EWKB csv files. These are primarily used for importing into AWS Redshift.
Past Data Update Emails - The full archive of our monthly data update emails can be found on our main website: https://regrid.com/blog/tag/parcel-data-updates

Coverage Report - Updated for this month and available here.
A machine-readable version of this list is included in the `verse` table available in all the formats above as well as CSV format for use in spreadsheets. To find the latest updates in verse, sort by 'last_refresh' and use the 'filename_stem' column to identify the file.

Data refreshed or added in October and live now:
AR - Newton
AZ - Cochise
CA - Alameda, Amador, Los Angeles, Placer, Sacramento, Santa Clara
CO - Archuleta, Kiowa, Montezuma, Morgan, San Miguel
DE - New Castle
IA - Decatur
IL - Edwards, Hardin, Richland, Union, Washington, Winnebago
IN - Adams, Allen, Benton, Blackford, Boone, Brown, Carroll, Clark, Clay, Clinton, Crawford, Daviess, Dearborn, Decatur, DeKalb, Dubois, Elkhart, Fayette, Fountain, Franklin, Gibson, Greene, Hancock, Hendricks, Henry, Howard, Huntington, Jackson, Jasper, Jefferson, Jennings, Johnson, Knox, Kosciusko, LaGrange, LaPorte, Marshall, Martin, Miami, Monroe, Montgomery, Morgan, Newton, Noble, Ohio, Orange, Owen, Parke, Perry, Pike, Posey, Pulaski, Putnam, Randolph, Ripley, Rush, Scott, Shelby, Spencer, Starke, Steuben, Sullivan, Switzerland, Tippecanoe, Tipton, Union, Vanderburgh, Vermillion, Vigo, Wabash, Warren, Warrick, Washington, Wayne, Wells, White, Whitley
KS - Allen, Anderson, Atchison, Barber, Barton, Bourbon, Brown, Chase, Chautauqua, Cherokee, Cheyenne, Clay, Cloud, Comanche, Decatur, Dickinson, Edwards, Ellis, Ellsworth, Finney, Ford, Geary, Gove, Greeley, Greenwood, Haskell, Hodgeman, Jackson, Jefferson, Jewell, Kearny, Kiowa, Labette, Leavenworth, Linn, Lyon, Marion, Miami, Montgomery, Morris, Morton, Nemaha, Ottawa, Pawnee, Rawlins, Rice, Riley, Rooks, Rush, Russell, Scott, Smith, Trego, Wyandotte
LA - Winn
MA - Barnstable, Berkshire, Bristol, Dukes, Essex, Franklin, Hampden, Hampshire, Middlesex, Norfolk, Worcester
MI - Baraga, Branch, Mason, Presque Isle, Van Buren
MN - Koochiching, Otter Tail
MO - Cedar, Grundy, Harrison, Henry, New Madrid, Schuyler
MS - Leflore
NE - Douglas
NM - Rio Arriba
NY - Orange
OH - Crawford, Fayette, Geauga, Henry, Mercer, Monroe, Morgan, Paulding, Sandusky, Wyandot
OK - Adair, Alfalfa, Atoka, Beaver, Beckham, Blaine, Bryan, Canadian, Carter, Cherokee, Choctaw, Cimarron, Coal, Comanche, Cotton, Craig, Creek, Custer, Dewey, Ellis, Garfield, Garvin, Grady, Grant, Greer, Harmon, Harper, Haskell, Hughes, Jackson, Jefferson, Johnston, Kay, Kingfisher, Kiowa, Latimer, Le Flore, Lincoln, Logan, Love, Major, Marshall, Mayes, McClain, McCurtain, McIntosh, Murray, Noble, Nowata, Okfuskee, Okmulgee, Ottawa, Pawnee, Payne, Pittsburg, Pontotoc, Pottawatomie, Pushmataha, Roger Mills, Rogers, Seminole, Sequoyah, Stephens, Texas, Tillman, Wagoner, Washington, Washita, Woods, Woodward
OR - Klamath
PA - Clearfield
SC - Aiken
SD - Charles Mix, Douglas, Gregory, Hamlin, Hand, Kingsbury, Lincoln
TX - Brazos, Freestone, Gregg, Harris, Harrison, Hays, Irion, Kinney, Lampasas, La Salle, Lavaca, McMullen, Montague, Palo Pinto, Randall, Sabine, Scurry, Starr, Terrell, Tom Green, Willacy
VA - Accomack, Albemarle, Amelia, Amherst, Augusta, Botetourt, Brunswick, Buchanan, Charlotte, Charlottesville, Chesapeake, Covington, Craig, Danville, Fairfax City, Fauquier, Fluvanna, Franklin, Fredericksburg, Galax, Gloucester, Grayson, Greene, Halifax, Harrisonburg, Highland, James City, King and Queen, King George, Louisa, Lunenburg, Lynchburg, Manassas, Mathews, Middlesex, Montgomery, Nelson, Newport News, Norfolk, Nottoway, Orange, Page, Radford, Richmond City, Salem, Smyth, Spotsylvania, Stafford, Staunton, Surry, Sussex, Warren, York
WA - Island
WI - Milwaukee
WY - Carbon
In the current pipeline for updating in November 2023:
Alabama
Georgia
South Carolina
& assorted counties

In the pipeline for updating in December 2023:
Kansas
& assorted counties

Based on feedback and county challenges, pipeline planning is always subject to change. As always, please contact us if you have any questions about accessing or using the data, if you find issues with any of our data, or you have any comments or questions about our data in specific areas or states. We also love to hear from you about which counties or regions you'd like to see us update next, as it helps inform our planning process.

Thank you for being a part of Regrid!
Best Wishes,
The Regrid Data Team
tech@regrid.com