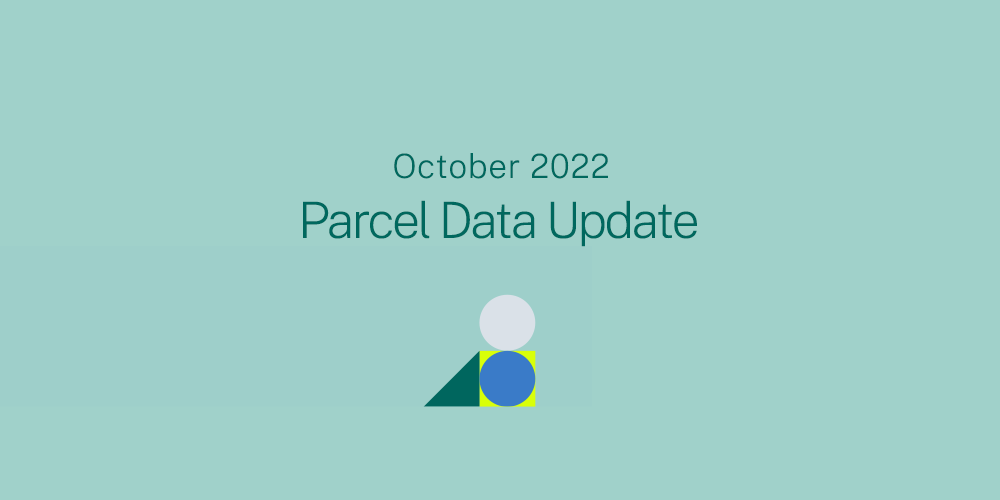 October Parcel Update 2022

A detail of updates in September of 2022 and the upcoming pipeline is below.
Stacked parcels attribute rollout:

Timeline - The week of Oct. 17th, 2022


Our October data update adds a new attribute to the Regrid Parcel Schema: the stacked parcel identifier (ll_stack_uuid). This new attribute will roll out to you next week as our post-processing completes.
This attribute is included in both our standard and premium datasets. The attribute delivers a single UUID assigned to each parcel in a group of exact duplicate geometry parcels. The easiest way to find stacked parcels is to query by this field ll_stack_uuid for NOT NULL.

What are Stacked Parcels?
Stacked parcels are identical polygons, 2 or 10 or 100 stacked, all exactly on top of each other, but with different parcel record attributes & often different owners.

How can the stacked parcel attribute help?
This attribute can help you produce a flattened set of geometries from the parcel data for use in analysis. It may also help identify some parcels that have condos, though it does not identify all condos or only condos.

For instance, in some places, condos are not always stacked one on top of the other, and those cannot be identified by this field. There is more technical background on this field and its uses on our support page.

How will this impact your ETL workflow?
If you are currently consuming our data and handling the individual county custom columns, this can essentially be handled as just another column for you to make use of or not. If you consume our 'schema-only' data you are probably expecting the same record layout, which in this instance of adding a new column the layout will differ starting from the October delivery.
New attribute/schema change November/December 2022 - We have one more core Schema change planned for 2022 in the November/December timeframe. Currently, one new attribute, 'll_row_parcel' will be added. ll_row_parcel will be a flag to indicate if Regrid believes the parcel is a Right-of-Way parcel.



Right-of-Way parcels may or may not be privately owned, but are most often things like the parcels roads or utilities sit on. Because they often follow infrastructure, they can cover large areas and be complex polygons, and have little or non-standard information attached. Flagging these parcels should help clients filter out parcels that are not typically used in various analysis categories and use cases.


Premium SFTP Directories - By Oct. 14th, 2022, we will remove the word 'DEPRICATED' from the geoDB directory name, the replacement 'geoDB' is already in place.

Coverage Report - Updated for this month and available here.

A machine-readable version of this list is included in the `verse` table available in all the formats above as well as CSV format for use in spreadsheets. To find the latest updates in verse, sort by 'last_refresh' and use the 'filename_stem' column to identify the file.

Data refreshed or added in September and live now:

( Asterisk * indicates newly added county)
---

AK - Anchorage, Matanuska-Susitna Borough

AL - Baldwin, Jefferson, Madison, Mobile, Montgomery

AR - Pulaski

AZ - Cochise, Graham, Maricopa, Mohave, Pima, Pinal, Yavapai

CA - Del Norte, Fresno, Imperial, Merced, Riverside, San Joaquin, Stanislaus

CO - Adams, Arapahoe, Archuleta, Boulder, Denver, Douglas, Larimer, Las Animas, Montezuma, Morgan, San Miguel

DC - Washington

DE - Kent, New Castle, Sussex

FL - Duval, Hillsborough, Lee, Miami-Dade, Orange, Palm Beach

GA - Appling, Banks, Barrow, Berrien, Bleckley, Bulloch, Butts, Calhoun, Chattooga, Clay, Clayton, Clinch, Crawford, DeKalb, Early, Fulton, Glascock, Grady, Gwinnett, Hart, Henry, Houston, Lowndes, Macon, Mitchell, Monroe, Morgan, Muscogee, Oconee, Pickens, Pike, Randolph, Richmond, Rockdale, Schley, Seminole, Talbot, Tattnall, Taylor, Tift, Twiggs, Wayne, White, Worth

HI - Hawaii, Honolulu

IA - Decatur, Linn

ID - Ada, Bannock, Idaho

IL - Adams, Bond, Bureau, Champaign, Christian, Clark, Clay, Clinton, Crawford, Cumberland, De Witt, Douglas, DuPage, Edgar, Franklin, Fulton, Grundy, Hamilton, Hancock, Henry, Jasper, Jefferson, Jersey, Johnson, Kendall, Lake, LaSalle, Lawrence, Lee, Macoupin, Marion, Marshall, Massac, McHenry, Monroe, St. Clair

IN - Hamilton, Lake, Marion, Porter, St. Joseph

KS - Dickinson, Finney, Riley, Saline, Sedgwick, Shawnee, Wyandotte

LA - Lafayette, Orleans, Tangipahoa

MA - Barnstable, Berkshire, Bristol, Dukes, Essex, Franklin, Hampden, Hampshire, Middlesex, Nantucket, Norfolk, Plymouth, Suffolk, Worcester

MD - Baltimore City, Charles, Washington

ME - Cumberland, Hancock, Knox, Penobscot

MI - Allegan, Charlevoix, Ionia, Montcalm

MN - Anoka, Carlton, Dakota, Koochiching, Otter Tail, Ramsey, St. Louis

MO - Cedar*, Franklin, Greene, Jefferson, St. Charles, St. Louis, St. Louis City

MS - Coahoma

NC - Buncombe, Forsyth, Granville, Guilford, Mecklenburg

NE - Douglas, Lancaster

NJ - Ocean

NV - Washoe

NY - Albany, Cattaraugus, Chautauqua, Essex, Jefferson, Livingston, Nassau, Oneida, Orange, Otsego, Steuben, St. Lawrence, Ulster, Washington, Westchester, Wyoming

OH - Butler, Coshocton, Fairfield, Fayette, Franklin, Hamilton, Lorain, Mahoning, Medina, Montgomery, Morrow, Ottawa, Shelby, Summit, Wayne

OK - Cleveland, Muskogee*, Oklahoma, Tulsa

OR - Crook, Deschutes, Lane, Marion, Multnomah, Washington

PA - Allegheny, Berks, Bucks, Cambria, Chester, Dauphin, Lancaster, Lehigh, Luzerne, Mifflin, Monroe, Montgomery, Philadelphia, Westmoreland, York

PR - Adjuntas, Aguada, Aguadilla, Aguas Buenas, Aibonito, Añasco, Arecibo, Arroyo, Barceloneta, Barranquitas, Bayamón, Cabo Rojo, Caguas, Camuy, Canóvanas, Carolina, Cataño, Cayey, Ceiba, Ciales, Cidra, Coamo, Comerío, Corozal, Culebra, Dorado, Fajardo, Florida, Guánica, Guayama, Guayanilla, Guaynabo, Gurabo, Hatillo, Hormigueros, Humacao, Isabela, Jayuya, Juana Díaz, Juncos, Lajas, Lares, Las Marías, Las Piedras, Loíza, Luquillo, Manatí, Maricao, Maunabo, Mayagüez, Moca, Morovis, Naguabo, Naranjito, Orocovis, Patillas, Peñuelas, Ponce, Quebradillas, Rincón, Río Grande, Sabana Grande, Salinas, San Germán, San Juan, San Lorenzo, San Sebastián, Santa Isabel, Toa Alta, Toa Baja, Trujillo Alto, Utuado, Vega Alta, Vega Baja, Vieques, Villalba, Yabucoa, Yauco

SC - Beaufort, Charleston, Colleton, Greenville, Horry, Lexington, Spartanburg

TN - Davidson, Hamilton, Knox

TX - Bell, Cameron, Denton, Floyd, Fort Bend, Harris, Liberty, Nueces, Shackelford, Smith, Tarrant, Zapata

UT - Davis, Utah, Weber

VA - Chesterfield, Fairfax, Mecklenburg, Prince William, Richmond City

WA - Benton, Columbia, King, Kitsap, Pierce, Snohomish, Thurston, Whatcom

WI - Dane, Milwaukee
In the current pipeline for updating in October 2022:
---
Georgia
Oklahoma
Tennesse
Illinois



In the pipeline for updating in November 2022:
---
Alabama
Mississippi

Based on feedback and county challenges, pipeline planning is always subject to change. As always, please contact us if you have any questions about accessing or using the data, if you find issues with any of our data, or you have any comments or questions about our data in specific areas or states. We also love to hear from you about which counties or regions you'd like to see us update next, as it helps inform our planning process.

Thank you for being a part of Regrid!
HAPPY MAPPING!
THE REGRID DATA TEAM
tech@regrid.com