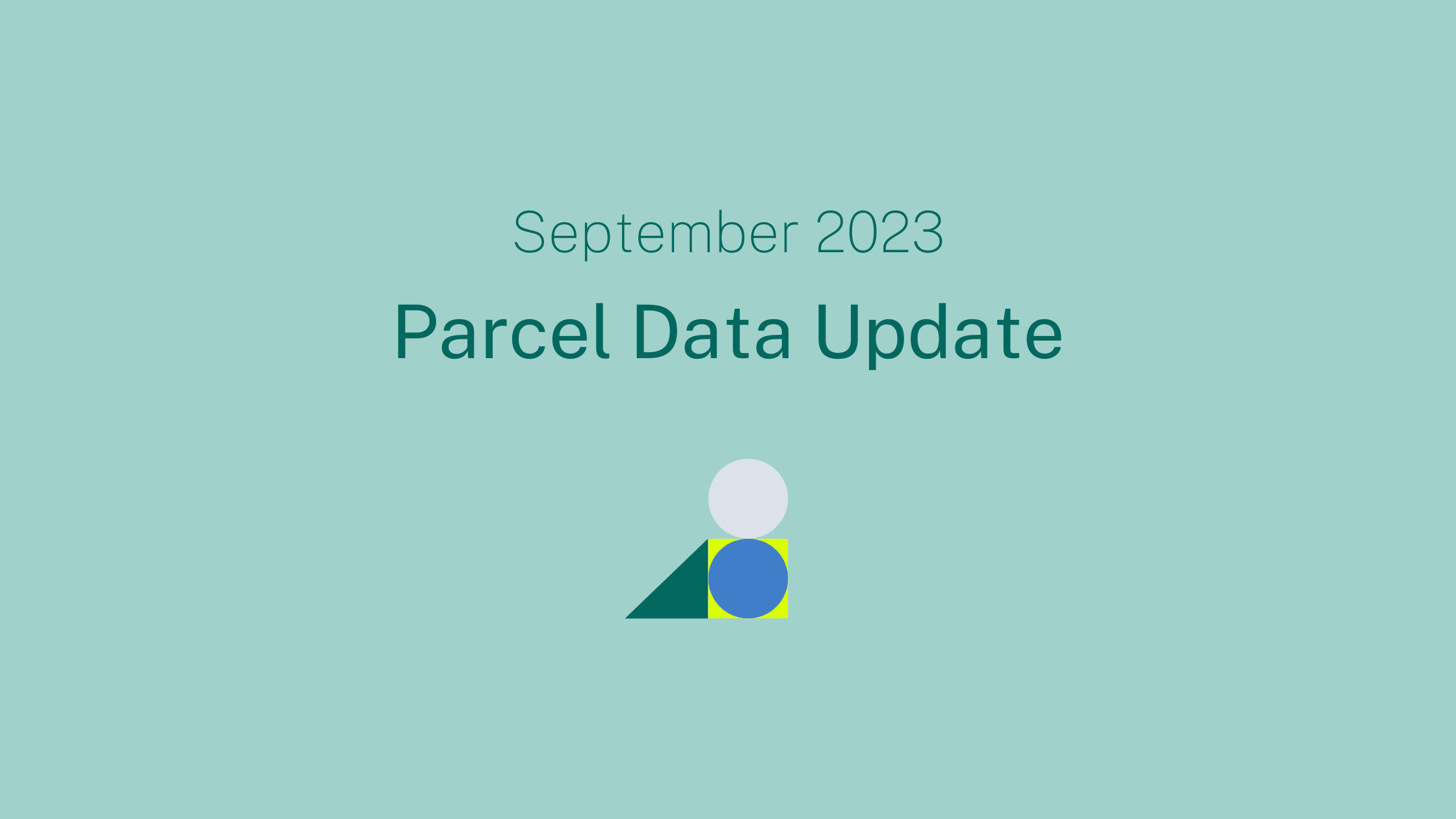 September 2023 Parcel Data Update
A corrected version of the counties list was added on September 11, 2023.
A detail of updates in August of 2023 and a preview of the upcoming counties in our pipeline is below.

Parcel Schema Changes in October - We have extensive additional information on the fields below coming out over the next two months on our blog. Please see https://regrid.com/blog/schema-changes-2023 for a detailed discussion of these changes. A summary of the changes is below.
While the final names are still subject to change, these are the columns we will be adding to both our Standard and Premium datasets:
state_parcelnumb - The parcel number used by the state

account_number - The assessor/tax collector's account number associated with the parcel

tax_id - The assessor/tax collector's tax id number
census_zcta - The US Census Bureau's Zip Code Tabulation Area zip code
previous_owner - The previous parcel owner, seller or grantor where available
numrooms - The number of rooms associated with the parcel as tracked by the assessor

szip5 - The USPS 5 digit zip code
The following columns are being added to our Premium dataset only:
Census_elementary_school_district - US Census listed elementary school district
Census_secondary_school_district - US Census listed secondary school district

census_unified_school_district - US Census listed unified school district

Fema_flood_zone - FEMA Flood Zone Type
Fema_flood_zone_subtype - FEMA Flood Zone Subtype
Fema_flood_zone_data_date - The FEMA effective date of the flood zone data
We will be removing the following columns from both our Standard and Premium datasets. These columns were identified as redundant with other columns or being of low utility, and all have very low fill rates:
sourceagent

multistruct

subsurfown

subowntype
sourceref
sourcedate
We will not be adding the previously mentioned brownfield and wetlands columns to our dataset at this time. A further review of the available source data for these two categories was not accurate enough to confidently join with our parcel data.
Changes to the "ll_stable_id" field - This field serves to indicate whether a Regrid "ll_uuid" was effectively transferred from the previous county data to the newly refreshed county data. Previously, it contained solely the term "preserved" if we successfully linked the refreshed parcel with its counterpart in our prior dataset, thereby keeping the "ll_uuid" unchanged. A null value denoted an inability to match the refreshed parcel with any previous parcel, leading us to generate a new "ll_uuid" for the refreshed parcel. This situation was most common with new parcels arising from parcel divisions, new subdivisions, and the like.
Moving forward, our approach will expand beyond using just "preserved." Instead, we will use an indicator of the method used to establish a connection between the refreshed parcel and its previous counterpart, utilizing one of the following descriptors: "parcel number", "address", or "geometry". While the "preserved" value will continue to exist within our data, these new indicators will progressively appear alongside it.

Past Data Update Emails - The full archive of our monthly data update emails can be found on our main website: https://regrid.com/blog/tag/parcel-data-updates

Coverage Report - Updated for this month and available here.
A machine-readable version of this list is included in the `verse` table available in all the formats above as well as CSV format for use in spreadsheets. To find the latest updates in verse, sort by 'last_refresh' and use the 'filename_stem' column to identify the file.

Data refreshed in August and live now:
AL - Dale
CA - Alpine, Calaveras, Del Norte, Inyo, Lassen, Plumas, San Bernardino, San Joaquin, Shasta, Tuolumne, Ventura, Yolo, Yuba
GA - Ben Hill, Bibb, Bryan, Clarke, Coffee, Columbia, Coweta, Dooly, Effingham, Habersham, Hall, Irwin, Jackson, Lanier, Liberty, Screven, Sumter, Union
IA - Adams, Buchanan, Carroll, Clarke, Clay, Clinton, Crawford, Floyd, Jasper, Kossuth, Madison, Plymouth, Tama, Van Buren, Wayne
IL - Sangamon
MD - Allegany, Anne Arundel, Caroline, Kent, Prince George's, Somerset, Worcester
MI - Antrim, Bay, Berrien, Branch, Cheboygan, Grand Traverse, Hillsdale, Ingham, Leelanau, Midland, Monroe, Muskegon, Newaygo, Oceana, Osceola, Ottawa, Roscommon, St. Clair
MS - Adams, Amite, Benton, Bolivar, Calhoun, Choctaw, Claiborne, Clarke, Clay, Coahoma, Copiah, Covington, DeSoto, George, Grenada, Jackson, Jefferson, Kemper, Lafayette, Lowndes, Marion, Pike, Pontotoc, Rankin, Stone, Tippah, Tishomingo, Walthall, Wayne
NC - Macon
NM - Chaves, Cibola, Colfax, Curry, Doña Ana, Eddy, Grant, Harding, Hidalgo, Lincoln, Los Alamos, Luna, McKinley, Otero, San Juan, San Miguel, Santa Fe, Socorro, Torrance
NV - Carson City, Elko, Humboldt, Lander, Lyon, Pershing, White Pine
NY - Allegany, Broome, Cattaraugus, Cayuga, Chautauqua, Chemung, Columbia, Dutchess, Essex, Greene, Hamilton, Livingston, Madison, Montgomery, Nassau, Niagara, Oneida, Onondaga, Ontario, Orleans, Oswego, Otsego, Rockland, Saratoga, Schenectady, Schoharie, Schuyler, Steuben, St. Lawrence, Suffolk, Sullivan, Tompkins, Ulster, Warren, Washington, Wyoming, Yates
OH - Pickaway
OK - Cleveland
OR - Lake
PR - Adjuntas, Aguada, Aguadilla, Aguas Buenas, Aibonito, Añasco, Arecibo, Arroyo, Barceloneta, Barranquitas, Bayamón, Cabo Rojo, Caguas, Camuy, Canóvanas, Carolina, Cataño, Cayey, Ceiba, Ciales, Cidra, Coamo, Comerío, Corozal, Culebra, Dorado, Fajardo, Florida, Guánica, Guayama, Guayanilla, Guaynabo, Gurabo, Hatillo, Hormigueros, Humacao, Isabela, Jayuya, Juana Díaz, Juncos, Lajas, Lares, Las Marías, Las Piedras, Loíza, Luquillo, Manatí, Maricao, Maunabo, Mayagüez, Moca, Morovis, Naguabo, Naranjito, Orocovis, Patillas, Peñuelas, Ponce, Quebradillas, Rincón, Río Grande, Sabana Grande, Salinas, San Germán, San Juan, San Lorenzo, San Sebastián, Santa Isabel, Toa Alta, Toa Baja, Trujillo Alto, Utuado, Vega Alta, Vega Baja, Vieques, Villalba, Yabucoa, Yauco
TX - Anderson, Andrews, Bandera, Bastrop, Bee, Blanco, Borden, Bosque, Bowie, Briscoe, Burleson, Burnet, Caldwell, Callahan, Carson, Cass, Cherokee, Cochran, Coke, Colorado, Comanche, Concho, Cooke, Coryell, Cottle, Crane, Crockett, Culberson, Dallam, Dawson, Deaf Smith, Delta, Dickens, Dimmit, Duval, Erath, Fannin, Fayette, Foard, Franklin, Frio, Garza, Glasscock, Gonzales, Gray, Grayson, Grimes, Hale, Hall, Hansford, Hardeman, Hill, Hockley, Hood, Hudspeth, Hutchinson, Jasper, Jim Hogg, Jim Wells, Kaufman, Kenedy, Kerr, Kimble, Kleberg, Lamar, Lee, Liberty, Limestone, Live Oak, Llano, Madison, Marion, Mason, Medina, Milam, Mills, Mitchell, Moore, Navarro, Newton, Ochiltree, Oldham, Orange, Parmer, Pecos, Presidio, Rains, Real, Red River, San Patricio, San Saba, Shelby, Somervell, Sutton, Swisher, Terry, Throckmorton, Titus, Tyler, Upshur, Uvalde, Van Zandt, Walker, Washington, Wichita, Wilbarger, Williamson, Winkler, Wise, Wood, Yoakum, Young, Zapata, Zavala
UT - Box Elder, Cache, Carbon, Daggett, Duchesne, Emery, Garfield, Grand, Iron, Millard, Morgan, Summit, Tooele, Uintah, Wasatch
In the current pipeline for updating in September 2023:
Ohio
Texas
Kansas
Oklahoma

In the pipeline for updating in October 2023:
Alabama
Georgia
South Carolina
Virginia

Based on feedback and county challenges, pipeline planning is always subject to change. As always, please contact us if you have any questions about accessing or using the data, if you find issues with any of our data, or you have any comments or questions about our data in specific areas or states. We also love to hear from you about which counties or regions you'd like to see us update next, as it helps inform our planning process.

Thank you for being a part of Regrid!
Best Wishes,
The Regrid Data Team
tech@regrid.com