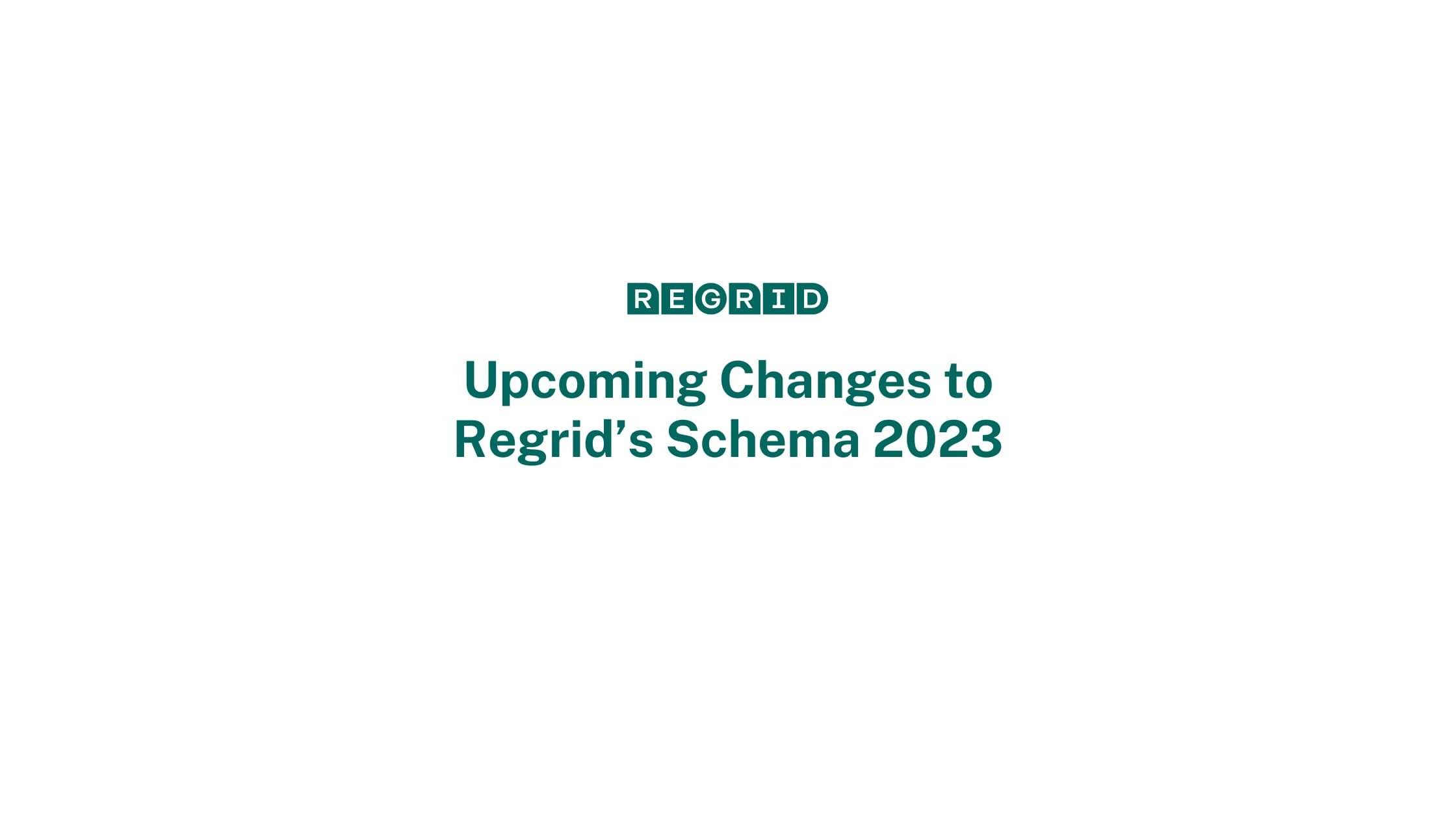 Upcoming Changes to Regrid's Schema 2023
As we have been communicating for the past few months, there will be some changes to the Regrid Parcel schema in late October of this year. The final list of added fields will be fully defined as we finalize data sourcing and roll out values in the next few weeks. Please watch this space, as well as your email inbox, for updates.
We intend to add the following columns to our Premium Schema:
census_elementary_school_district - US Census listed elementary school district

census_secondary_school_district - US Census listed secondary school district

census_unified_school_district - US Census listed unified school district

fema_flood_zone - FEMA Flood Zone Type

fema_flood_zone_subtype - FEMA Flood Zone Subtype

fema_flood_zone_data_date - The FEMA effective date of the flood zone data
We intend to add the following columns to our Standard and Premium Schemas:
account_number: Account Number; tax account number tracked by the county
tax_id: A Tax ID number tracked by the county
state_parcelnumb: A statewide parcel numbering system
previous_owner: The previous owner or property grantor
numrooms: The number of rooms as tracked by the assessor
census_zcta: US Census Zip Code Tabulation Area
szip5: A 5-digit situs zip
We will be removing the following columns from our schema.
These columns were identified as redundant or being of low utility, and all have low fill rates:
sourceagent
multistruct
subsurfown
subowntype
sourceref
sourcedate
We expect these changes to roll out in the last week of October.
These fields can be categorized into three general categories:
Fields that will assist in matching to other datasets (account_number, tax_id, state_parcelnumb)
Fields that provide greater property insight (previous_owner, numrooms)
Discrete fields designed to assist users with focusing queries and searches on specific geographic areas (szip5, census_zcta).
Let's dig into each of these categories & how they can help you.
The account_number, tax_id, and state_parcelnumb additions will facilitate better matching for users who are linking the geographic data from Regrid to other sources of data.
Challenge: Counties across the nation use varied methods to uniquely identify property within their jurisdictions.
Solutions:

Regrid already seeks to identify the "best" unique number for each county and map it to the parcelnumb field and attempt to match to the numbers utilized by official county websites.
Regrid already provides three alternate parcelnumb fields
Regrid already provides a version of parcelnumb without any formatting
(NEW) Adding discrete fields for account_number, tax_id, and state_parcelnumb delivers fields that are specifically labeled to reduce confusion and better facilitate automated matching
Next we'll discuss some of the benefits of the addition of previous_owner and numrooms fields. Both of these elements will provide greater detail related to the property and support specific requests from users. These two fields in particular will be backfilled along with all the others. The fill rate may initially be low but will increase over time.
The previous_owner field will assist with more detailed property research and can be of assistance when seeking input into the lineage and changing hands of property.
Including a numrooms field within our schema will bring together data which previously may have been scattered across un-normalized fields to provide a standardized location for users to seek these insights and better focus queries.
Finally, the inclusion of the szip5 and census_zcta will provide users with several key components with which to focus their queries.
The szip5 field is beneficial as the existing szip field contains the five digit zip and the +4 extension when it is available. Providing just the szip5 without the +4 extension makes it easier to structure a query without creating unnecessarily complicated query statements or cleaning steps.
The ZCTA (census_zcta field) is related to zip codes but is slightly different and is specifically designed to assist with statistical analysis related to data from the United States Census Bureau. Check here for additional information related to

ZCTA data

.
Both these fields will provide you with additional query flexibility and data analysis optimization in your engagement with Regrid data.
In the coming weeks, we'll be adding details to this space around:
Details around the attributes being added to the Premium Schema (Schools and Flood Zones)
Published final

schema

documentation and details you will need as you consider any changes necessary to your ETL, or other, ingestion processes, and detailed field field definitions for all the added fields
Please let us know if you have any questions.
We also ask that you share this information with anyone in your organization who may be impacted or find this information helpful.
Happy Mapping,
Team Regrid