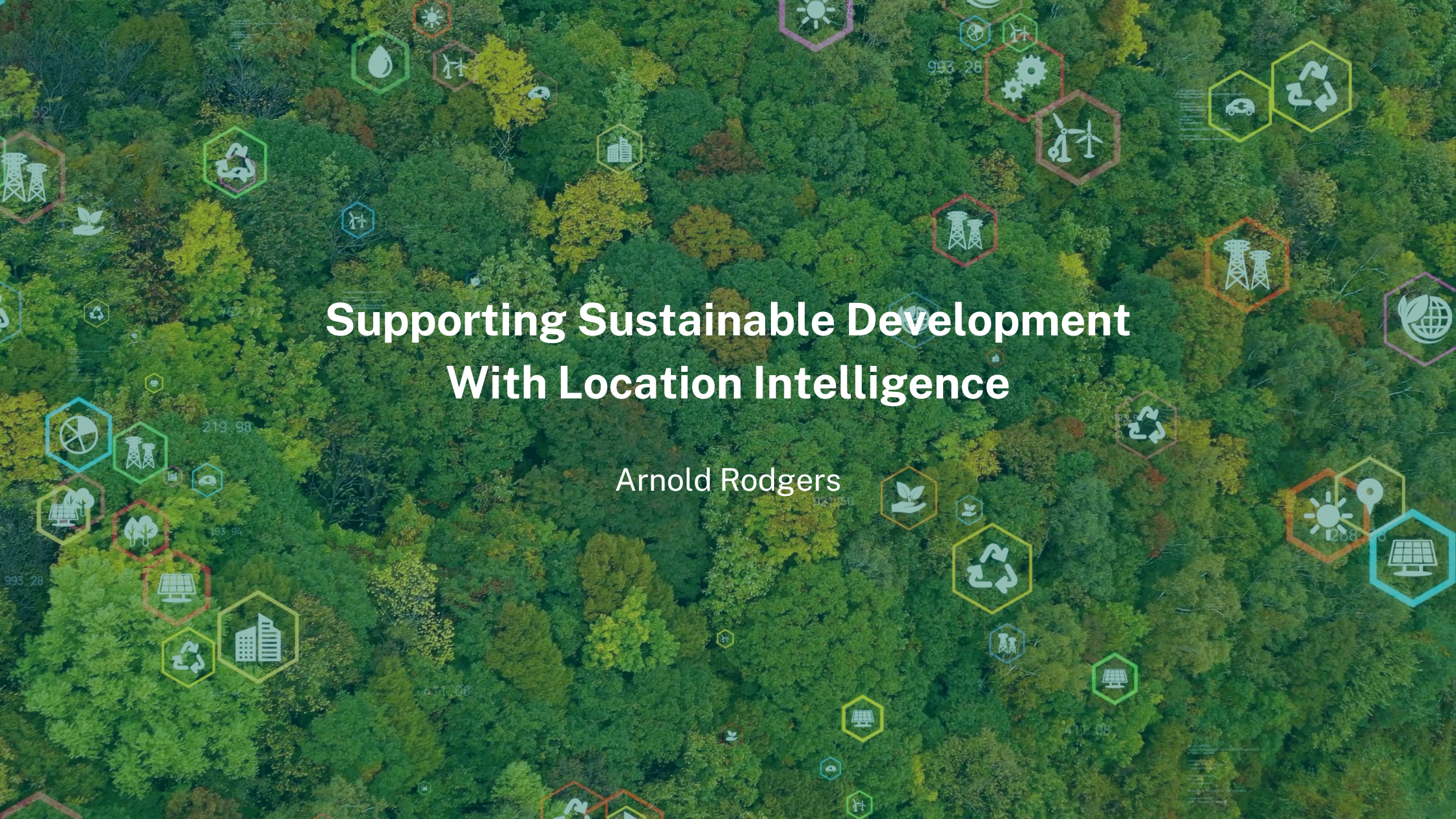 Supporting Sustainable Development with Location Intelligence
The following blog post has been written by an external contributor.
Innovative solutions are emerging as the world attempts to address sustainable development challenges. One such innovation is location intelligence, a tool that can help organizations make data-informed decisions regarding environmental and societal problems and opportunities.
Through this article, you'll learn how location intelligence is a valuable tool if you seek insights and data to inform your decisions regarding sustainability opportunities.
How Location Intelligence Benefits Sustainability
Below are some ways location intelligence can guide and support various sustainability projects.
Agricultural Sustainability
Sustainable agriculture aims to meet the world's food and textiles needs without risking the current or future generations' welfare. Using location intelligence, farmers can analyze agricultural land based on its location and the surrounding area. They can then use the information to develop sustainable farming practices for better yield. Location intelligence can also help agribusinesses to manage their inventory network, which often spans multiple locations.
Smarter and Greener Cities
Location-based information can be an indispensable tool for realtors and city planners who seek to create smart and safe cities. For instance, location intelligence can help industry leaders and policymakers build greener urban spaces and protect cityscapes. Moreover, using location-based data, engineers and municipal authorities can design accurate infrastructure investments and network planning models (two primary factors driving an economically and sustainably growing city).
Supply Chain and Logistics
Location intelligence also supports businesses in managing supply chain risks. With location intelligence, companies can monitor primary supply chain locations to detect any irregularities in workforce activity. Consequently, they can determine where to assign more employees or when to adjust work hours.
Suppose the foot traffic increases considerably in a particular store location. In that case, the retailer can move current employees or add new ones to maintain adequate staffing. Also, with better visibility of primary supply chain locations thanks to location-based data, a company could anticipate disruptions to its supply chain sooner and reduce obstructions (or avoid them altogether). Lastly, businesses can more easily trace products or materials back to their origins using location intelligence. All these things can help companies and other institutions understand the societal and economic impact of various supply chain processes.
Transportation Routes
Location intelligence helps public authorities study and execute safe and optimal transportation systems plans. For instance, they can use location-based data to design "walkable and cyclable" neighborhoods and city centers.
Aside from reducing traffic congestion, achieving this goal could also improve the air quality in many areas. Transportation is the primary source of greenhouse gas emissions in the U.S. Location intelligence might help solve this problem by providing policymakers with information regarding carpooling opportunities or safe bike routes.
Admittedly, organizing the movement of various vehicles in a way that doesn't imperil natural and economic resources can be quite demanding. However, route optimization based on location intelligence can help institutions and urban planners save time and money.
Healthcare During Natural Disasters
The COVID-19 pandemic has undoubtedly left an indelible mark on many countries worldwide. To some extent, this global phenomenon and its impact are difficult to track. However, location data has helped governments and other institutions manage the health crisis in many ways. For instance, location intelligence has provided public health officials and world leaders insights into human mobility, helping them craft data-backed ad hoc policies to mitigate the pandemic's impact. In the same way, location data can assist various sectors in responding to similar catastrophic events, such as flooding, earthquakes, and wildfires.
Using Location Intelligence to Solve Specific Sustainability Issues
The 2030 Agenda for Sustainable Development considers location intelligence an essential resource for achieving sustainable development goals (SDGs). Here are some specific situations that location data have helped (and could continue to help) world leaders address effectively:
● COVID-19: Location intelligence provided politicians and other groups with data regarding the following factors:
○ The impact of mobility restrictions and behavioral patterns on the current international COVID-19 situation
○ Social distancing
○ Product availability in supermarkets
● Fields and crops: Location data offers insight into global and local trends in crop production, which could be a valuable resource for decision-makers when developing sustainable agricultural policies. Sustainable farming and agriculture are integral to realizing the SDGs and achieving zero hunger for the world's growing population.
In conclusion, emerging trends in location intelligence can help achieve SDGs for purposes beyond monitoring and statistics. Location data could help improve agricultural practices, urban planning, and disaster response.
---
About the Author
Arnold Rogers
As an experienced business consultant, Arnold Rogers has advised businesses across many industries in areas of lead generation, customer experience, service development, and small business cash flow & financial management.
References
1. Introducing walkable cities as a Public Health intervention
https://www.ncbi.nlm.nih.gov/pmc/articles/PMC9593411/
2. Emissions of Carbon Dioxide in the Transportation Sector - https://www.cbo.gov/publication/58861
3. Location Intelligence and Partnerships to support the Sustainable Development Goals https://joinup.ec.europa.eu/sites/default/files/document/2020-04/ELISE_Webinar_08_SDGs_Final_20200429.pdf