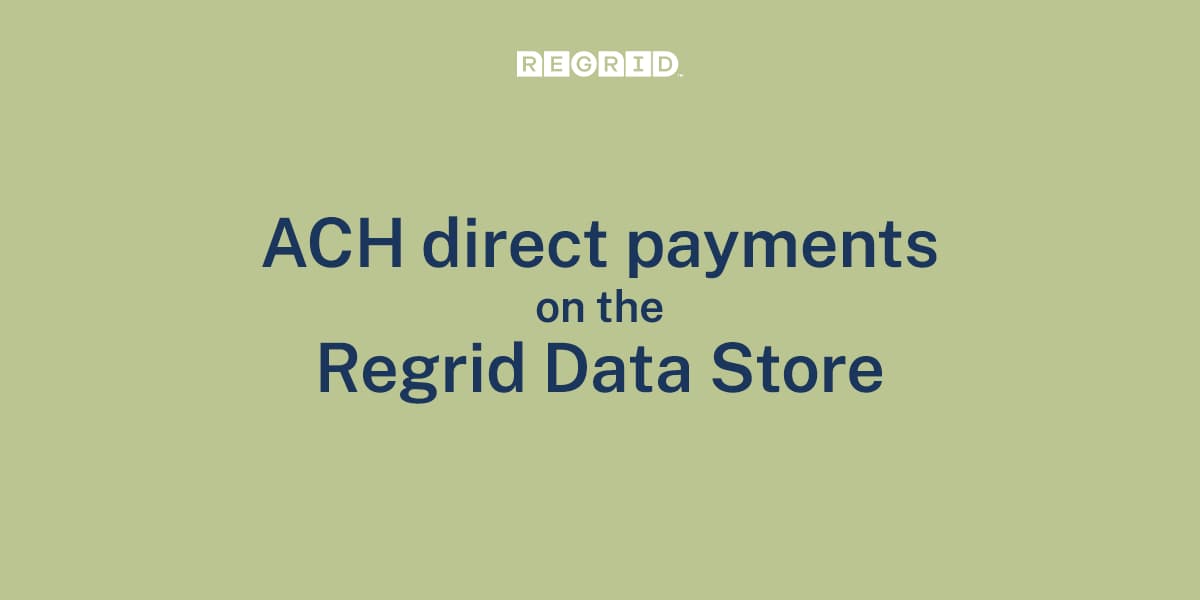 ACH direct payments on the Regrid Data Store
Statewide Parcel Data is now available for instant purchase and downloads on the Regrid Data Store, across all 50 states and territories including Puerto Rico & US Virgin Islands.
That's right - no hassles, no delays and completely self-serve.
Haven't checked out our data store yet? Here's your chance: https://app.regrid.com/store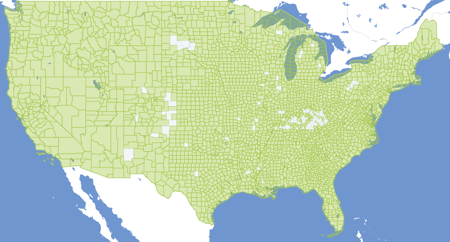 With this launch, we've introduced ACH direct payments on Stripe for our Data Store customers.
All of our self-serve SaaS solutions, including the Data Store, were primarily set up for secure card payments via PCI-compliant Stripe. Card transactions work great, especially when you are looking to download the data right away. In some cases though, cards have a spending limit which may not work for large transactions.
As a result, we have made secure ACH direct payments also possible via Stripe.
You can choose to use your bank account or your corporate account and the transaction will seamlessly, & most importantly securely, go through with minimum disruption.
It's a 4-step process:
Search for the bank account you wish to pay with. Stripe supports over 15,000 banks. If you are unable to find your bank, you also have the option of entering your bank details manually.
Stripe will connect to your bank account and have you securely sign-in to your account.
It's protected by 2-factor authentication and hence you will need to verify your account via a one-time passcode.
Once the account is successfully linked, you will get a confirmation email of your purchase. Once the payment is complete (could take up to 1-4 days), you will receive another email with a download link and instructions.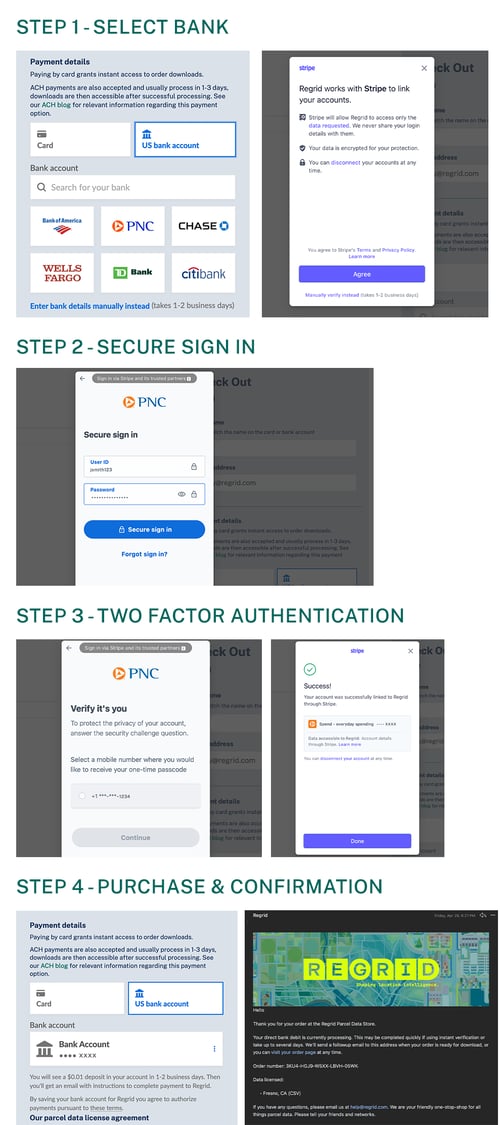 As with most ACH payments, there could be processing lags. That said, some payments go through as instantly as they do with credit cards and in some cases, could take up to 1-4 business days, but soon as the payment is processed, you will be on your way to downloading and putting the data to good use in your projects.
If for some reason, the transaction does not process successfully, our team will notify you so you can either try to resolve the issue or cancel the transaction and re-try the purchase. Similarly, if for any reason you haven't received an email from us - either confirming your purchase or transaction, please contact our team by writing to us at help@regrid.com. This could be perhaps because of a failed email delivery or in some cases misspelled email addresses. Rest assured, our team is here to help.
Please note that currently, we are able to support ACH payments only for our US-based customers. International money transfers are not yet available on Stripe.
Secure payments
Stripe is a PCI compliant service provider Level 1, and as a result all credit card transactions are completely secure and require minimal and only necessary information from customers. Stripe ensures that with ACH payments as well.
All card and account numbers are encrypted, so the Regrid team does not see or store sensitive financial information about our customers. We can only see the last 4 digits of the card and account number, which is primarily used for customer service in case transactions don't go through. All financial details are encrypted and go directly to Stripe and never pass through our servers. In the Regrid database, we register names and email addresses of our customers and this allows us to help and track transactions better at our end. Rest assured, your sensitive information is safe and undisclosed to both our and Stripe's systems.
For more information on how Stripe handles secure payments, please refer to Stripe's documentation.
If you have any questions or concerns about ACH payments on the store, please contact us at help@regrid.com and we will be happy to answer any questions.