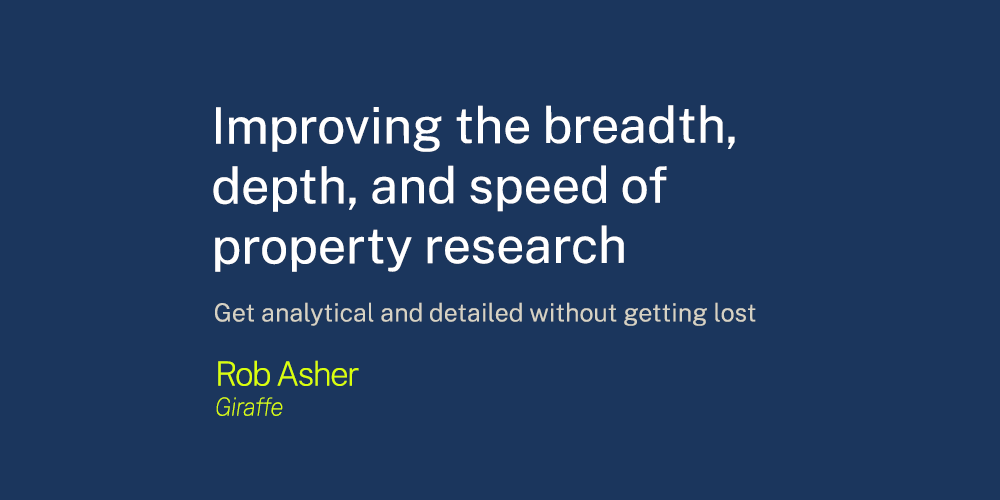 Improving the breadth, depth, and speed of property research
Today, the Regrid Team turns over the blog post reins to our customer Giraffe.
When you hear the phrase "at a glance," you immediately understand how powerfully a visual can deliver information. Visualization is an incredible tool. Effortlessly communicating data, detail, and nuance on multiple levels in an instant. Allowing you to quickly make assessments, snap judgments, and lead with intuition. Learn how visual communication unlocks breadth, depth, and speed for property research for development and urban planning.
Create a visual planning & development environment
What is spatial visualization? When you can see and navigate a space. You're able to perceive and manipulate a 3D environment.
Creating a development requires focus to be split between everything from goals and limitations, to environment and livability. This information is usually delivered individually through spreadsheets and PDFs. Making it difficult to connect the dots. But what if you could take in all of that context simultaneously?
When you're perceiving visuals, you're able to operate at two levels of detail: focus and periphery. You can switch focus. Examine opportunities or threats and go wide or deep, all without breaking your train of thought. Your peripheral vision is often under-acknowledged, but all of the information you take in subconsciously is constantly providing feedback and helping drive your decision-making. All of the context you absorb feeds and reinforces your main point of focus.
Consolidating all of the information you need to consider for a development onto a 3D map quickly communicates complexity, accelerating comprehension and the early stage planning process. Flexibility is key. You need to be able to dive deep on a site, but maintain breadth so you don't miss outside factors that can kill deals.
Tell a clear story
Whether you're pitching to investors or introducing a project to the public, you're trying to create a narrative people can remember. Activating their interest and curiosity. Which is made easier with visual context.
These principles also apply to when you're maintaining focus. Utilizing spatial visualization to intuitively track progress, see updates, and collaborate with context. Tapping into the innate ability to navigate spaces.



Accelerate property research
Everything is predicated on speed. If you get key details and information too late for a site it's useless. Data accessibility is necessary for maintaining a competitive advantage.
The real challenge is getting enough information to maintain focus. To build and carry momentum, you need to actively absorb information as quickly as possible. Gathering data can be boring, monotonous, and tedious, digging through spreadsheets and PDFs to curate the details you need. Unless you're able to sustain your brain's base level of interest, it's a waste of time if you're not absorbing any of it. By utilizing visuals, you're communicating faster, maintaining engagement, and ensuring retention to make informed decisions.
Leverage data for property research
Working from a spatial environment provides an intuitive visual platform on the front end, and manages and unlocks necessary data on the backend. Giraffe utilizes features that amplify your abilities to control and manage data:


Deep Query - Access deep metadata of every parcel in the country with a single click
Filters - Search, filter, and display only the parcels that meet your criteria
Build - Layer in your own information and insights with location context data, like Regrid
Share - Save filters, layers, parcels, and share them with your team and partners to build a knowledge base that can be accessed by your whole business
This combination of capabilities provides access to deep and wide datasets that can be leveraged with minimal effort.
Rob Asher | CEO
---
Have questions? Want to evaluate our dataset? Get in touch with our team at parcels@regrid.com.
Learn more about our Nationwide Parcel Data, our schema, pricing and coverage here.


Regrid is an industry-leading property data and location intelligence company. We serve an array of industries that require land parcels and spatial data at scale, including real estate, insurance, energy, infrastructure, agriculture, logistics, and government.