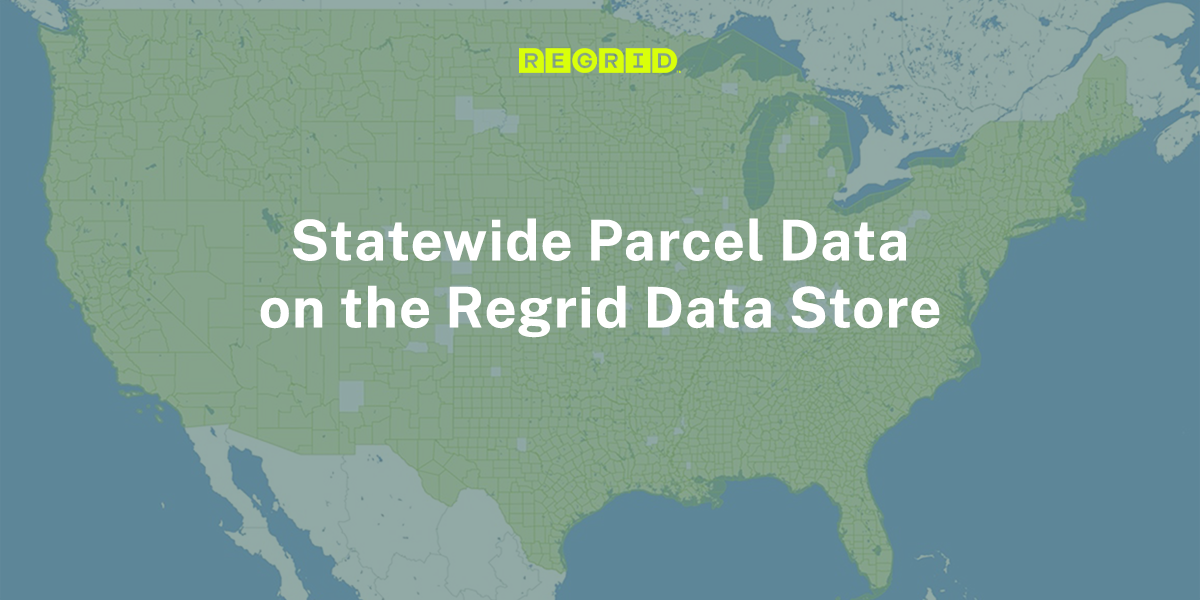 Statewide parcel data is now available for instant downloads



We're back with another product announcement!
Launching today - Statewide Parcel Data is now available for instant purchase and downloads on the Regrid Data Store, across all 50 states and US territories including Puerto Rico & US Virgin Islands.

That's right - no hassles, no delays and completely self-serve.

Our data store is meant to be an easy way to get our high-quality, standardized parcel data by the county or state for instant downloads.

It's as easy as reviewing our parcel documentation & data samples available on the store, making sure it's the dataset you want for your use case, adding it to cart and checking out to make the payment, in an easy to use self-serve interface.

Please make sure to review the coverage report we have for the state and each one of the counties, along with our parcel schema (data dictionary) to see exactly what data fields are included in each one of the tiers prior to purchasing.
Until today, our Data Store only allowed county-level parcel data purchases. Our customers have long loved the ease of use and instant nature of the store. Many of you asked for state-level data to be made available for faster time to market for your projects.

You asked & we listened!

Whether you are looking for individual counties, an entire state or even multiple states, the Regrid Data Store is the place for you.

You have everything you need to make an informed decision right here on the store - pricing for each one of our options, coverage map, coverage report, parcel schema, data samples for each of the counties, parcels, buildings and address counts & much more.

That's right, you can also get our enhanced location context datasets such as Premium + Matched Building Footprints and Premium + Matched Secondary Addresses by the state & county on the store.

Payment methods on the store: ACH & Card

All of our self-serve SaaS solutions, including the Data Store, have been primarily set up for secure card payments via PCI compliant Stripe.

But with larger transactions now available on the store, we have made secure ACH direct payments also possible via Stripe. You can choose to use your bank account or your corporate account and the transaction will seamlessly & most importantly securely go through with minimum disruption.
As with most ACH payments, there could be processing lags. That said, as soon as the payment is processed, you will be on your way to downloading and putting the data to good use in your projects.

Please read our blog detailing ACH payments via Stripe to learn more about the back end measures that we have taken to ensure safe & secure payments.

If you are interested in learning more about purchasing entire states on the data store, join us live this afternoon @ 3:00 PM EDT on our launch webinar. Hosted by co-founder & CEO Jerry Paffendorf, and CPO, Sahana Murthy.
CLICK HERE to register and save your spot!
Nationwide Parcel Data
If you are looking for high-quality, standardized nationwide parcel data & API licenses, then please don't hesitate to reach out to us at parcels@regrid.com, and let's get the conversation started.

That's all for now. We have a busy Q2 with many more product updates coming up soon.

Until next time,

HAPPY MAPPING!
THE REGRID TEAM
help
@regrid.com