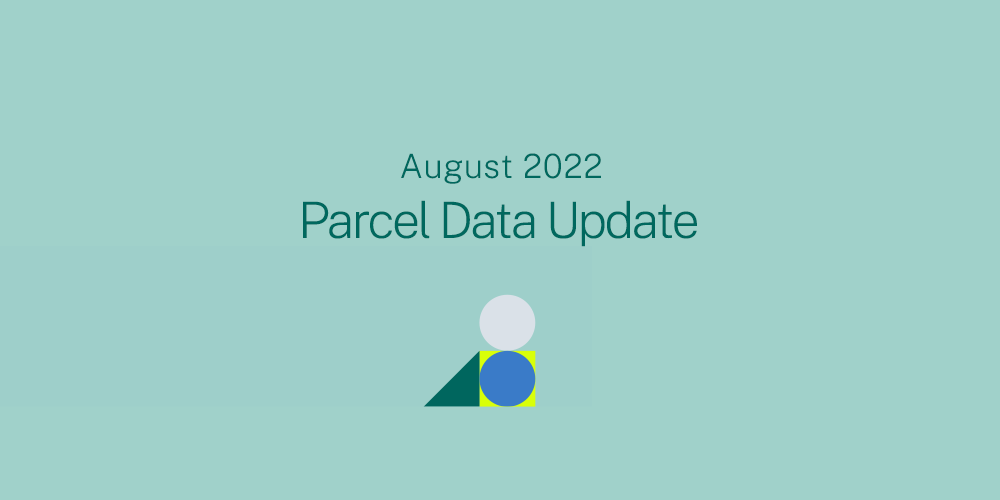 August Parcel Update 2022

A detail of updates in July of 2022 and the upcoming pipeline is below.

Correction from last month - We left Montmorency County, MI out of the list of updated counties last month - it is also a newly added county last month. It is available for download now.

County boundary changes CT & AK - This is an early notification that the States of Connecticut and Alaska are going to make significant changes to the county boundaries in those states. We will have more details to come, but please watch out for those notices as we make changes to our county boundaries to match the state's new county boundaries.

"Stacked Parcels" attribute planning - We are working on identifying and flagging multiple, exact duplicate parcel geometries. We call these "stacked" parcels and they are most commonly used for multiple ownership situations on the same parcel, like condominiums, but 'stacked' parcels are used for other things by counties as well. Roughly half the counties in the US use 'stacked' parcels for one reason or another. We are planning a 'll_stack_uuid' attribute be added to our Parcel Record Schema to identify and "group" 'stacked' parcels. Each parcel in a stack would get the same 'll_stack_uuid' making it easy to determine which parcels go together, and easy to just grab one record from the stack. Any comments on this are most welcome.

Coverage Report - Updated for this month and available here.



A machine-readable version of this list is included in the `verse` table available in all the formats above as well as CSV format for use in spreadsheets. To find the latest updates in verse, sort by 'last_refresh' and use the 'filename_stem' column to identify the file.

Data refreshed or added in July and live now:
(Asterisk * indicates newly added county.)
---

AK - Aleutians East Borough, Aleutians West Census Area, Anchorage, Bethel Census Area, Bristol Bay Borough, Denali Borough, Dillingham Census Area, Fairbanks North Star Borough, Haines Borough, Hoonah-Angoon, Juneau, Kenai Peninsula Borough, Ketchikan Gateway Borough, Kodiak Island Borough, Lake and Peninsula Borough, Matanuska-Susitna Borough, Nome Census Area, North Slope Borough, Northwest Arctic Borough, Petersburg, Prince of Wales-Hyder Census Area, Sitka, Southeast Fairbanks Census Area, Wrangell, Yakutat, Yukon-Koyukuk Census Area

AL - Baldwin, Jefferson, Madison, Mobile

AR - Arkansas, Ashley, Baxter, Benton, Boone, Bradley, Calhoun, Carroll, Chicot, Clark, Clay, Cleburne, Cleveland, Columbia, Conway, Craighead, Crawford, Crittenden, Cross, Dallas, Desha, Drew, Faulkner, Franklin, Garland, Grant, Greene, Hempstead, Hot Spring, Howard, Independence, Izard, Jackson, Jefferson, Johnson, Lafayette, Lawrence, Lee, Lincoln, Little River, Logan, Lonoke, Madison, Marion, Miller, Mississippi, Monroe, Montgomery, Nevada, Newton, Ouachita, Perry, Phillips, Pike, Poinsett, Polk, Pope, Prairie, Pulaski, Randolph, Saline, Scott, Sebastian, Sevier, Sharp, St. Francis, Stone, Union, Van Buren, Washington, White, Woodruff, Yell

AZ - Cochise, Graham, Mohave, Pinal, Yavapai

CA - Alpine, Riverside, Sacramento, San Bernardino, Trinity

CO - Adams, Archuleta, Bent*, Boulder, Denver, Douglas, Jefferson, Kit Carson*, Larimer, Morgan, San Miguel

DC - Washington

DE - Kent, New Castle, Sussex

FL - Duval, Hillsborough, Lee, Miami-Dade, Orange, Volusia

GA - Chatham, Cherokee, Clayton, Cobb, Richmond

IA - Linn

ID - Ada, Bannock, Idaho

IL - DuPage, Edwards*, Kane, McHenry, Mercer*, St. Clair, Wabash*

IN - Lake, Marion, Porter

KS - Sedgwick

KY - Allen, Bourbon, Breathitt, Breckinridge, Bullitt, Butler, Carlisle, Carroll, Carter, Christian, Elliott, Fleming, Gallatin, Garrard, Grant, Grayson, Greenup, Hancock, Harrison, Hart, Henry, Hickman, Larue, Laurel, Letcher, Logan, Marion, Marshall, McCreary, McLean, Mercer, Montgomery, Nelson, Ohio, Perry, Pulaski, Rowan, Spencer, Taylor, Todd, Trigg, Union, Washington, Wayne, Whitley, Woodford

LA - Madison*, Orleans, Tangipahoa

MA - Barnstable, Berkshire, Bristol, Dukes, Essex, Franklin, Hampden, Hampshire, Middlesex, Nantucket, Norfolk, Plymouth, Suffolk, Worcester

MD - Baltimore City, Charles, Prince George's

MI - Hillsdale

MN - Anoka, Carlton, Dakota, Hennepin, Otter Tail, Ramsey, St. Louis, Washington

MO - Dent*, Franklin, Greene, Howell*, Jefferson, St. Charles, St. Louis, St. Louis City

NC - Buncombe, Forsyth, Guilford, Mecklenburg, Wake

ND - Barnes, Benson, Billings, Bowman, Dickey, Griggs, Hettinger, Kidder, LaMoure, Pierce, Ransom, Stark, Ward, Wells

NE - Douglas

NH - Rockingham

NM - Bernalillo, Lincoln, Valencia

NV - Douglas, Washoe

NY - Albany, Allegany, Bronx, Broome, Cattaraugus, Cayuga, Chautauqua, Chemung, Dutchess, Essex, Fulton, Genesee, Greene, Herkimer, Jefferson, Kings, Livingston, Madison, Monroe, Montgomery, Nassau, New York, Niagara, Oneida, Ontario, Orange, Oswego, Otsego, Putnam, Queens, Richmond, Schenectady, Schuyler, Seneca, Steuben, St. Lawrence, Suffolk, Tioga, Ulster, Washington, Wayne, Westchester, Wyoming, Yates

OH - Butler, Coshocton, Fairfield, Fayette, Franklin, Hamilton, Lorain, Mahoning, Montgomery, Morrow, Ottawa, Shelby, Stark, Summit, Wayne

OK - Oklahoma

OR - Lane, Marion, Multnomah, Washington

PA - Armstrong, Berks, Bucks, Cambria, Cameron, Chester, Dauphin, Elk, Jefferson, Luzerne, Monroe, Montgomery, Warren, Westmoreland, York

SC - Charleston, Colleton, Greenville, Richland, Spartanburg

TN - Davidson, Hamilton, Knox

TX - Bell, Borden, Cameron, Chambers, Collin, Culberson, Deaf Smith, Denton, Fayette, Galveston, Guadalupe, Hardin, Harris, Hidalgo, Hill, Panola, Tarrant, Tyler, Uvalde, Victoria, Waller, Williamson, Wood, Young, Zapata

UT - Utah

VA - Chesterfield, Essex, Fairfax, James City, Norfolk, Prince Edward, Prince William, Richmond City

VI - St. Croix, St. John, St. Thomas

WA - Benton, Columbia, Island, King, Pierce, Snohomish

WI - Adams, Ashland, Barron, Bayfield, Brown, Buffalo, Burnett, Calumet, Chippewa, Clark, Columbia, Crawford, Dane, Dodge, Door, Douglas, Dunn, Eau Claire, Florence, Fond du Lac, Forest, Grant, Green, Green Lake, Iowa, Iron, Jackson, Jefferson, Juneau, Kenosha, Kewaunee, Lafayette, Langlade, Lincoln, Manitowoc, Marathon, Marinette, Marquette, Milwaukee, Monroe, Oconto, Oneida, Ozaukee, Pepin, Pierce, Polk, Portage, Price, Racine, Richland, Rock, Rusk, Sauk, Sawyer, Shawano, Sheboygan, St. Croix, Taylor, Trempealeau, Vernon, Vilas, Walworth, Washburn, Washington, Waukesha, Waupaca, Waushara, Wood


In the current pipeline for updating in August 2022:
---
Florida
Kansas
North Dakota
Wisconsin

In the pipeline for updating in September 2022:
---
Georgia
Iowa
Tennessee


Based on feedback and county challenges, pipeline planning is always subject to change. As always, please contact us if you have any questions about accessing or using the data, if you find issues with any of our data, or you have any comments or questions about our data in specific areas or states. We also love to hear from you about which counties or regions you'd like to see us update next, as it helps inform our planning process.

Thank you for being a part of Regrid!


HAPPY MAPPING!


THE REGRID DATA TEAM
tech@regrid.com