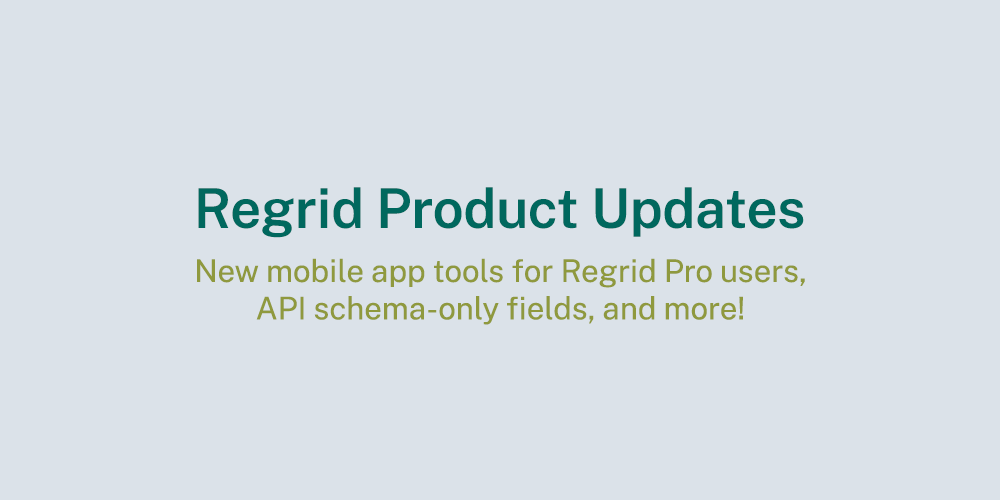 Regrid Updates - Mobile App, API, and Esri UC Recap

We are back with some interesting product and event updates, in case you were wondering about what's been brewing in the Regrid world.
Without further ado, let's jump right into them.

Regrid Mobile App - New Location Intelligence Tools for Pro users
The Regrid mobile app just got better. We are pushing some of our most popular Pro features and tools to our mobile app this week.
Which ones, you ask?


Measure Tool - The ability to measure distances is one of our most-requested features for the app, so we implemented it! Our new tool allows you to measure path distance and area so that you can understand the lay of your land better from your phone or other mobile devices.
Find the coordinates of a point - With our dynamic lat/long calculator, you can find the exact coordinates of a point anywhere in the country. So, know your geography & geometry at all times.
These are only the first set of mobile app updates that we rolled out. There's a slew of massive updates coming up shortly! If you use our mobile app and would love to get early beta access to some of the updates we are making to the app right now, please let us know by providing your consent on this form and our team will get in touch with you.

Learn more about the Regrid mobile app - download the app if you haven't and start connecting with land today.




Regrid API -Schema-only fields
As you are aware, the Regrid data team works tenaciously all year round to weave all the data we get from counties into a normalized, standardized format using the Regrid parcel schema. By doing so, we ensure that the disparate raw data we get from the counties are standardized at a nationwide level and hence can be consumed at scale, no matter the geography.

However, every now and then, we get additional fields from some counties that are not included in our standardized schema and are typically not available to us from all counties. We call these columns 'Custom columns' and 'non-schema' fields and we pass them along in our data as-is in their raw form as received from the county.

Many of our customers love receiving the non-standardized custom columns, while some of our customers also prefer the greater flexibility and scalability of working with schema-only fields for their ETL workflows. To ensure this flexibility, we now provide a boolean flag return_custom to our API customers to either remove the non-standardized custom fields from their API responses in order to get our standardized schema-only fields or retain the custom columns in the responses, based on the preference of their data team and ETL setup.

We've had a similar solution for our bulk data customers for a while now and with this update, our API customers can enjoy the ability to remove custom fields as needed from their API responses.

Reach out to us if you want to try our Parcel API & tileserver for your use cases!




County Coverage Improvements
If you have been following us closely, then you might have noticed that we have been aggressively improving our county coverage & our parcel age consistently for the past few years but more so in 2022 itself.

As of today, we have added 59 new counties this year alone bringing our total county count to 3,184+.

And our current parcel age is down to 165 days!

A Reflection on the Esri User Conference Expo
In early July, the Regrid Team exhibited at the Esri User Conference Expo, including our CEO, CDO, and CRO.

As a certified Esri partner, we also showcased our newly launched Esri-compatible Feature Service at the event. Needless to say, the event has been a big milestone for us here at Regrid.

Catch a quick glimpse & some amazing highlights from the event in the words of our very own CEO - Jerry Paffendorf.

We dove into Q3 head first - from the Esri User Conference to launching the Regrid Feature Service and the above product updates… and we have no plans of slowing down.

Until then,