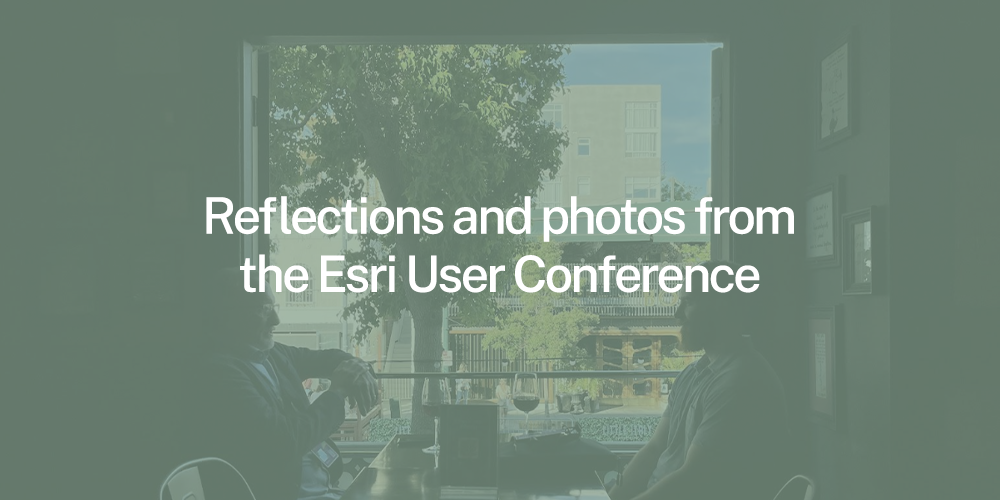 Reflections and Photos from the Esri User Conference
This post is a photo gallery of sights from the event mixed with memories and observations by Regrid CEO, Jerry Paffendorf.

You can follow Regrid on LinkedIn, Twitter, Facebook, and Instagram. Get in touch to discuss our land parcel products for your maps, apps, and spatial analysis.

Earlier this month some Regrid teammates and I attended the big Esri User Conference in San Diego.
We had a booth to showcase our new Regrid Feature Service, making it simple to stream our land parcel data into Esri software products.
Here we are posing for our other 26 teammates back home on Slack: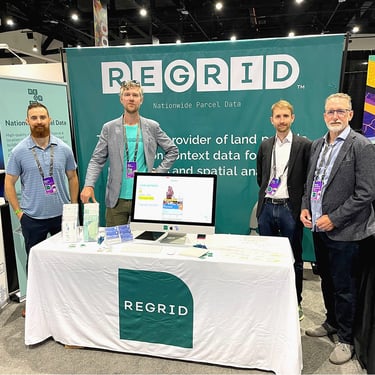 Like a lot of people, this was our first big in-person conference since 2020, and some of us hadn't met in person yet, so it was a big deal on a few levels: travel, product, team, and networking.
First views out of an airplane in a long, long time:
It was also my first time at an Esri User Conference so I was excited to see what it was all about. Founded in 1969 as a land use consultancy, and independently growing into the world's largest geographic software company, I find Esri fascinating and inspiring.
For a long time I've appreciated this quote from Esri founder, Jack Dangermond:


"I don't understand why young entrepreneurs feel this pressure to take venture capital or go public. Don't get me wrong: Public companies are A-OK with me. I just think there is another way."
As soon as I walked out of my hotel the night before the event, I found myself walking down the same street as none other than Jack Dangermond. This felt like an auspicious way to begin an Esri event, like spotting a bald eagle flying over a rainbow while clutching a four-leaf clover.
At the risk of being 'that guy,' I jogged up to Jack and quickly introduced myself by saying, "Hi Jack, I know you're the busiest person in San Diego right now, but wanted to say hi and thank you. Jerry from Regrid; nationwide parcel data. Have a great show."
I asked him if he was shaking hands, and he said 'air handshakes,' so we grinned and chopped the air near each other for a moment. A nice start to the event, and a delightful way to 'meet' Jack in my book.
Flash forward to the next morning and I sat in the audience as Jack welcomed the 15,000 attendees with a 2-hour-plus presentation about Esri and 'the geographic perspective,' and this year's theme of 'mapping common ground,' interspersed with demos and guests.
I'm impressed by how Esri maintains such a big tent of products, projects, and perspectives, all held together by the theme of "the geographic perspective."
After that, it was booth setup time with my colleagues Roman Kahler (Solutions Engineer) and Steve Stautzenbach (Chief Revenue Officer).
Ah, the simple joy of assembling a conference booth. At once common, and, these days, somehow novel and exotic.
The next morning we were joined by our colleagues Matt Hampel (Chief Data Officer) and Steve Kendall (VP of Partnerships), and the exhibit hall doors were thrown open to unleash a flood of geographic professionals and enthusiasts.
I gotta say it felt great. We pride ourselves on being the most accessible provider of the highest-quality land parcel data, and the vibe of the booth, the team, and the reception we got bore that out. It was nonstop productive conversations about land parcel data, how people use it, and how Regrid helps people use it more effectively.
Even birds were coming by to check things out – I couldn't believe this short video clip I captured coming into the conference:
Person after person and group after group came by to say hello, see what we offered, demo the Feature Service, and make connections. Conversation after conversation, it was energizing.
We met with existing customers, soon-to-be customers, partners, Esri staff, county parcel managers, and a host of interested and interesting people. And that dynamic was sustained throughout the three days of the exhibit hall.
I was only able to sneak away from the exhibit hall to attend two sessions, and I'm very glad I did. I felt very privileged to attend parts 2 and 3 of a multi-session presentation called The History of GIS by Esri teammates Bob Moreland and Erik Hoel.
I'm of the mind that history is where they keep most of the interesting stuff that's relevant to the present and future and I was not disappointed. Bob and Erik gave a tour de force journey from the 1950s through the present day, year by year, with a slide or few per year, listing notable accomplishments in computing, spatial analysis, and the development of Esri and the GIS industry.
This is a picture of Esri's first webpage back in 1994!:
Again I was impressed by Esri's multi-decade dedication to the geographic software industry, and how this industry grew up as one of many threads braided into the weave of the expanded revolution in computing. It put the work we do at Regrid into greater focus and historic context.
Back in the exhibit hall, I did my best to spend as much time talking to people at our booth while also checking out every other booth that I could. The scale of offerings was immense, with software providers, hardware providers, data providers, aerial imagery providers, professional service providers, and every variety of geographic service you could think of.
Outside of the conference and exhibit hall, it was so great to spend time in person with some teammates over meals and walks. I truly enjoy running a distributed organization with all of the advantages that it has, but it is, of course, so nice to get together with people in person.
Before we knew it we were breaking down the booth and heading home to reconvene with the rest of the team from our remote locations.
Thank you to Esri for putting on a great show.

To those we met or reconnected with at the event, it was great to see you. Please keep the channel wide open. For those who haven't met us yet, don't be a stranger. You can connect with Regrid on LinkedIn, Twitter, Facebook, and Instagram, and you can contact us at parcels@regrid.com.
Jerry Paffendorf
CEO & Co-founder