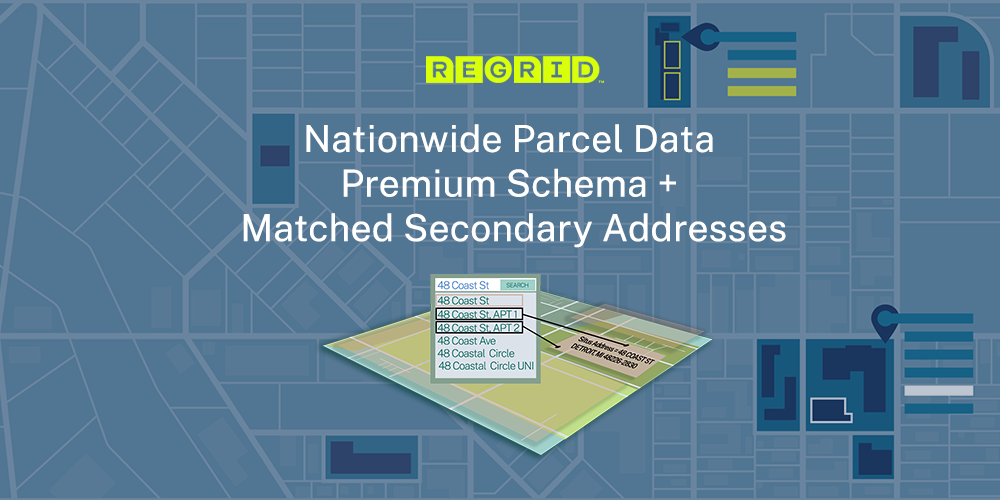 Launching Today | Regrid Parcels + Matched Secondary Addresses

BIG ANNOUNCEMENT TODAY!
We are launching our next enhanced location product & we are hiring across all departments - check out our careers page and let us know if you're interested in joining our team!

Our latest enhanced location certainty product is now live - Regrid Nationwide Premium Parcels + Matched Secondary Addresses.

All known addresses in the US (> 176 million) pre-joined with our nationwide parcel data (> 152 million parcel records), validated to USPS standards, complete with standardized schemas & persistent universal unique IDs.
We've joined our 128 million primary situs addresses (the single, primary, taxable address of every land parcel) with all known secondary addresses (duplexes, apartments, condos, commercial properties, as well as PO boxes) to bring to you a complete nationwide parcels + addresses dataset.


This data is available as bulk files (nationwide, state & county) & via our parcel API. (Not yet included in our mapping platform & mobile app.)


Watch a short video demonstration of how compelling the parcels + addresses dataset can be for your projects:

Just like we recently joined nationwide building footprints to our parcel dataset, all known addresses in the US are now pre-joined to parcels and ready for use in your own maps, apps, and data analysis.

All of this high quality data comes with Regrid's unbeaten price.

How did we do it?
We've joined hands with a leading address data provider - Ageon Corporation to build this enhanced product. Ageon has been collecting and curating addresses for over 35 years and they serve a wide range of industries needing accurate address information to strengthen their internal location domain.
Why Parcels + Matched Addresses?
Location certainty for your use-cases - Your vision, our combined product!

As parcel data is the exacting identification of every owned, transacted, invested, taxed property in this country, parcel data is a fulcrum for matching to other datasets. Adding a layer of matched secondary addresses to our validated situs address and APN standardization, our normalized land use classification, accurate schemas and field populations, spatial accuracies, persistent universal ID, provides additional insights into a property that standalone addresses can't.
Pre-joined & ready for data consumption:

Cut your procurement & engineering costs in half with our one combined solution. We've made your ETL & data ingestion work easy with our superior join methodology that allows us to deliver this combined solution as one pre-joined dataset - matched & ready for consumption.
Priced to fit your needs:

At Regrid, we are all about smart economics. With this solution, you're getting a single source of data and support, pre-joined datasets, all known addresses + parcel records and data delivered in formats of your choice at an unmatched price. Doesn't get better than this!

API & Data Store

This combined solution is also available via our Parcel API endpoint.

With our Parcels + Matched Secondary Addresses API, when you make an API request (currently searchable by APN, address, lat/lon, polygon, UUID & owner name), you will get parcel records & attributes plus the matching secondary addresses and the attributes available in our matched address schema.



Similarly, this combined product is available for instant downloads by the county on our data store for just $500 per county.

Doesn't get better than this.




Don't wait up, reach out to our team today to learn more about this enhanced location context product - you can email us at parcels@regrid.com or you can reach us here.

If you're already a customer & have a need to augment parcel data with all known addresses, don't hesitate to reach out & we will make this upgrade as easy & seamless for you as possible. Your existing data stack will remain unimpacted.


If you are interested in learning more about this solution, join us live today on our launch webinar at 2 PM EDT.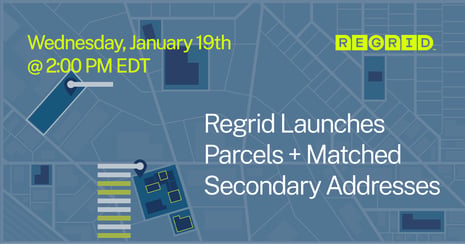 Register here to save your spot.

We have more such enhanced location context products coming your way. So stay tuned with us.


HAPPY MAPPING!
THE REGRID TEAM
parcels@regrid.com

We're hiring - map your career future!
---
Have questions? Want to evaluate our dataset? Get in touch with our team at parcels@regrid.com.
Learn more about our Nationwide Parcel Data, our schema, pricing and coverage here.


Regrid is an industry-leading property data and location intelligence company. We serve an array of industries that require land parcels and spatial data at scale, including real estate, insurance, energy, infrastructure, agriculture, logistics, and government.