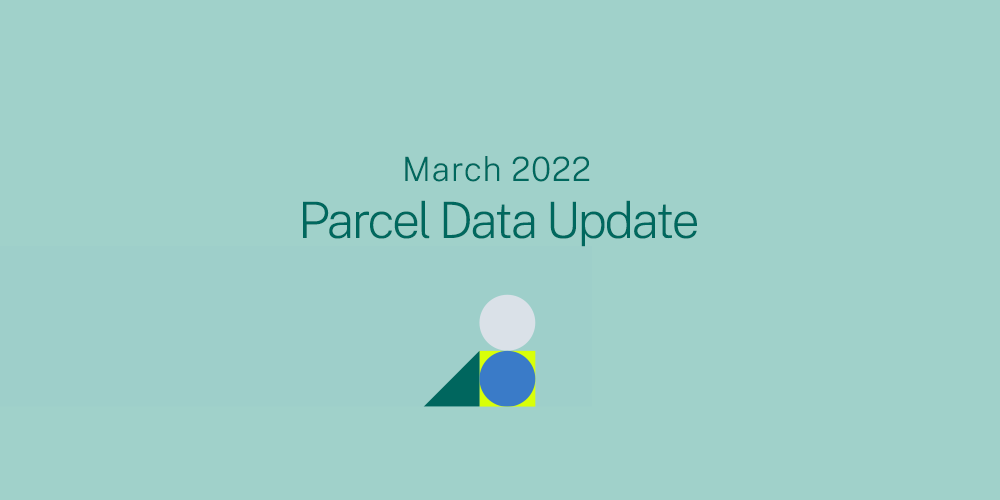 March Parcel Update 2022

A detail of updates in February of 2022 and the upcoming pipeline is below.

Schema Changes - We expect to roll out 10 new attributes/columns to our overall parcel schema in April, detailed at the bottom of our Data Dictionary. Please note that they are dependent on Standard or Premium Tier as to which ones will affect which clients. The list is: last_refresh_date, ll_address_count, homestead_exemption, alt_parcelnumb1, alt_parcelnumb2, alt_parcelnumb3, parcelnumb_no_formatting, plss_township, plss_section, plss_range. Please see the Data Dictionary for details.

Coverage Report: Updated for this month and available here.
A machine-readable version of this list is included in the `verse` table available in all the formats above as well as CSV format for use in spreadsheets. To find the latest updates in verse, sort by 'last_refresh' and use the 'filename_stem' column to identify the file.

Data refreshed or added from the county in February and live now:
(Asterisk * indicates newly added county.)
---
CA - Alpine, Amador, Butte, El Dorado, Humboldt, Kern, Lake, Los Angeles, Madera, Marin, Merced, Modoc, Orange, Placer, Plumas, San Benito, San Francisco, San Luis Obispo, Shasta, Trinity, Tulare, Yuba

CO - Ouray

HI - Honolulu, Kalawao, Kauai, Maui

ID - Ada, Adams, Bannock, Bingham, Blaine, Boise, Bonner, Bonneville, Boundary, Butte, Camas, Canyon, Caribou, Cassia, Clark, Clearwater, Custer, Elmore, Fremont, Gem, Gooding, Idaho, Jefferson, Kootenai, Latah, Lemhi, Lewis, Lincoln, Madison, Minidoka, Nez Perce, Oneida, Owyhee, Payette, Power, Shoshone, Teton, Valley, Washington

IL - Saline

KS - Barton, Brown, Cloud, Doniphan

MI - Tuscola

MN - Aitkin, Anoka, Becker, Beltrami, Benton, Big Stone, Carlton, Carver, Cass, Chippewa, Chisago, Clay, Cook, Crow Wing, Dakota, Dodge, Douglas, Faribault, Fillmore, Freeborn, Goodhue, Grant, Hennepin, Hubbard, Itasca, Jackson, Kandiyohi, Koochiching, Lake, Marshall, McLeod, Mille Lacs, Mower, Murray, Nicollet, Norman, Olmsted, Otter Tail, Pennington, Pipestone, Polk, Pope, Ramsey, Red Lake, Renville, Rice, Roseau, Scott, Sherburne, Stearns, Stevens, St. Louis, Swift, Todd, Traverse, Wadena, Waseca, Washington, Wilkin, Winona, Wright, Yellow Medicine

MO - DeKalb, Iron

MS - Amite, Grenada, Washington

NC - Alamance, Alexander, Alleghany, Anson, Ashe, Avery, Beaufort, Bertie, Bladen, Brunswick, Buncombe, Burke, Cabarrus, Caldwell, Camden, Carteret, Caswell, Catawba, Chatham, Cherokee, Chowan, Clay, Cleveland, Columbus, Craven, Cumberland, Currituck, Dare, Davidson, Davie, Duplin, Durham, Edgecombe, Franklin, Gaston, Gates, Graham, Granville, Greene, Halifax, Harnett, Haywood, Henderson, Hertford, Hoke, Hyde, Iredell, Jackson, Johnston, Jones, Lee, Lenoir, Lincoln, Macon, Madison, Martin, McDowell, Mecklenburg, Mitchell, Montgomery, Moore, Nash, New Hanover, Northampton, Onslow, Orange, Pamlico, Pasquotank, Pender, Perquimans, Person, Pitt, Polk, Randolph, Richmond, Robeson, Rockingham, Rowan, Rutherford, Sampson, Scotland, Stanly, Stokes, Surry, Swain, Transylvania, Tyrrell, Union, Vance, Wake, Warren, Washington, Watauga, Wayne, Wilkes, Wilson, Yadkin, Yancey

ND - Logan

NE - Dundy

NV - Carson City, Churchill, Douglas, Elko, Eureka, Humboldt, Lander, Lincoln, Lyon, Mineral, Nye, Pershing, Storey, Washoe, White Pine

OH - Darke

OR - Benton, Clatsop, Columbia, Coos, Crook, Curry, Deschutes, Douglas, Gilliam, Harney, Hood River, Jackson, Josephine, Klamath, Lane, Linn, Malheur, Morrow, Multnomah, Polk, Umatilla, Wallowa, Wasco, Washington, Wheeler, Yamhill

PA - Allegheny

PR - Adjuntas, Aguada, Aguadilla, Aguas Buenas, Aibonito, Añasco, Arecibo, Arroyo, Barceloneta, Barranquitas, Bayamón, Cabo Rojo, Caguas, Camuy, Canóvanas, Carolina, Cataño, Cayey, Ceiba, Ciales, Cidra, Coamo, Comerío, Corozal, Culebra, Dorado, Fajardo, Florida, Guánica, Guayama, Guayanilla, Guaynabo, Gurabo, Hatillo, Hormigueros, Humacao, Isabela, Jayuya, Juana Díaz, Juncos, Lajas, Lares, Las Marías, Las Piedras, Loíza, Luquillo, Manatí, Maricao, Maunabo, Mayagüez, Moca, Morovis, Naguabo, Naranjito, Orocovis, Patillas, Peñuelas, Ponce, Quebradillas, Rincón, Río Grande, Sabana Grande, Salinas, San Germán, San Juan, San Lorenzo, San Sebastián, Santa Isabel, Toa Alta, Toa Baja, Trujillo Alto, Utuado, Vega Alta, Vega Baja, Vieques, Villalba, Yabucoa, Yauco

SD - Clay, Gregory

VA - Fairfax, Rappahannock*

VT - Addison, Bennington, Caledonia, Chittenden, Essex, Franklin, Grand Isle, Lamoille, Orange, Orleans, Rutland, Washington, Windham, Windsor

WA - Franklin

WI - Milwaukee

WY - Albany, Big Horn, Campbell, Carbon, Converse, Crook, Fremont, Goshen, Hot Springs, Johnson, Laramie, Lincoln, Natrona, Niobrara, Park, Platte, Sheridan, Sublette, Sweetwater, Teton, Uinta, Washakie, Weston


In the current pipeline for updating in March 2022:
---
Delaware
Montana
Rhode Island
West Virginia
Indiana
Alabama


In the pipeline for updating in April 2022:
---
Texas
Connecticut


Based on feedback and county challenges, pipeline planning is always subject to change. As always, please contact us if you have any questions about accessing or using the data, if you find issues with any of our data, or you have any comments or questions about our data in specific areas or states. We also love to hear from you about which counties or regions you'd like to see us update next, as it helps inform our planning process.

Thank you for being a part of Regrid!
HAPPY MAPPING!
THE REGRID DATA TEAM
tech@regrid.com

---