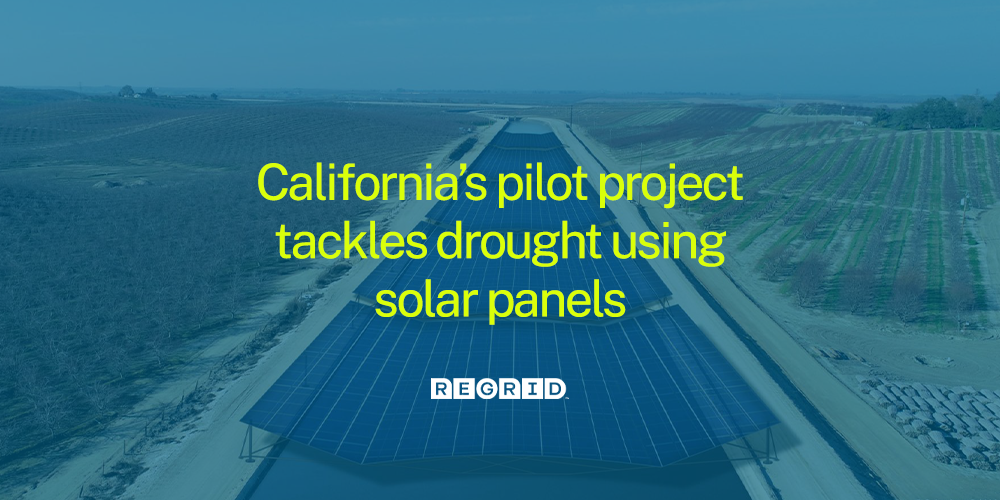 California's pilot project tackles drought using solar panels
California is leading the way in the United States with a pilot project aimed at generating solar energy while protecting a scarce resource - water. It isn't news to hear about the drought plaguing the west, and this project aims to generate renewable energy while reducing the amount of potable water lost to evaporation.
According to the Water Education Foundation, about 60% of all precipitation is evaporated or used by trees and vegetation. The remaining water flows into waterways and becomes available for use in residential and commercial buildings, farming, etc. "California has more irrigated acreage than any other state including dams, reservoirs, aqueducts, and canals that deliver water to users across the state."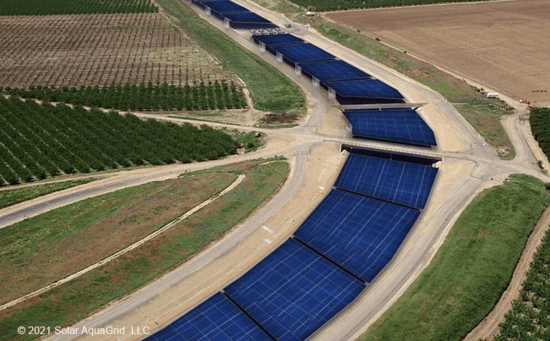 Rendering of Project Nexus
The California Department of Water Resources, Turlock Irrigation, SolarAquaGrid, and the University of California, Merced, are partnering on 'Project Nexus.' The project aims to see if narrow and widespan canal coverage solar panels can decrease evaporation as well as "create improvements to water quality through reduced vegetative growth, reduce canal maintenance as a result of reduced vegetative growth; and of course, generate renewable electricity," (Lewis).
It is projected that the resulting annual savings in maintenance costs could equal upwards of $40,000 per mile of canal. With over 4,000 miles of open-delivery canals in California, that's approximately $16 million dollars in total.
Roger Bales, professor of engineering at UC, Merced, said that their research in 2021 showed that "covering 4,000 miles of California's canals with solar panels would save more than 65 billion gallons of water annually." For perspective, that is enough water to irrigate 50,000 acres of farmland, or serve the residential needs of over 2 million people.
There is a growing urgency for a global shift from fossil fuels to renewable energy. Innovations such as Project Nexus rethink how "energy infrastructure can adapt to the challenges of sustainable water management, catastrophic wildfires, and multiday power outages, as well as the growing acceptance of climate change." The project is expected to break ground in the Fall of 2022 and aims for its completion in 2024.
Renderings of the solar panels above a canal and reservoir.
Here at Regrid, renewable energy is a significant focus of ours. In particular, customers like Finite Carbon, Wood Camp, LumenEnergy, Kevala+, & more, rely on our data for their environmentally-focused projects. Our nationwide, standardized parcel data provides everything needed to diligently assess properties and inform company decisions - whether you are looking for a site to generate, transport, or store energy.
Site selection can be a lengthy process with multiple factors. Why not make it easier? Get the location context you need for faster site selection and detailed property insights - including nationwide multi-dimensional land use codes, ownership, parcel geometries & more. All of this provides the information needed to understand how land is being used and scope the existing conditions of a site.
Filter our bulk files by parcel size & acreage to help you drill down to key geographies. All of our key documentation is available on the Regrid site, including a nationwide county-level coverage report for over 3115 counties.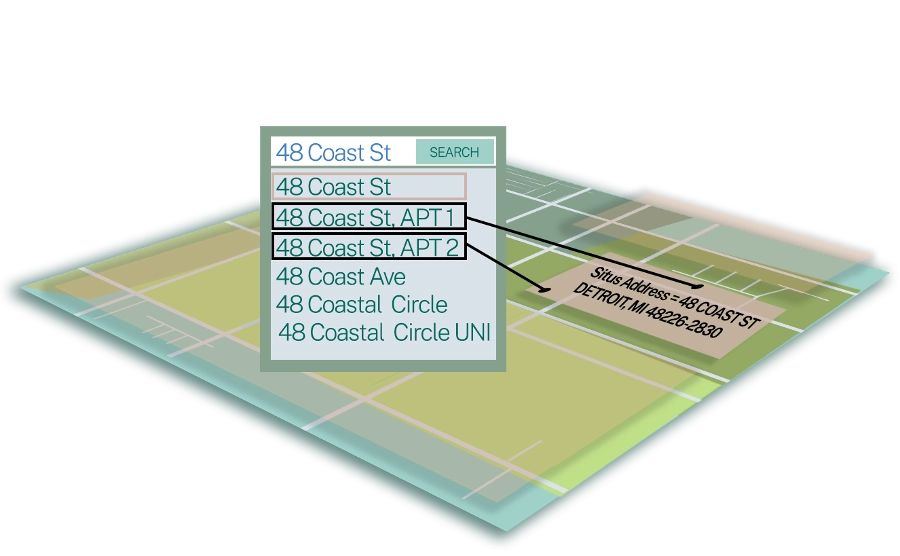 Premium Parcels + Matched Secondary Addresses
Get access to all known addresses in the US (>176 million) pre-joined to Regrid parcel records and situs addresses with our enhanced location context solution Premium Parcels + Matched Secondary Addresses. We've made ETL & data ingestion work easy with our superior join methodology, matched & ready for data consumption. One combined solution for your many location intelligence use cases.
For commercial-scale development that entails assessing the viability of adding solar panels onto buildings, we have over 156 million nationwide building footprints data, matched & pre-joined with our nationwide parcel records. A single source of data and support, delivered in formats of your choice.
Project Nexus marks an important step forward in the world of renewable innovation. This project, if proven successful, paves the way for other states to find similar solutions.
For anyone interested in learning more about our parcel data, or if you'd like a data sample, please reach out to our team at parcels@regrid.com. We would love to discuss your project and find you the best solution.

If you are a non-profit organization, academic institution, or other group working towards creating positive world change that could benefit from our parcel data or SaaS Mapping products, please take a look at our Data With Purpose program.
---
Works Cited
Bales, Roger. "First solar canal project is a win for water, energy, air and climate in California." The
Conversation, 22 February 2022, https://theconversation.com/first-solar-canal-project-is-a-win-for-water-energy-air-and-climate-in-california-177433. Accessed 3 March 2022.
Lewis, Michelle. "In a US first, California will pilot solar-panel canopies over canals." electrek, 1 March
2022, electrek-co.cdn.ampproject.org. Accessed 3 March 2022.
"Project Nexus." Turlock Irrigation District, 18 February 2022, https://www.tid.org/about-tid/current-
projects/project-nexus/. Accessed 4 March 2022.
Water Education Foundation. "California Water 101." Water Education Foundation, 21 April 2014,
https://www.watereducation.org/photo-gallery/california-water-101. Accessed 3 March 2022.