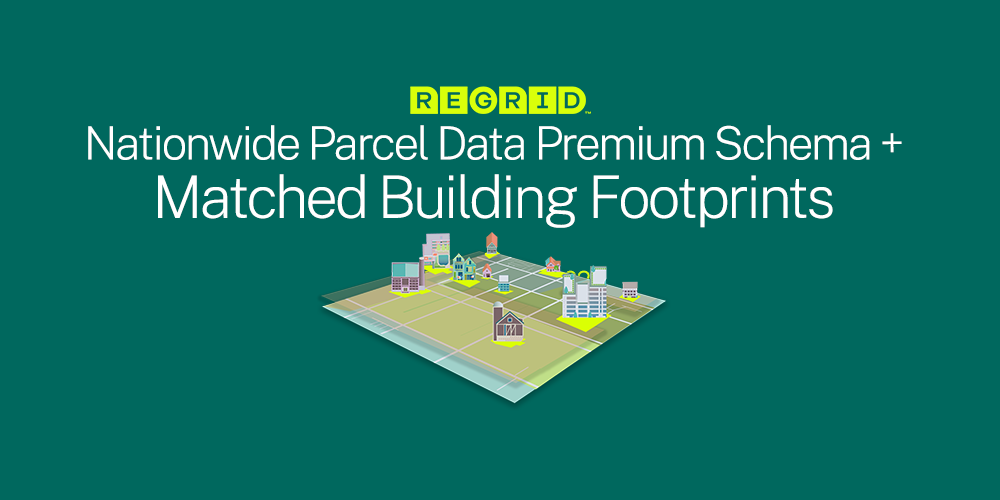 Launching Today - Regrid Premium Parcels + Building Footprints Data
BIG ANNOUNCEMENT TODAY!



(*Modified March 2022)
It's here, the product you've all been anticipating from us for a while -
Regrid Nationwide Parcel Data Premium Schema + Matched Building Footprints.
That's right, the first nationwide parcel data solution that comes pre-joined with building geometries, for use in your own maps, apps, and spatial analysis."
Parcels + Matched Building Footprints, like never before, matched & priced to fit your needs.
Get enhanced location context & certainty with over 152* million nationwide land parcel data (premium schema) matched and joined with more than 160* million building footprints (as of March 2022), derived from aerial imagery & LIDAR data, complete with standardized schemas, universal unique id's and a join table to make data ingestion & deployment easier.

This data is available through bulk data licenses, our API and tileserver, as a map layer to our Pro & Team customers, and coming soon to the data store
We've partnered with EarthDefine, a leading geospatial data provider, to build this enhanced product. EarthDefine uses advanced AI and computer vision to derive building footprints from aerial imagery & LIDAR. What this means is greater coverage nationwide, including rural areas and places where building footprints have historically been harder to obtain.

Why Parcels + Matched Buildings?
Deeper insights into properties, like never before.


Your vision, your use-case and our enhanced location content: Adding a layer of building footprints and centroids to our validated situs address and APN standardization, our normalized land use classification, accurate schemas and field populations, spatial accuracies, persistent universal ID, provides additional location context and deeper insights into a property.


Faster time to ETL & data consumption: Reduce your engineering and ETL (Extract, Transform & Load) costs by half with our superior join methodology. To make it easier for you to work with the two large datasets, we provide you with a join table. This is a flat-file that matches buildings against every parcel we have in our dataset using our universal unique ID & the building & structure UUID's.

Our match methodology factors in edge cases such as buildings that overlap multiple parcels and parcels with multiple buildings.
Priced to fit your needs: Quality and price that fits your needs and use cases. With this solution, you're getting a single source of data and support, an advanced match methodology and the ease of two spatial datasets in formats of your choice at a price like never before.

API & Tiles
This combined solution is also available via our Parcel API & Tileserver.


With this API, you can access both parcel & building records. When you make an API request (currently searchable by APN, address, lat/lon, polygon & owner name), you will get parcel records plus the matching building geometries and the attributes available in our buildings schema.


If you are working with maps and are looking for customizable vector tiles, then our Tileserver will serve up both parcel & building geometries for you.


Don't wait up, reach out today to learn more about this enhanced location context product - you can email us at parcels@regrid.com or you can reach us here.
If you're already a customer & have a need to augment parcel data with building geometries, don't hesitate to reach out & we will make this upgrade as easy & seamless for you as possible. Your existing data stack will remain unimpacted.
If you are interested in learning more about this solution, join us live today on our launch webinar at 2 PM EDT.
Register here to save your spot - https://www.crowdcast.io/e/regrid-launches-parcels-/register
For our mobile app, platform and store customers:
Regrid Data Store

- Parcels + Buildings data by the county coming up in October.

Regrid Pro & Team

- You can find EarthDefine's 160* M building footprints as a map layer on the app & platform right now. Deeper features with parcels + footprints will be coming down the line in early 2022.
This is the first of many such enhanced location context products that our team is working on. So stay tuned for more such announcements.


HAPPY MAPPING!
THE REGRID TEAM





---


Upcoming Events:
Launch Webinar today, the 29th @ 2:00PM EDT - Register now!