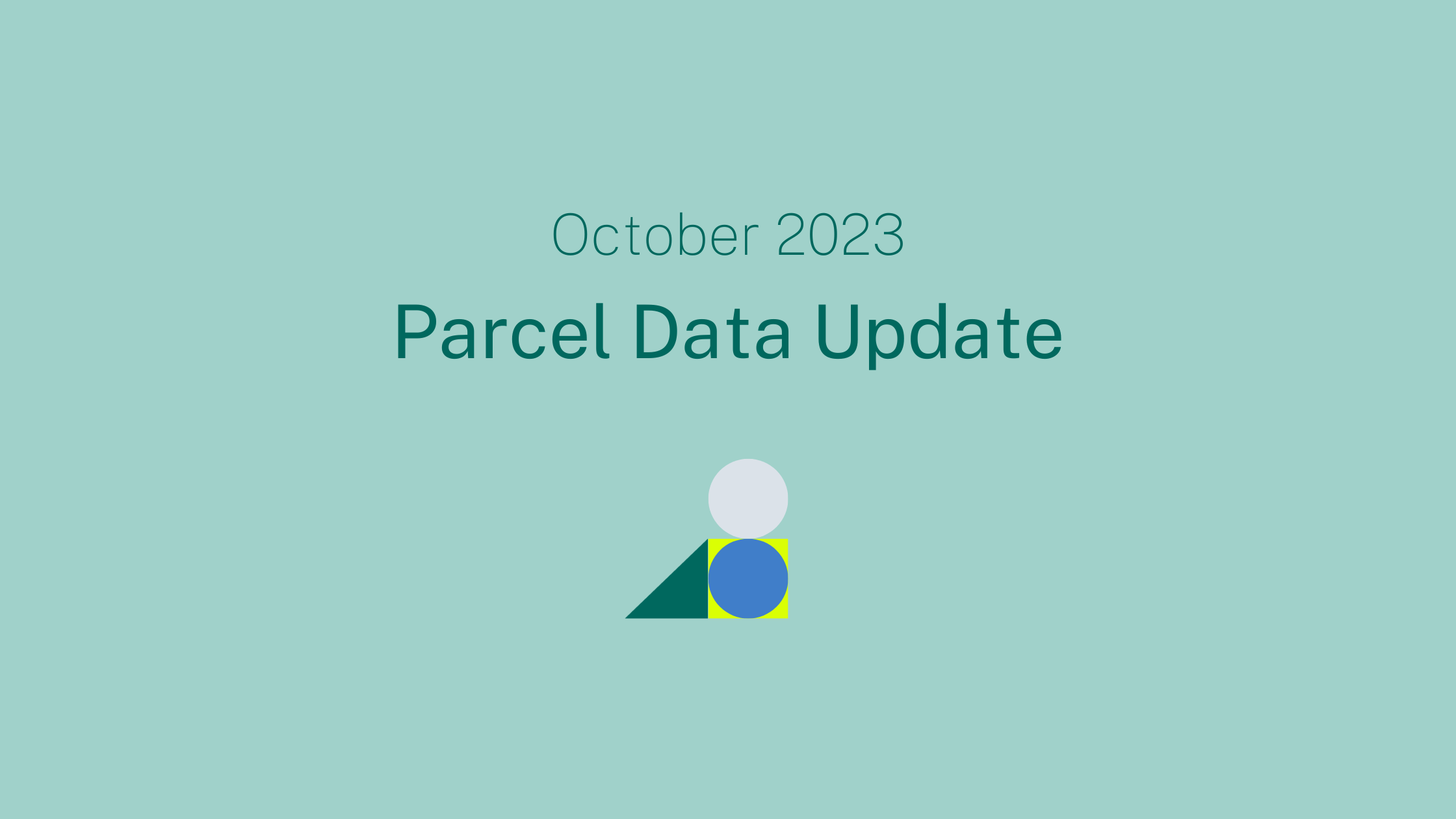 October 2023 Parcel Data Update
A detail of updates in September of 2023 and a preview of the upcoming counties in our pipeline is below.



Parcel Schema Changes in October - We have extensive additional information on the fields below coming out over the next two months on our blog. Please see https://regrid.com/blog/schema-changes-2023 for a detailed discussion of these changes. That post has been updated and will be updated again toward the actual roll out. A summary of the changes is below.
While the final names are still subject to change, these are the columns we will be adding to both our Standard and Premium datasets:
state_parcelnumb - The parcel number used by the state

account_number - The assessor/tax collector's account number associated with the parcel

tax_id - The assessor/tax collector's tax id number

census_zcta - The US Census Bureau's Zip Code Tabulation Area zip code

previous_owner - The previous parcel owner, seller or grantor where available

numrooms - The number of rooms associated with the parcel as tracked by the assessor

szip5 - The USPS 5 digit zip code
The following columns are being added to our Premium dataset only:
census_elementary_school_district - US Census listed elementary school district

census_secondary_school_district - US Census listed secondary school district

census_unified_school_district - US Census listed unified school district

fema_flood_zone - FEMA Flood Zone Type

fema_flood_zone_subtype - FEMA Flood Zone Subtype

fema_flood_zone_raw - FEMA Flood Zone full raw data

fema_flood_zone_data_date - The FEMA effective date of the flood zone data
We will be removing the following columns from both our Standard and Premium datasets. These columns were identified as redundant with other columns or being of low utility, and all have very low fill rates:
sourceagent

multistruct

subsurfown

subowntype

sourceref

sourcedate
New Export Format - We are now exporting our premium dataset as EWKB csv files. These are primarily used for importing into AWS Redshift.

Past Data Update Emails - The full archive of our monthly data update emails can be found on our main website: https://regrid.com/blog/tag/parcel-data-updates

Coverage Report - Updated for this month and available here.
A machine-readable version of this list is included in the `verse` table available in all the formats above as well as CSV format for use in spreadsheets. To find the latest updates in verse, sort by 'last_refresh' and use the 'filename_stem' column to identify the file.

Data refreshed or added from the county in September and live now: (Asterisk * indicates newly added county)
AK - North Slope Borough

AL - Baldwin, Madison

AR - Pulaski

AZ - Graham, Maricopa, Mohave, Pima, Pinal, Yavapai

CA - Alameda, Fresno, Santa Cruz, Tehama, Tulare

CO - Adams, Arapahoe, Boulder, Broomfield, Crowley*, Denver, Douglas, Elbert, Hinsdale*, Jefferson, Larimer, Mesa, Rio Blanco

CT - Capitol Planning Region

DE - Kent

FL - Broward, Hillsborough, Lee, Orange, Sarasota, Volusia

GA - Clayton, DeKalb, Forsyth, Fulton, Gwinnett, Richmond

HI - Honolulu

IA - Linn

ID - Ada, Bannock

IL - Lake, McHenry

IN - Hamilton, Lake, Marion

KS - Douglas, Saline, Sedgwick, Shawnee

LA - Lafayette, Orleans, St. Helena*, Tangipahoa

MD - Anne Arundel, Baltimore City, Carroll, Cecil, Charles, Dorchester, Garrett, Harford, Howard, St. Mary's, Talbot, Wicomico

MI - Charlevoix, Eaton, Ionia, Montcalm, Oakland

MN - Anoka, Carlton, Dakota, Ramsey, Washington

MO - Franklin, Greene, Jackson, Jefferson, Pettis

MS - DeSoto, Forrest

NC - Brunswick, Buncombe, Carteret, Forsyth, Granville, Guilford, Mecklenburg, Wake

ND - Williams

NE - Hall, Lancaster

NJ - Monmouth

NM - Valencia

NV - Douglas, Nye, Washoe

NY - Erie, Ulster, Washington

OH - Allen, Ashland, Ashtabula, Auglaize, Belmont, Brown, Butler, Clark, Clermont, Clinton, Columbiana, Coshocton, Defiance, Delaware, Fairfield, Franklin, Gallia, Greene, Guernsey, Holmes, Jefferson, Knox, Lake, Licking, Logan, Lorain, Mahoning, Marion, Medina, Miami, Montgomery, Morrow, Muskingum, Ottawa, Perry, Pickaway, Portage, Preble, Putnam, Ross, Scioto, Seneca, Shelby, Stark, Summit, Tuscarawas, Union, Wayne, Williams
OK - Caddo
OR - Deschutes, Lane, Marion, Multnomah

PA - Berks, Bradford, Bucks, Butler, Cambria, Carbon, Chester, Clinton, Dauphin, Erie, Lehigh, Monroe, Montgomery, Northampton, Philadelphia, Westmoreland, York

SC - Anderson, Beaufort, Berkeley, Charleston, Colleton, Georgetown, Greenville, Greenwood, Horry, Laurens, Lexington, Newberry, Oconee, Orangeburg, Pickens, Richland, York

SD - Aurora, Beadle, Bennett, Bon Homme, Brule, Buffalo, Butte, Campbell, Clark, Codington, Davison, Day, Deuel, Edmunds, Faulk, Grant, Hanson, Hutchinson, Lawrence, Lyman, Marshall, McPherson, Mellette

TN - Anderson, Bedford, Benton, Bledsoe, Blount, Bradley, Campbell, Cannon, Carroll, Cheatham, Claiborne, Clay, Cocke, Coffee, Crockett, Cumberland, Davidson, Decatur, DeKalb, Dickson, Dyer, Fayette, Fentress, Franklin, Gibson, Giles, Grainger, Greene, Grundy, Hamblen, Hamilton, Hancock, Hardeman, Hardin, Hawkins, Haywood, Henderson, Henry, Houston, Humphreys, Jackson, Jefferson, Johnson, Knox, Lake, Lauderdale, Lawrence, Lewis, Lincoln, Loudon, Macon, Madison, Marion, Marshall, Maury, McMinn, McNairy, Meigs, Monroe, Moore, Morgan, Obion, Overton, Perry, Pickett, Polk, Putnam, Rhea, Roane, Robertson, Rutherford, Sequatchie, Sevier, Smith, Sullivan, Tipton, Trousdale, Union, Van Buren, Warren, Washington, Wayne, Weakley, White, Wilson

TX - Aransas, Armstrong, Atascosa, Austin, Bailey, Baylor, Bell, Brazoria, Brewster, Brooks, Calhoun, Camp, Castro, Childress, Clay, Collingsworth, Comal, Denton, DeWitt, Edwards, Falls, Fisher, Galveston, Hamilton, Hartley, Henderson, Houston, Howard, Jeff Davis, Johnson, Karnes, Kendall, Lamb, Liberty, Loving, Lubbock, Lynn, Martin, Menard, Morris, Nueces, Potter, Refugio, Smith, Stephens, Sterling, Williamson

UT - Davis, Duchesne, Utah, Weber

VA - Bedford, Chesterfield, Hampton, Henrico, Mecklenburg, Pittsylvania, Shenandoah, Smyth, Suffolk

WA - Clark, Columbia, King, Pacific, San Juan, Snohomish, Thurston, Whatcom

WI - Columbia, Milwaukee
In the current pipeline for updating in October 2023:
Kansas
Oklahoma

In the pipeline for updating in November 2023:
Alabama
Georgia
South Carolina
Virginia

Based on feedback and county challenges, pipeline planning is always subject to change. As always, please contact us if you have any questions about accessing or using the data, if you find issues with any of our data, or you have any comments or questions about our data in specific areas or states. We also love to hear from you about which counties or regions you'd like to see us update next, as it helps inform our planning process.

Thank you for being a part of Regrid!
Best Wishes,
The Regrid Data Team
tech@regrid.com