Staying True To The Idea: No chef ever takes credit for making the fish
File this one under The Journey.
Getting to a 100% land parcel coverage map took incredible execution by the team, and I'm also reflecting on the importance of the original idea that got us out of bed, gave us a roadmap, and pulled us through the hard and lonely parts to get here.
The Regrid team is celebrating the first-ever 100% US land parcel coverage map, with data in every county. Throughout the rest of 2023 we'll be sharing posts that reflect on The Journey, The Significance, and The Future of this dataset at regrid.com/100 and on social media with the hashtag #Regrid100.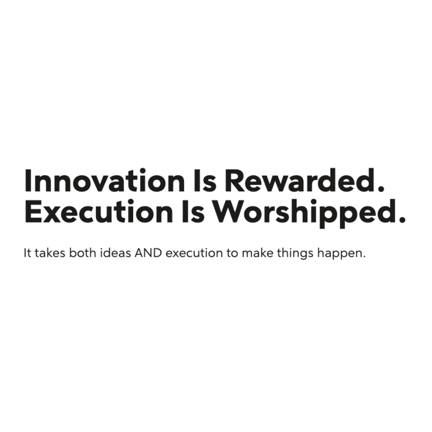 As the Regrid team celebrates a big "first-ever," this may also be the "first-ever" blog post to reference both Quicken Loans/Rocket founder Dan Gilbert and filmmaker David Lynch.
Rocket has an influential presence in Detroit, where we started Regrid as Loveland Technologies back in 2009 — when you're finished here, see this outstanding post about the journey and significance of our early work in Detroit from my colleague Alex Alsup.
Rocket has a set of philosophies in aphorism form called Isms that I've genuinely found useful in business over the years.
One of several Isms I tend to recall is: "Innovation Is Rewarded. Execution Is Worshiped. It takes both ideas AND execution to make things happen.
Going back in time more than a decade, I can still remember my co-founders and I – and Alex, who joined us as our first teammate – seeing challenges in Detroit that we knew required land parcel data, but there was no easy way to get it and share it, which gave us an idea:
There should be an accessible source for land parcel data.
Ideas come with unique cultural shapes and attitudes, so a fuller expression of the early idea would be something like:
There should be an accessible source for land parcel data that illuminates all kinds of things (not just real estate stuff). It should be accessible to people who typically can't afford it or don't know how to work with raw data. It should be presented with an attitude of community care and curiosity about how land and property might work differently and better.
Looking back up after a decade of chasing that idea, and now finding the tennis ball in our mouth, David Lynch's insightful take on the importance of ideas re-entered my mind.
Here he is describing what ideas are, and the importance of staying true to them while doing the long, hard work of translating them into a medium:
A transcription of the video:
"Ideas are the number one best thing going. And ideas come to us, we don't really create an idea. We just catch them, like fish. No chef ever takes credit for making the fish, it's just preparing the fish.
So you get an idea and it is like a seed. And in your mind the idea is seen and felt and it explodes. Like it's got electricity and light connected to it. And it has all the images and the feeling. And it's like in an instant you know the idea. In an instant.
Then the thing is translating that to some medium. It could be a film idea, or a painting idea, or a furniture idea. It doesn't matter. It wants to be something. It's a seed for something.
So the whole thing is translating that idea to a medium. And in the case of film it takes a long time, and you always need to go back and stay true to that idea. Keep checking that idea.
And what you realize is the idea is more than you realize. And if you're true to it, when the work is finished and some years go by, you can get even more out of it if you've been true to the idea in the first place."
Lynch is also saying that execution matters — ideas must be translated into a medium — but here he prioritizes ideas as "the number one best thing going."
I feel very fortunate that we were, first, presented with an important idea, and then able to stay true to the idea of an accessible nationwide land parcel dataset long enough to execute a reality and experience success with it.
So many things want to push you around and change an idea over time. You are carrying this idea in your head that is so vivid to you, but few people care because you haven't translated it yet, and it may take a long time to.
Like Lynch says, we didn't create this fish of an idea, we just caught and prepared it, and because we stayed true to the idea we are – and will be – getting a lot more out of it than we ever could have possibly expected. We sincerely hope that you do, too.