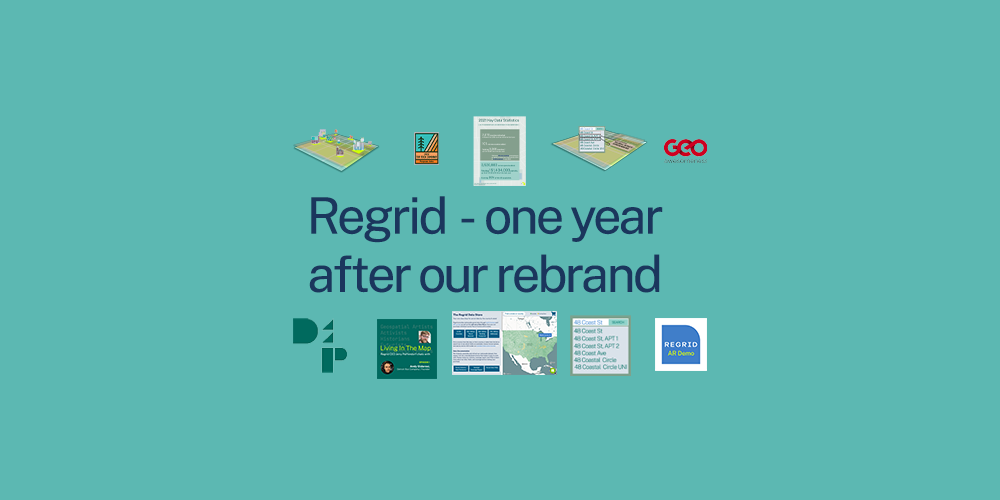 Regrid - one year after our rebrand
It has officially been one year since the Loveland Team rebranded to Regrid!
I can't believe it's only been a year since we rebranded from Landgrid by Loveland Technologies to Regrid at Regrid.com. The transition was so seamless that it feels like it retroactively rolled through our company history.

Reflecting on this past year, it's amazing how much the team has accomplished, and exciting to think about what the next year will bring. (continued below)



Jerry Paffendorf
CEO, Regrid
This rebrand gave our team the opportunity to reinvent our brand identity, our messaging and represent ourselves in a fresh way that better reflects the future of our company.
From the launch of our enhanced location context products like Premium Parcels + Matched Building Footprints and Premium Parcels + Matched Secondary Addresses, to being named a 'Top Tech Company to Watch' and listed as a 'Global Top 100 Geospatial Companies,' we've been busy to say the least.
Our team has also grown significantly since the rebrand with new additions to every department and a talented workforce joining us from all over the United States. And still growing today!
So...why Regrid?
Re: once more; afresh; anew
Grid: a network of lines on a map that enables the precise location of a place
Regridding: the joining together of different grids or spatial datasets
When we think about what's next for Regrid, we go back to our roots. Always experimenting. Always connecting. Always regridding.
The best outcome we could have hoped for from this rebrand is what we believe we have achieved, which feeling like we have always been Regrid not just a new brand that is just 1 year old.
A huge thank you to Agnes Studio for reimagining our brand and bringing the Regrid vision to life.
Click through the list below to learn more about our accomplishments and highlights since the rebrand last July.
July 21, 2021 -
Rebranded as Regrid.com
September 29, 2021 -
Premium Parcels + Matched Building Footprints
November 30, 2021 -
'Top Tech Company to Watch' by Purpose Jobs
December 15, 2021 -
Rounded out the year with massive coverage improvements
January 19, 2022 -
Premium Parcels + Matched Secondary Addresses
January 31, 2022 -
'Global Top 100 Geospatial Companies' by Geoawesomeness
February 16, 2022 -
Data With Purpose
March 31, 2022 -
Living In The Map with Regrid CEO Jerry Paffendorf
May 4, 2022 -
Statewide Parcel Data on the Regrid Data Store
June 8, 2022 -
Typeahead API
June 10, 2022 -
AR app using API
June 29, 2022 -
Regrid Feature Service
July 11, 2022 -
Regrid @ Esri UC
July 19, 2022 -
County Coverage Improvements
July 21, 2022 -
One year of Regrid!!!
---
Along with the milestones in the image, we continue to see growth along every dimension of the business and our product lines: site traffic, app downloads, Pro accounts, the self-serve Data Store, our licensed data, and the currency, coverage, and completeness of our dataset.



While the Regrid brand is only a year old, the team's decade-long commitment to making land parcel data more accessible, more meaningful, and easier to work with is the foundation we build on. Look for us to continue delighting many more millions of people and organizations with our data products in 2023.

Jerry Paffendorf

CEO, Regrid

7/21/22