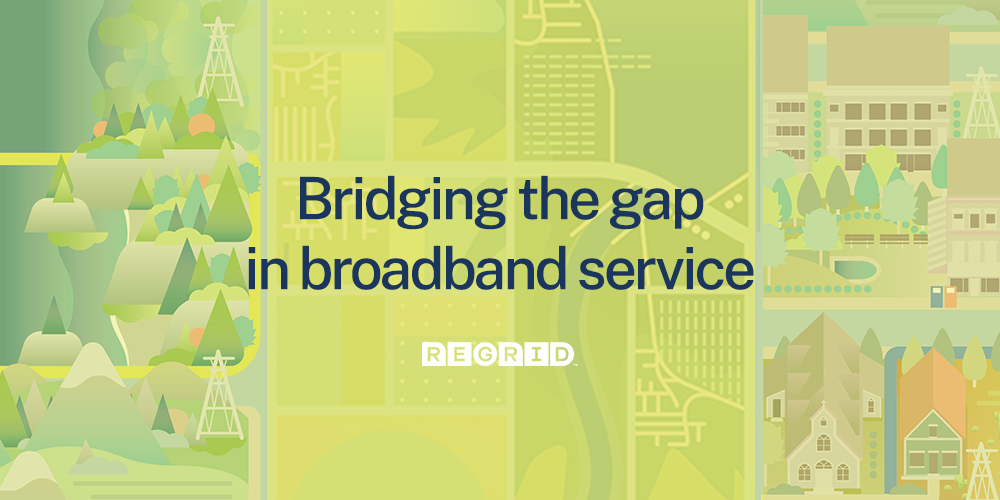 Bridging the gap in broadband service
It might surprise people to hear that in this modern age there are still those without access to the internet. In the US alone, there are roughly 20 to 60 million people that are unable to access the internet, and with it, a slew of other resources like Wikipedia, Yelp, or Google just to name a few.
A list of the works cited is available at the bottom of this blog.
As we enter the new year, with Omicron hot on our heels, it's baffling to consider that internet access is a luxury that some don't have. It's 2022! Why there is still a digital divide amongst Americans? And how can we go about solving it?
To start, high-quality, accurate, and standardized parcel data is crucial. Without that location certainty, there isn't one clear way to know exactly where a company can provide broadband services.
In 2021 the US Congress assigned the FCC with a massive undertaking - creating a new broadband map to accurately track the nation's digital footprint. Without an existing dataset, this is an ENORMOUS task. Not only does the FCC need to make a map; they need to create a database of broadband service information in order to populate the map.
The FCC requires broadband providers to complete a form detailing their service areas ("Fixed Broadband Deployment..."); this information is then used as the map's framework. This form could create discrepancies by overestimating coverage areas. For example, there have been cases wherein if one house in a census block received service, the entire block could be marked as serviced; making it ineligible for public funds (Teale). The FCC and broadband companies need access to more complete, accurate, and standardized parcel data.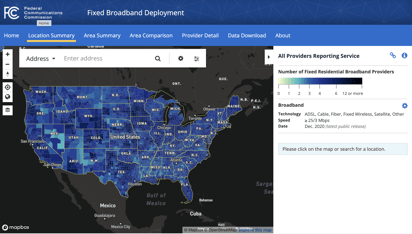 (Image Source; fcc.com)
As COVID-19 has pushed everything online, we have to close the coverage gap and quickly. Large monopolies have pushed against better mapping for years; blocking grants for underserved areas by claiming to already provide service (Hendel).
The battle for broadband coverage has been going on for years. Most recently, in December 2021, the FCC authorized over $1 Billion "over 10yrs in its 5th round of funding for new broadband deployments through the Rural Digital Opportunity Fund" ( "FCC Announces Over $1 Billion..."). As of FCC data from January 2021, fewer than 14.5 million Americans lacked access to fixed broadband. According to other sources (see Works Cited) with more robust datasets, that number is probably higher. Currently, the federal standard for broadband service is defined as 25 megabits per second download speed and 3Mbs per second upload speed. This is considered relatively slow for the average needs of someone working from home, since the pandemic.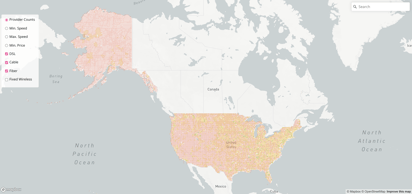 (Image Source; BroadbandNow)
BroadbandNow is a data aggregation company that supplements FCC findings with data given to them directly by internet service providers or retrieved from public sources. They have requested that the FCC update this requirement to 100Mbs download / 25Mbs upload. They state that this speed is more suitable for most internet activities. Their research shows that while 89% of Americans can now access affordable broadband as defined by FCC standards, only two-thirds of Americans have suitable internet access as per BroadbandNow's definition (Cooper).
The FCC needs accurate and detailed information about internet speed and pricing. And with billions of dollars on the line, it's important to know where to focus spending; without standardized land parcel data, it will be difficult to form a national broadband policy. We have the funds, now we need the information.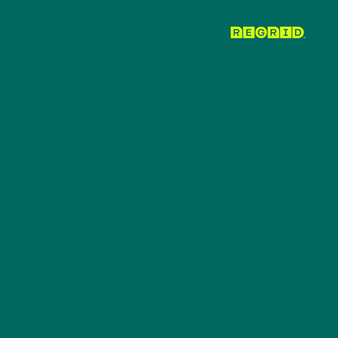 Nationwide parcel data can help broadband providers identify precisely who and where they can provide coverage. Regrid has served broadband & telecommunication customers in the past and we know firsthand the value that high-quality, standardized parcel data can bring to large & small-scale broadband projects.
With our coverage, completeness, spatial accuracy, enhanced location certainty, matched building footprints, matched secondary addresses (launching mid-January 2021), and our unmatched pricing, we have the solution that can help broadband companies bridge their coverage gap.
It's as easy as reaching out to us, and asking for a data sample. :)
---
Have questions? Want to evaluate our dataset? Get in touch with our team at parcels@regrid.com.
Learn more about our Nationwide Parcel Data, our schema, pricing and coverage here.


Regrid is an industry-leading property data and location intelligence company. We serve an array of industries that require land parcels and spatial data at scale, including real estate, insurance, energy, infrastructure, agriculture, logistics, and government.
Works Cited



Cooper, Tyler, and Julia Tanberk. "The State of Broadband in America, Q3 2021." BroadbandNow, 8 November 2021,
https://broadbandnow.com/research/q3-broadband-report-2021. Accessed 4 January 2022.
FCC. "Fixed Broadband Deployment Data from FCC Form 477." Federal Communications Commission,
https://www.fcc.gov/general/broadband-deployment-data-fcc-form-477. Accessed 4 January 2022.
"FCC Announces Over $1 Billion in Rural Broadband Support to 32 States." Federal Communications Commission, 16
December 2021, https://www.fcc.gov/document/fcc-announces-over-1-billion-rural-broadband-support-32-states. Accessed 3 January 2022.
HENDEL, JOHN, and NICK NIEDZWIADEK. "Why billions in broadband money may go to the wrong places." Politico, 29
November 2021, https://www.politico.com/news/2021/11/29/fcc-broadband-maps-biden-523425. Accessed 4 January 2022.
Teale, Chris. "The FCC Has Pledged to Update Its 'Broken' Broadband Mapping Process. Some States Are Starting to