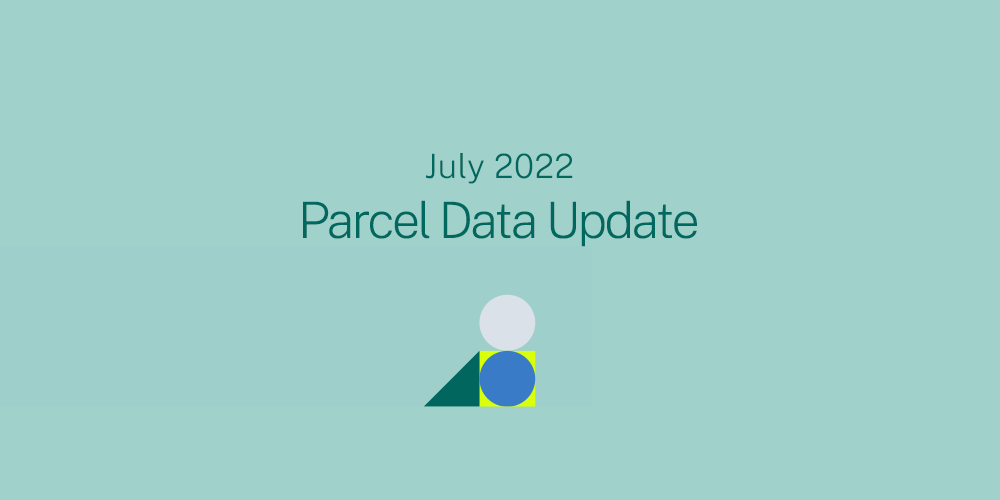 July Parcel Update 2022
A detail of updates in June of 2022 and the upcoming pipeline is below.



Parcels + Matched Building Footprints - Our buildings footprints partner recently updated their dataset using a combination of footprints derived from aerial imagery and LIDAR, bringing the total count of our matched building footprints dataset to over 183 million building footprints nationwide. As part of this update, our ll_bldg_count and ll_bldg_footprint_sqft attributes have been recalculated nationwide.

If you are looking to get our Premium Schema + Matched Building Footprints dataset, reach out to our team at parcels@regrid.com

Secondary Matched Address data updated - Our nationwide matched secondary addresses dataset has also been updated in June and as a part of that process, our ll_address_count attribute has been recalculated nationwide. (Premium dataset only)

"Stacked Parcels" attribute planning - We are working on identifying and flagging multiple, exact duplicate parcel geometries. We call these "stacked" parcels and they are most commonly used for multiple ownership situations on the same parcel, like condominiums, but 'stacked' parcels are used for other things by counties as well. Roughly half the counties in the US use 'stacked' parcels for one reason or another. We are planning a 'll_stack_uuid' attribute be added to our Parcel Record Schema to identify and "group" 'stacked' parcels. Each parcel in a stack would get the same 'll_stack_uuid' making it easy to determine which parcels go together, and easy to just grab one record from the stack. Any comments on this are most welcome.

Coverage Report - Updated for this month and available here.



A machine-readable version of this list is included in the `verse` table available in all the formats above as well as CSV format for use in spreadsheets. To find the latest updates in verse, sort by 'last_refresh' and use the 'filename_stem' column to identify the file.

Data refreshed or added in June and live now:
(Asterisk * indicates newly added county.)
---
AK - Anchorage

AL - Escambia, Jefferson, Lee, Perry, Pickens, Pike, Russell, Sumter

AZ - Apache, Cochise, Coconino, Gila, Graham, Greenlee, Maricopa, Mohave, Navajo, Pima, Pinal, Santa Cruz, Yavapai, Yuma

CA - Riverside

CO - Adams, Archuleta, Boulder, Custer, Denver, Las Animas, Montezuma, Morgan, Park, Rio Grande, San Miguel

DC - Washington

DE - New Castle

FL - Duval, Hillsborough, Lee, Miami-Dade

GA - Cobb, DeKalb, Fulton, Gwinnett, Lowndes, Tift

ID - Bannock, Elmore, Idaho

IL - DuPage, Lake

IN - Marion, Porter

KS - Johnson, Sedgwick

LA - Orleans, Tangipahoa

MD - Baltimore City, Prince George's, Washington

MI - Alger, Allegan, Antrim, Arenac, Baraga, Barry, Berrien, Branch, Calhoun, Cass, Charlevoix, Cheboygan, Chippewa, Clare, Clinton, Crawford, Delta, Dickinson, Eaton, Emmet, Genesee, Gladwin, Gogebic, Grand Traverse, Gratiot, Houghton, Huron, Ingham, Ionia, Iosco, Isabella, Jackson, Kalkaska, Kent, Keweenaw, Lake*, Leelanau, Livingston, Mackinac, Macomb, Marquette, Mecosta, Menominee, Midland, Missaukee, Monroe, Montcalm, Muskegon, Newaygo, Oakland, Oceana, Ontonagon, Otsego, Ottawa, Roscommon, Sanilac, Schoolcraft, Shiawassee, St. Clair, St. Joseph, Tuscola, Washtenaw, Wexford*

MN - Carlton, Clearwater, Hennepin, Koochiching, Otter Tail

MO - Adair, Andrew, Atchison, Audrain, Bollinger, Boone, Buchanan, Butler, Cape Girardeau, Clay, DeKalb, Gentry, Greene, Iron, Lafayette, Livingston, Maries, Marion, McDonald, Polk, Pulaski, Putnam, Saline, Scott, St. Clair, Ste. Genevieve, St. Francois, St. Louis, Stone, Washington

NC - Forsyth, Granville, Mecklenburg, Wake

NV - Douglas

NY - Erie, Nassau, Suffolk

OH - Coshocton, Cuyahoga, Fairfield, Fayette, Franklin, Hancock, Highland, Madison, Montgomery, Morrow, Shelby, Wayne

OK - Cleveland, Oklahoma, Tulsa

OR - Crook, Marion, Multnomah

PA - Cambria, Chester, Dauphin, Mifflin, Montgomery, Philadelphia

SC - Colleton, Horry

SD - Aurora, Beadle, Bon Homme, Buffalo, Butte, Charles Mix, Clark, Deuel, Douglas, Fall River, Faulk, Grant, Hamlin, Hand, Hanson, Hutchinson, Jones, Kingsbury, Lincoln, Lyman, Marshall, Miner, Minnehaha, Moody, Pennington, Roberts, Sanborn, Todd, Tripp, Yankton

TN - Davidson, Hamilton, Knox, Montgomery

TX - Bexar, Collin, Denton, Grayson, Hidalgo, Starr, Zapata

VA - Chesterfield, James City, Mecklenburg, Richmond City

WA - Benton, Columbia, Island, King, Pierce, Snohomish

WI - Milwaukee


In the current pipeline for updating in July 2022:
---
Alaska
Arkansas
New York
US Virgin Islands

In the pipeline for updating in August 2022:
---
North Dakota
Wisconsin

Based on feedback and county challenges, pipeline planning is always subject to change. As always, please contact us if you have any questions about accessing or using the data, if you find issues with any of our data, or you have any comments or questions about our data in specific areas or states. We also love to hear from you about which counties or regions you'd like to see us update next, as it helps inform our planning process.

Thank you for being a part of Regrid!


HAPPY MAPPING!
THE REGRID DATA TEAM
tech@regrid.com